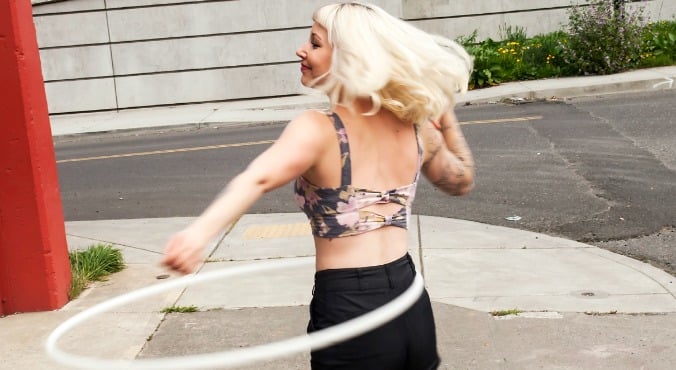 Image: iStock.
Some of the things we did as kids probably weren't so great for our bodies. Remember those intense sugar highs you endured after hitting the birthday party lolly table a little too hard? Woah.
When it came to physical activity, though, we often got it right. When we weren't playing Tip, Bull Rush and those other sprint-heavy playground games, we were trying to bounce our mates off a backyard trampoline (oh, the days before they came with nets…). The best part? We never viewed these activities as painful slogs. They were fun, and the fitness benefits were merely incidental.
RELATED: 8 ridiculously fun ways to work out. This is as non-exercisey as exercise gets.
While the passing of time means you have adult responsibilities to contend with these days — ugh, tax — there's no reason why the seven-year-old within can't dictate the way you keep active.
"It sounds maybe a little bit ironic, but I think all of us need to hold on to that inner child," says personal trainer Blake Worrall-Thompson. "As we get older we tend to take life a little bit too seriously. Some [workouts] really bring back the inner child and are fun and light-hearted and have good energy, which all of us could do with more of."
Want some of those childlike vibes? Try one of these workouts:
1. Skipping
Did you ever participate in Jump Rope for Heart in your school days? It was aimed to raise funds and awareness of heart disease, but there's another very good reason why the Heart Foundation encourages skipping: it's a seriously effective way to keep your cardiovascular system (and the rest of your body) in shape.
What makes skipping even more appealing is the fact it costs next to nothing and you can do it almost anywhere — just ask Kate Hudson, who carries a rope in her handbag at all times. Added bonus: you don't need to be particularly sporty or coordinated to make it work.
RELATED: The 11 pieces of fitness advice you thought were true. They aren't.
"Skipping plays a massive role in my programming, not just for women but for guys as well," Worrall-Thompson says. "It's so effective in terms of space as well. If it's wet outdoors or you haven't got much space, skipping's great."
You can pick up a skipping rope for as little as $2.40 (try this Target one, or this $4 one). Shops like Rebel Sport also carry a range of ropes. An upbeat playlist will help you maintain a good rhythm — try this one on for size.