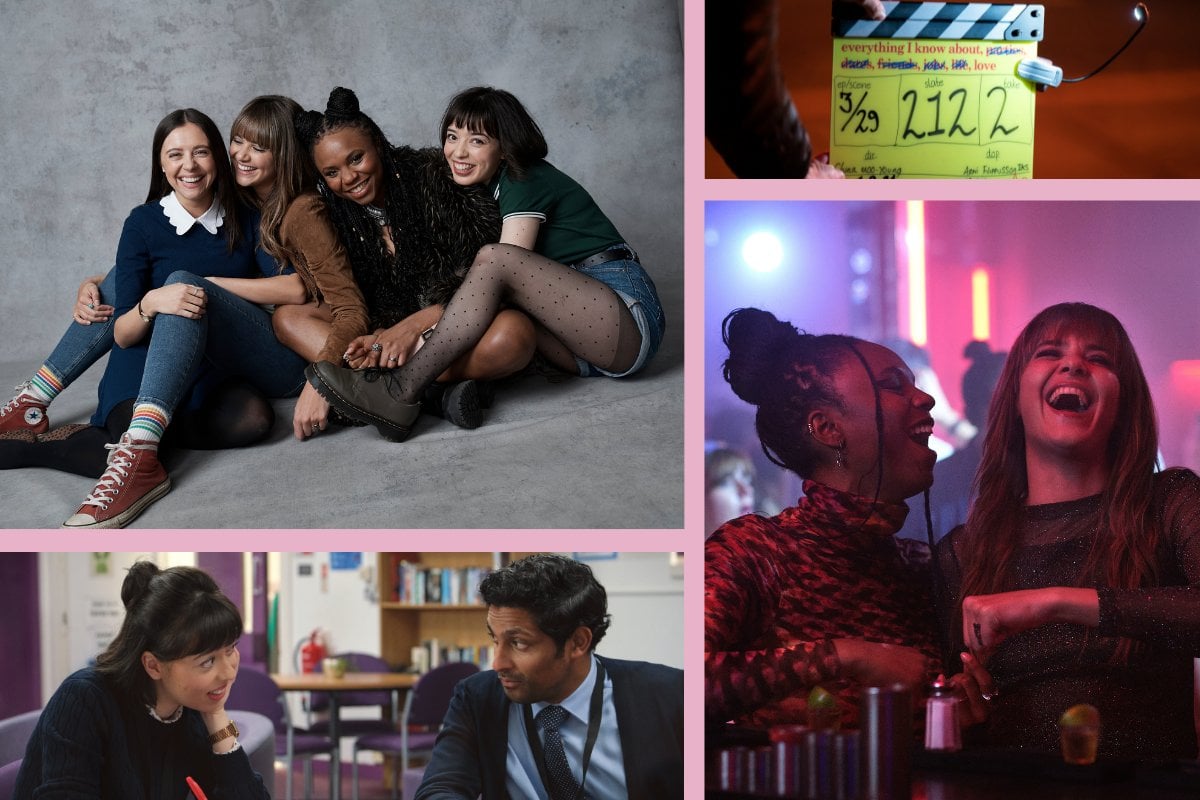 Everything I Know About Love on Stan is the show our group chats will not shut up about. And with good reason.
It's the grubby, funny and unapologetically honest portrayal of your mid-twenties – when your housemates are your best mates, and the focus of your entire being is finding a way to snog a mysterious man with a naff hat. 
Watch the trailer for Stan's Everything I Know About Love right here. Post continues after video.
It's a life stage we're either going through, wish we went through, or already did and are now craving a nostalgic look back at.
And that's what the Stan series Everything I Know About Love serves up in spades. Big bucket loads of familiarity, delivered in the form of four best friends – Maggie, Birdy, Amara, and Nell. 
The latter two are our focus for today, as Mamamia had the chance to speak to the actors who play them about a bit of everything. From what it was really like to bring Dolly Alderton's memoir to life on screen to the complexities of rehearsing a masturbation scene.
Here's what they had to say.
...But before we dive in, have a listen to this special bonus episode of The Spill where our hosts discuss the major themes, wins and clangers within Stan's Everything I Know About Love. Post continues after podcast.
For Aliyah Odoffin, playing Amara was her first-ever role – booked in her last year of drama school. 
She was in the thick of rehearsals for her final play and received a call from her agent. She took it outside, heard the news, and then walked back into rehearsals where she was practicing a scene at the top of a ladder.
"I was just sitting on top of a ladder processing it all. In my head I was like 'whoa, what just happened?'," Aliyah tells Mamamia.
Whereas Marli Siu, who plays Nell, got the call saying she landed the role while she was wandering down a London high street. "I just immediately went into a coffee shop to buy a cake to celebrate!" she tells us.