In 2011, as the world sat on couches and beanbags and stools around living rooms crossing countries, Princess Eugenie and Princess Beatrice arrived at their cousin's wedding.
Their entrance was beamed into the homes of hundreds of millions of people, their outfits under sudden scrutiny, their attendance soon to become its own punch-line.
It was the wedding of Prince William and Kate Middleton, and if all eyes were on the bride and groom, then certainly the world reserved some side-eye for the future king's two younger cousins.
The headlines were as swift as they were scathing:
Princess Beatrice Gets Makeover After Royal-Wedding Hat Fiasco
Bea and Eugenie strike again! The Princesses top the fashion flops yet again in outlandish outfits
Princess Beatrice awarded crown for worst-dressed at royal wedding
Within hours of the ceremony airing across the world, a Facebook page called "Princess Beatrice's ridiculous Royal Wedding hat," had received more than 18,000 likes.
As fashion commentary takes no prisoners, Eugenie and Beatrice found themselves the centre of a bullying hate-storm based on, well, some fabric they chose to wear.
It set the tone, perhaps, for years to come: The world certainly didn't hate Eugenie and Beatrice – no, not at all. But there was quiet contempt for the sisters who popped in and out of the public eye without rhyme nor reason. You could consider, too, how the legacies of their parents Sarah Ferguson and Prince Andrew – reputations marred in controversy  – had taken chunks from their credibility.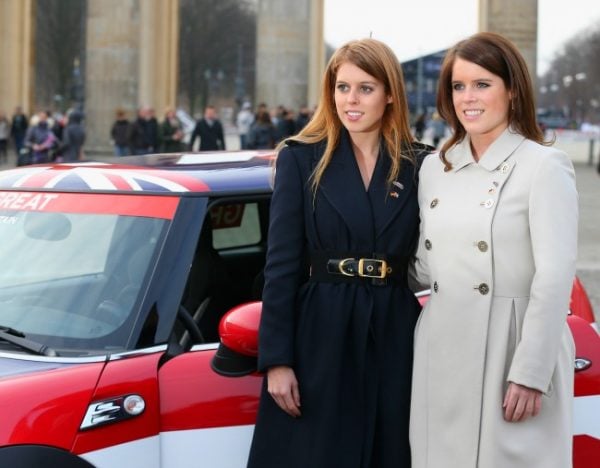 So how did Princess Beatrice, 29, and Princess Eugenie, 28, eighth and ninth in line to the throne respectively, become the quiet constants of the royal family? The forgotten but recognisable two?
While the sisters have royal titles, their involvement in royal life is limited, and Britons aren't fazed by that thought. A YouGov poll in 2015 found that only 28 per cent of people believed Prince Andrew should benefit from public funds, while only nine per cent thought his daughters should benefit from them.
While Beatrice and Eugenie do not carry out formal royal duties or receive any money from the taxpayer, their incessant jet setting is certainly made note of with the occasional and universal raised eyebrow.
According to i News, between November 2014 and December 2016, the princesses took approximately 25 foreign trips between them, including numerous trips to St Barts and others to the ski resort of Verbier in Switzerland.
What is most curious about the lives Eugenie and Beatrice lead, however, is not their constant travels but instead the kind of no-man's land they exist in, their world a puzzling overlap between the royal bubble and the commoner experience.
For example, Eugenie is a director at the contemporary art gallery Hauser & Wirth, while Beatrice has a job at US technology firm Afiniti as an outsourcing strategist. As Eugenie detailed to Harpers Bazaar last year, she does occasionally have to leave work for royal functions. Her workplace, she says, is very "understanding".
Last year, the sisters made headlines because of a rumoured royal rift they were the subject of, but had little involvement in. In 2017, Prince Andrew was reportedly furious that his daughters were  stripped of their 24-hour police protection due to the near million dollar annual price tag. It's this thread that is believed to have caused much tension between Andrew and his brother, Charles, with rumours that when Charles does eventually take the helm as king, he intends to cut back spending spectacularly, which includes Prince Andrew and his family.
Interestingly, as Stuff noted in 2016, other members of the royal family, like Princess Margaret, were careful not to seek royal titles for their children. Cousins like that of Zara Tindall and Peter Phillips have carved successful, non-royal careers, meaning they are not torn between as many worlds as their cousins Beatrice and Eugenie.
Alas, if nothing else, with a royal baby having arrived and a royal wedding coming up, the question of what to do with minor royals has never been so stark. They're royal, but not close enough to the throne. They're famous, but for what? They're wealthy, but not living off the Sovereign Grant.
They're royals, without the ability to enjoy many of the trappings of the royal life. Instead, perhaps the only thing the sisters have in common with their cousins Will and Harry are the occasional family get-togethers, public appearances and being the subject of wild and public criticism.
Namely on their fashion choices.