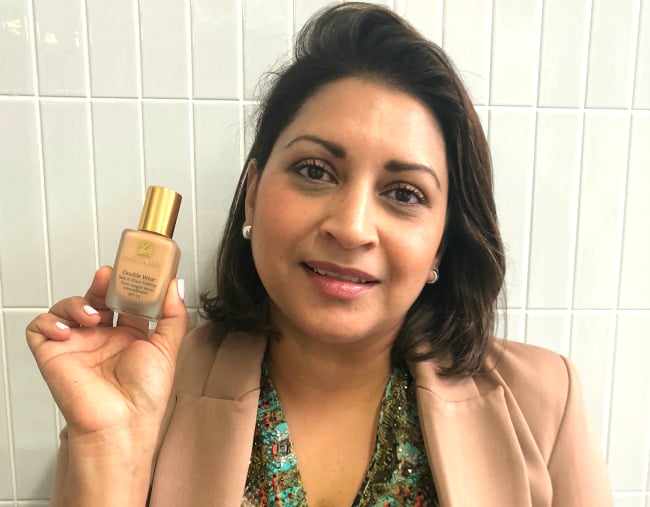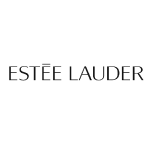 It's the plight that every woman knows too well – you find the perfect shade of foundation and then one day, out of the blue you're told it's…discontinued.
Yes, yes, it's just makeup. But, usually, we've spent a lot of time looking for that shade, because, let's face it, a lot of makeup ranges don't offer options for a large variety of skin tones. So it's frustrating and disappointing to have your hard-won go-to ripped from your hands.
This happened to me again a few months ago. I hopped online to put in my usual order, and boom, my world imploded when the word DISCONTINUED exploded on to the screen in bold red letters.
(Well, that's not precisely what happened, but it's what it felt like, and that's what really counts.)
Which is why, when I discovered that Estée Lauder's cult Double Wear Stay-in-Place Makeup SPF10 foundation (it's apparently the number one foundation) now has 61 shades in total (the largest shade basket on the Aussie market), the timing couldn't have been better.
I hit up the Estée Lauder website to check it out. This is what I found.
Finding my match in Estée Lauder's Double Wear foundation was so simple I almost cried.
In a couple of clicks, I was at the Double Wear foundation page. But the range wasn't displayed by a series of confusing names, or even just by coloured dots; you could see the entire range at a glance, and on each selection, you get a preview of what the makeup would look like. This digital shade match guide made finding my tone the easiest it's ever been.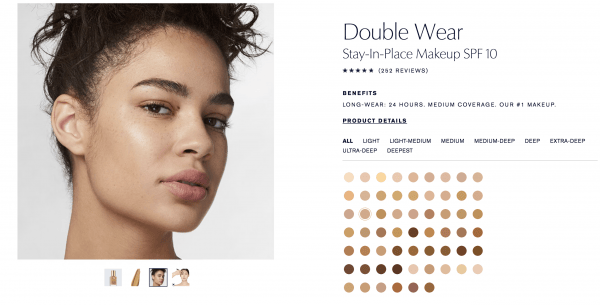 Seeing the makeup on someone with my skin colouring gave me the confidence to make a sight-unseen selection. (Oh, and the free shipping and returns helped, too.)
I presume it would also be that easy, and probably more jolly with a nice-smelling professional, to do that at an in-store Estée Lauder counter. But look, I'm a working mum, and it's a miracle I even managed to get this done online.
If you do have more time than me, head into an Estée Lauder counter at a department store and get a personal shade match with one of the expert beauty advisors - and get a 10-day sample to make sure the colour match is perfect for you.
Before I show you how Double Wear worked on my skin, I want to share something else I found on the site. This little video taught me a nifty foundation-applying hack that no-one really admits: apply it with a brush, and blend it with your fingers.
First impressions of Estée Lauder's Double Wear foundation.
I'm a scent-person, so of course, the first thing I did when I got the iconic glass bottle in my hands is remove the gold lid and have a long sniff. It smelled as a quality foundation should. Tick.
I also try it on my hand, and it looks like the colour is right, too.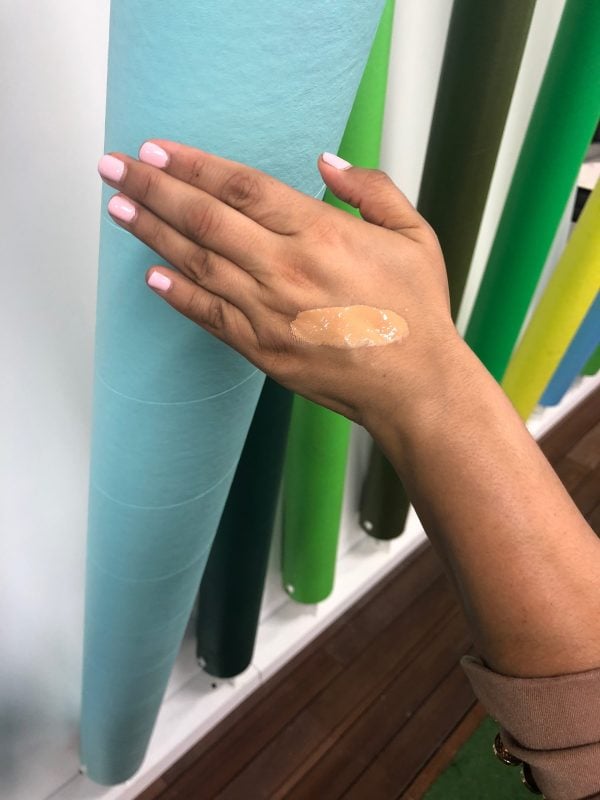 The first time I used it is after a shower, because that's how you honour exciting new makeup - with a clean face. I also do this because I'm a cheater.
Yep, I'm a makeup rebel.
I want my makeup to be as multifunctional as possible - and that means hoping I can get a lighter coverage mixing it with my moisturiser. I pumped the teeniest amount on to the back of my hand, dolloped on my face cream, and mixed it around = so I could apply it like a cc-cream. This was the result: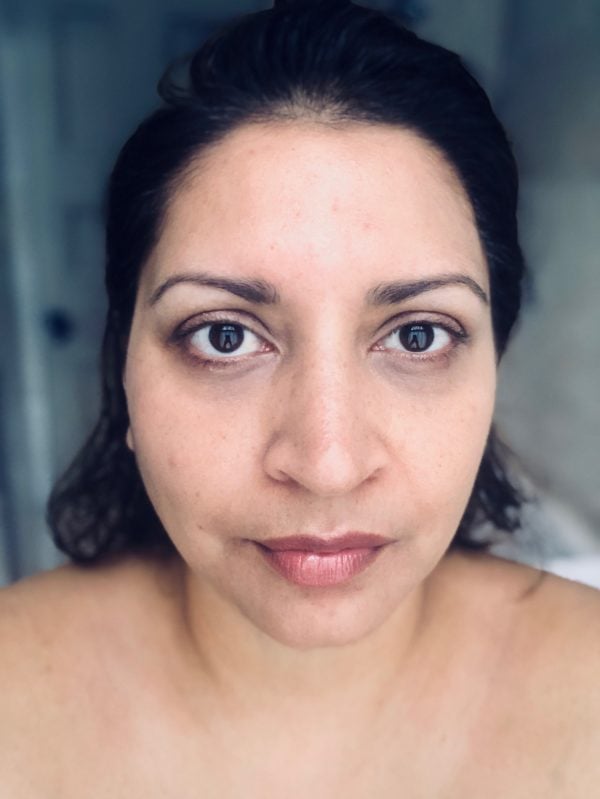 And that was just by mixing it with my moisturiser.
I swear, there is no filter on that photo. I'll admit, there's some good, natural lighting. But the rest is Double Wear .
I was so impressed.
When I applied another layer, Double Wear became what it's intended for - a foundation. I had full coverage, with merely another thin layer. Tick again (results are evident in my first image!).
My next test is can I use it under my eyes as a concealer? Yes! It evened out my under-eye pigmentation (which is the bane of my existence) so well, and did not sink into my lines.
Result: makeup magic.
But what I loved more than anything is that Double Wear didn't go "ashy". What I mean by "ashy" is the grey appearance of dry skin on people with darker skin tones. On my face, I find this happens particularly around my nostrils and the tip of my chin, which is really annoying.
I found this wasn't a problem with the Double Wear foundation, because it somehow mattified the areas I need, like on my typically shiny nose, while still letting my skin breathe because I didn't have to use a lot of it - which means it wasn't drying the areas that just need to be evened out.
Why Estée Lauder's Double Wear foundation is the best makeup for dark skin I've ever tried.
I not only found my perfect shade, it was insanely easy to do.
As the product promises, it's got 24-hour staying power. Not that I wore it for 24 hours, because I'm a good girl and I take my makeup off at night. But I did wear it on a Friday from 7.30am until I got home from a work thing at midnight, and it really looked like it hadn't budged.
What I noticed is that it stayed matte-looking, despite my ultra shiny nose - I guess that's what an oil-free formula does. So I've found that wearing it, I don't need to powder my nose until much later in the day when I'm naturally a little more shiny.
I love that I can use it as a cc-cream of sorts, and a concealer. But more than anything, I love that there is no ashy look, even after hours of wearing it. And that's rare.
Estée Lauder also promises their new range isn't a fad, but part of their commitment to having a shade for every woman. That means to me I won't be reading DISCONTINUED in bold writing any time soon; which is absolute makeup music to my ears.
What's the best foundation you've ever used? Got a hot tip to share with us in the comments?
This content was created with thanks to our brand partner, Estée Lauder.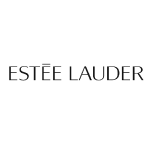 Made in your shade.
Ready to meet your perfect foundation match? For millions of women, it's #DoubleWearOrNothing. Now available in over 60 gorgeous shades, Estée Lauder Double Wear Stay-in-Place makeup gives skin a flawless, matte finish with 24-hour staying power and no touch-ups required – no matter what the day brings.
Discover your shade online esteelauder.com.au or visit your nearest Estée Lauder counter for a FREE 10-day sample.