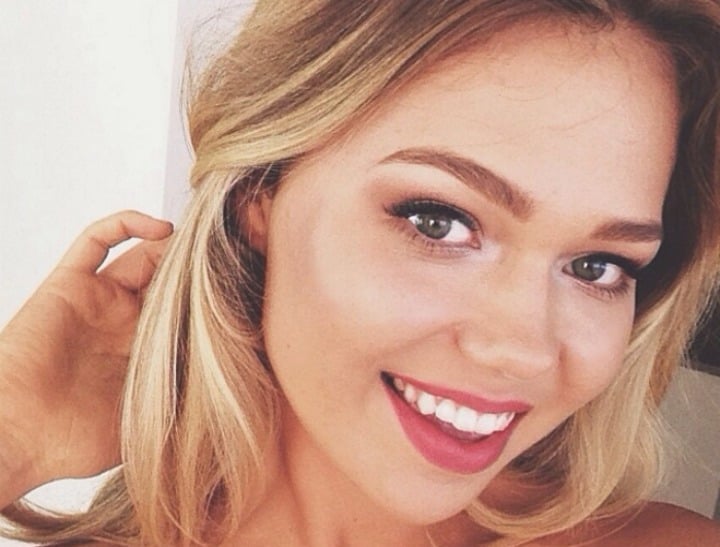 "Social media, especially how I used it, isn't real."
One week ago, you'd be forgiven for assuming social media star Essena O'Neill had the perfect life.
The 19-year-old's glamorous bikini photos, pensive beach shots and pouty, immaculately made-up selfies won her half a million followers on Instagram, as well as 200,000 subscribers on YouTube and Tumblr.
But the Queensland teenager has recently had a change of heart — and now she's quit social media amid a public campaign to highlight the superficial, manufactured nature of social media.
You can watch a clip of Essena's announcement here (the whole video is available on YouTube, post continues after clip):
Since Tuesday, Essena has deleted 2000 photos from her Instagram account and changed her account name to "Social Media Is Not Real Life".
She has also edited the captions on her remaining Instagram photos to detail how they were manufactured, and her honest commentary makes for fascinating and reassuring reading.
"Now marks the day I quit all social media and focus on real life projects," the Coolum woman posted in a caption on October 27. She has since posted dozens of frank comments about the destructive nature of social media and its users' obsession with gaining approval. "Social media, especially how I used it, isn't real," she wrote. "It's contrived images and edited clips ranked against each other. It's a system based on social approval, likes, validation in views, success in followers. It's perfectly orchestrated self absorbed judgement."
Essena explained that her social media fame was driven by deep insecurities about her self-worth and looks.
"At 12, I thought I was ugly, too tall, weird, lonely, unpopular and that I could never be of value," she explained on her new blog Let's Be GameChangers.
"I told myself, if I got heaps of views on Youtube, I would then be happy, feel like enough… So let this be very clear, I'm quitting social media for my 12 year old self."
She also details the real story behind many of her glamorous images, explaining that in reality she felt sad, had acne or had been driven inside by the rain at the time the images were taken.
In the caption for an image from her high school formal, she wrote: "[I] took countless photos trying to look hot for Instagram, the formal made me feel incredibly alone."
Alongside an image of herself posing on a beach, she explained: "[I] took over 100 in similar poses trying to make my stomach look good. Would have hardly eaten that day. Would have yelled at my little sister to keep taking them until I was somewhat proud of this."
In other captions, she points out the hypocracy of taking to social media to prove how relaxed and happy you are. "There is nothing zen about trying to look zen, taking a photo of you trying to be zen and proving your zen on Instagram," she wrote. "Nothing is more inspiring than fake smile posing for a camera, creating a 4 collage of yourself and putting light speckles on top," she added in another caption. 
She occasionally remarks on how she wishes she'd spent her younger teen years focusing on other aspects of her self-development.
"Oh 15-year-old Essena I just want to hug you and tell you how much more free time you would have had if you didn't care about your appearance, social media, what others thought. You probably would have pursued writing, or something real to you," she said.
"I wish someone would have shook me and said 'You have so much more in you than your sexuality'…
"I only realised at 19 that placing any amount of self worth on your physical form is so limiting! I could have been writing, exploring, playing, anything beautiful and real… Not trying to validate my worth through a bikini shot with no substance."
Essana also admits she was often paid by advertisers to endorse products, and now believes she should have disclosed brand partnerships. "Nothing is wrong with accepting brand deals. I just think it should be known," she wrote. "Be aware what people promote [and] ask yourself, what's their intention behind the photo?"
The teenager writes that she hopes younger Instagram users don't aspire to the "contrived perfection" shown on social media.
"I just want younger girls to know this isn't candid life, or cool or inspirational," she says. "It's contrived perfection made to get attention," she said.
The more recent images Essana have posted to Instagram focus on inspirational quotes, commentary about social media addiction and self-worth. "Confidence is not 'they will like me.' Confidence is 'I'll be fine if they don't'," one quote reads. "In general, people are not drawn to perfection in others. People are drawn to shared interest, shared problems, and an individual's life energy," says another. It's not often we encounter an "Instagram celebrity" who makes us feel better about ourselves — but that's just what Essena's new campaign is doing. Thank you, Essena, for being so honest. Some more recent images from Essena's Instagram: