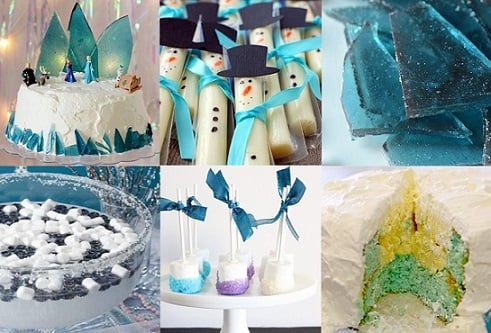 The cake, the cookies, the build-your-own ice palace part. Everything you need for a Frozen party.
If your kids are absolutely begging you for a Frozen party, but you wouldn't even know where to begin, we're here to help. We've put together all of the best ideas for decorations, food, drinks, Elsa cakes and everything else you need for a seriously cool Frozen do.
No time to read now? Pin it for later.
Epic Frozen Cake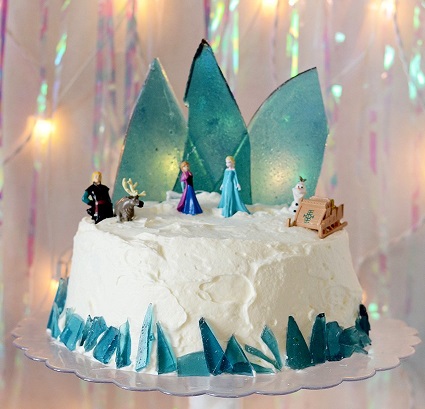 Ingredients
1 boxed vanilla cake mix
blue food-colouring
3-4 cups of vanilla ice-cream
Instructions
Make a two layer cake using a boxed vanilla cake mix and a little blue food colouring. Set aside until cooled completely.
Place the bottom layer on a cardboard cake disk and level the bottom layer out with a knife.
Take the next layer and cut out the center leaving around 5cm around the perimeter.
Fill the center with slightly softened ice cream and wrap the whole cake with plastic wrap.
Place in freezer until ready to serve.
When ready to serve ice with whipped cream frosting and top with blue ice candy and Frozen figurines. (Instructions for frosting and ice candy are below).
Whipped Cream Frosting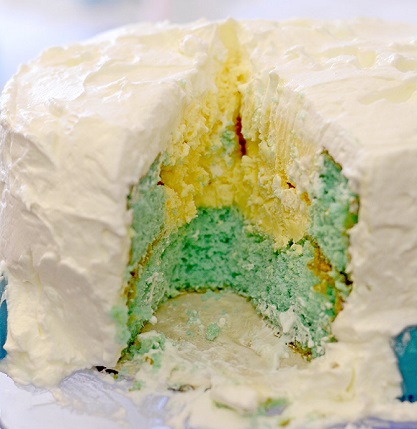 Ingredients
1½ cups heavy whipping cream
1 tsp. vanilla
1/2 cup powdered sugar
1½ tsp. unflavoured gelatin
4 tsp. water
Instructions
Mix the water and gelatin in a large microwave safe bowl.
Microwave on high for about 20 seconds or until all the gelatin is dissolved. Let the gelatin cool off to a lukewarm temp before adding it to the cream.
With an electric mixer whip the heavy cream, sugar and vanilla on high or until thickened.
Add the gelatin to the whipped cream slowly and beat on high until the whipped cream forms stiff peaks.
Blue Ice Candy Cake Decorations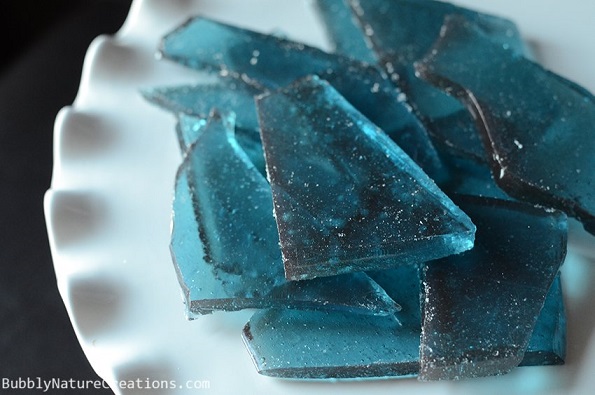 Ingredients
3¾ cups white sugar (must be white granulated sugar)
1½ cups light corn syrup
1 cup water
1 tablespoon lemon, or other flavoured extract -( make sure that you use a non colored extract or it will tint the finished product)
blue food-colouring
Instructions
In a medium saucepan, stir together the white sugar, corn syrup, and water. Cook, stirring, over medium heat until sugar dissolves, then bring to a boil. Without stirring, heat to 149 to 154 degrees C, or until a small amount of syrup dropped into cold water forms hard, brittle threads.
Remove from heat and stir in flavored extract and food coloring, if desired.
Pour onto a greased cookie sheet.
Let cool, and break into large pieces that resemble broken ice. Store in an airtight container.
For nibbles – String Cheese Snowmen
You will need
One pack of string cheese
Sharpies: orange and black
Blu-tack
A spool of ribbon to make the scarves
12×12 piece of black card stock for the top hat
Instructions
Cut out little square top hats using the black card and attach using blu-tack.
Use the sharpies to draw on eyes, a nose, a mouth and buttons.
Tie the ribbon on to make a scarf.
For drinks - Snow Punch
Ingredients
1 cup mini marshmallows
1/3 cup caster sugar
1/2 lemon or orange
1 2L bottle of sparking water
1 2L bottle of flavoured sparkling water
2 cups of frozen blueberries
Instructions
Place mini marshmallows on a cookie sheet. Freeze for 2 hours or until you are ready to add to the punch.
Pour the sugar onto a small plate. Dampen the rim of a large punch bowl and small decorative glasses by rubbing them with a lemon or orange half. Dip the dampened rims into the sugar and set aside until you are ready to serve the punch.
Pour the sparkling water into the punch bowl. Add the blueberries and marshmallows.
Stir. Serve in the garnished punch cups.
For sweets - Snowflake Marshmallow Pops
You will need
coloured sugar
marshmallows
white chocolate melts
skewers
wax paper
Instructions
Press the skewers into the marshmallows.
Melt the white chocolate.
When the chocolate is melted and smooth dip the marshmallows halfway into chocolate.
Tap the marshmallow on the side of the bowl to remove excess and then roll into coloured sugar.
Let harden completely and then add a pretty ribbon.
Decorating - Frozen style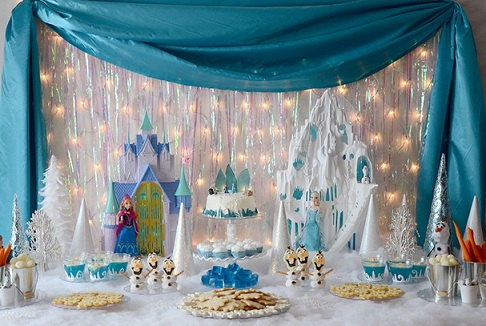 You will need
Netted white LED lights
Wall hooks
String tinsel
Shiny blue fabric
Instructions
Apply wall hooks to your desired space.
Hang the netted white LED lights on the hooks.
Cover the lights with a row of string tinsel.
Drape the shiny blue fabric from corner to corner.
SCROLL THROUGH the gallery even more Frozen-themed inspiration...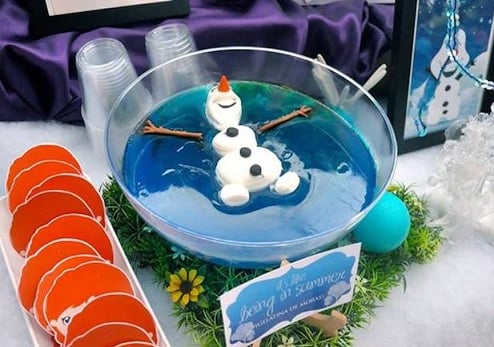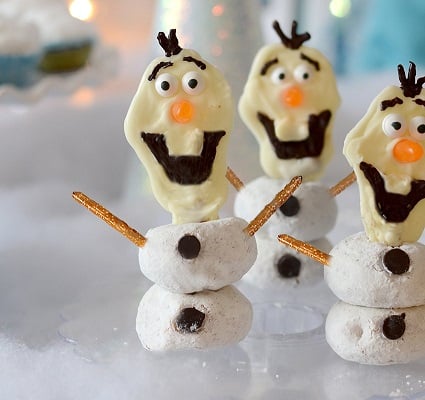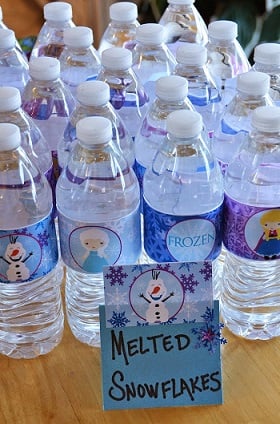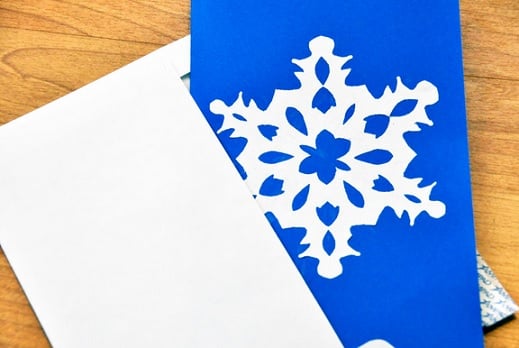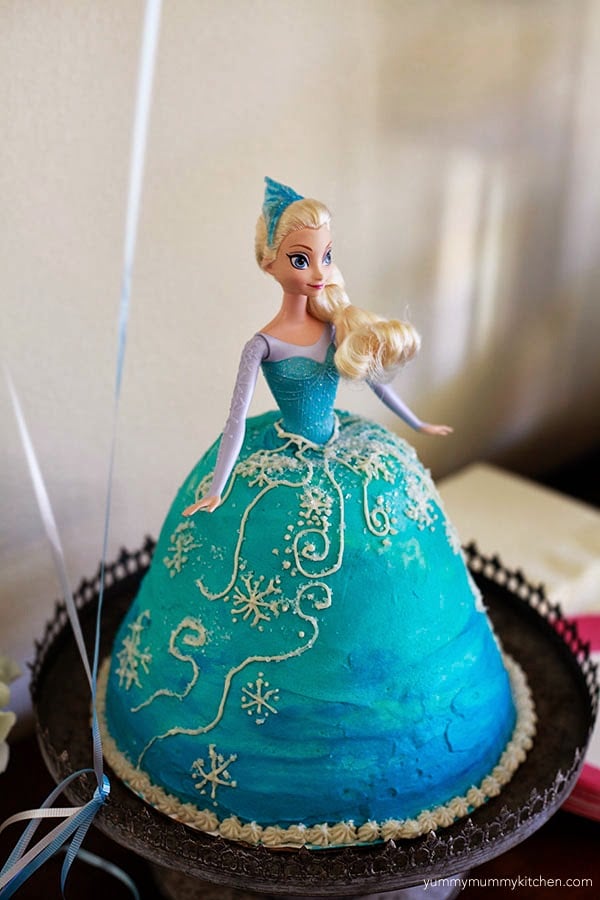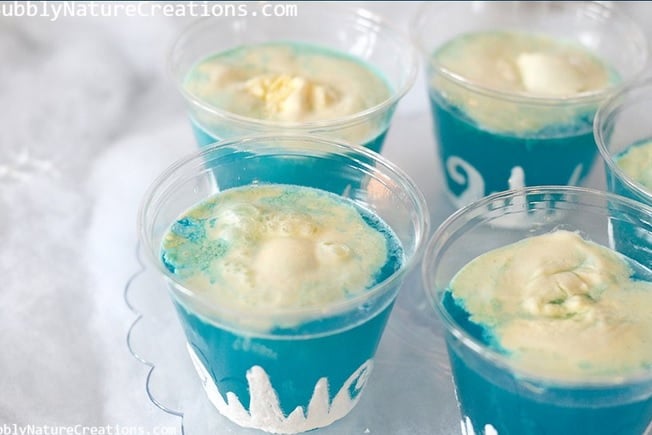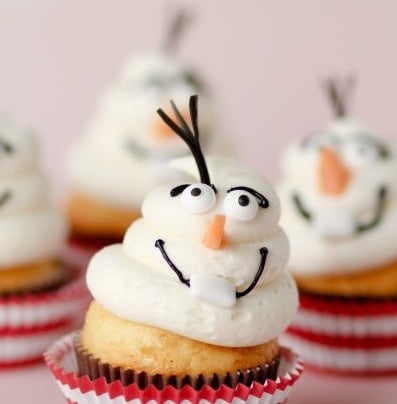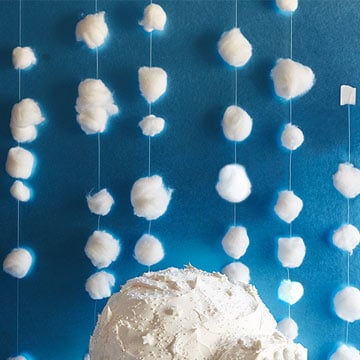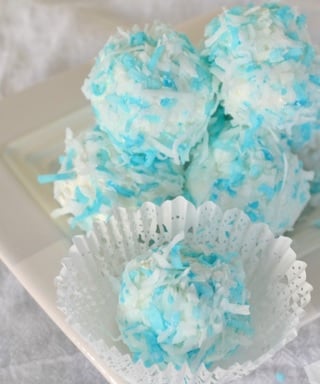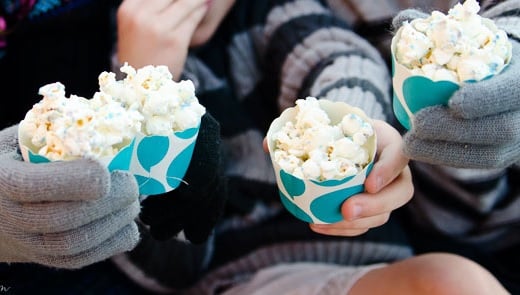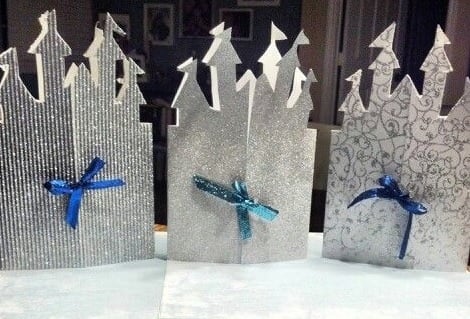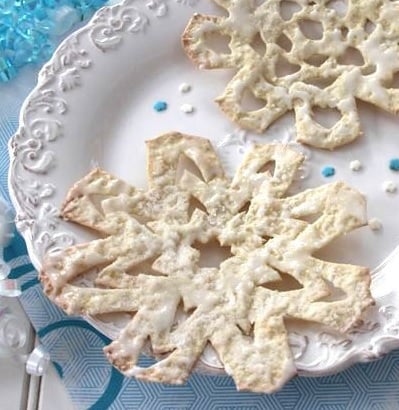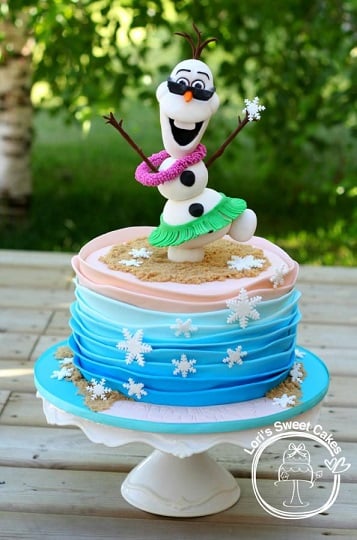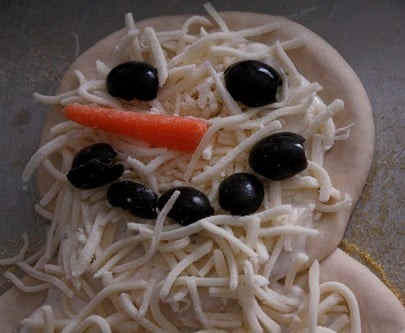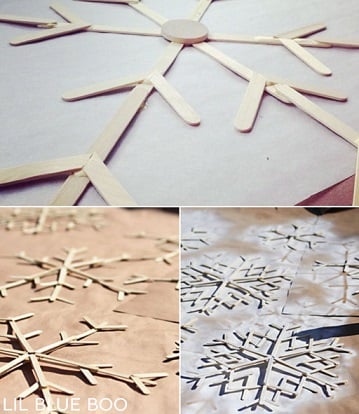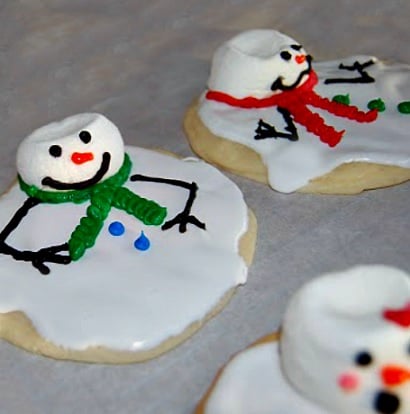 Like this? Try these:
21 rainbow cake recipes that will make your mouth water.
Help! My son's birthday party is getting out of control.