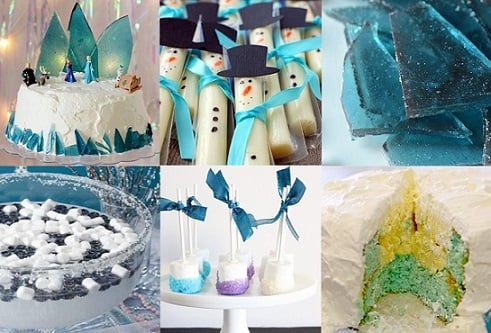 The cake, the cookies, the build-your-own ice palace part. Everything you need for a Frozen party.
If your kids are absolutely begging you for a Frozen party, but you wouldn't even know where to begin, we're here to help. We've put together all of the best ideas for decorations, food, drinks, Elsa cakes and everything else you need for a seriously cool Frozen do.
No time to read now? Pin it for later.
Epic Frozen Cake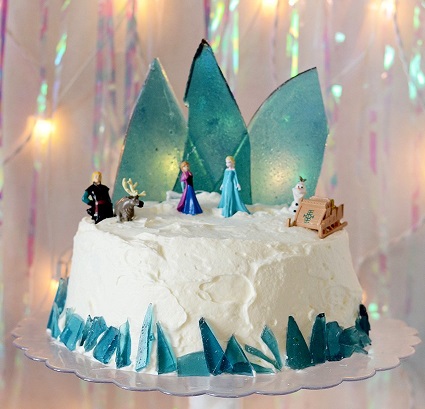 Ingredients
1 boxed vanilla cake mix
blue food-colouring
3-4 cups of vanilla ice-cream
Instructions
Make a two layer cake using a boxed vanilla cake mix and a little blue food colouring. Set aside until cooled completely.
Place the bottom layer on a cardboard cake disk and level the bottom layer out with a knife.
Take the next layer and cut out the center leaving around 5cm around the perimeter.
Fill the center with slightly softened ice cream and wrap the whole cake with plastic wrap.
Place in freezer until ready to serve.
When ready to serve ice with whipped cream frosting and top with blue ice candy and Frozen figurines. (Instructions for frosting and ice candy are below).
Whipped Cream Frosting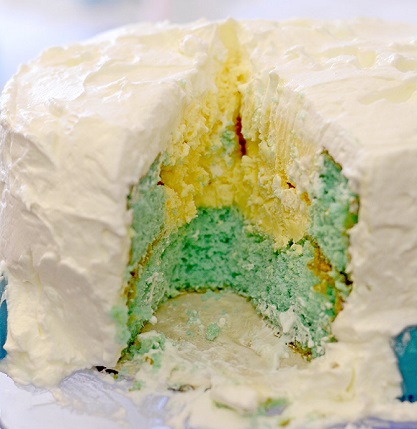 Ingredients
1½ cups heavy whipping cream
1 tsp. vanilla
1/2 cup powdered sugar
1½ tsp. unflavoured gelatin
4 tsp. water
Instructions
Mix the water and gelatin in a large microwave safe bowl.
Microwave on high for about 20 seconds or until all the gelatin is dissolved. Let the gelatin cool off to a lukewarm temp before adding it to the cream.
With an electric mixer whip the heavy cream, sugar and vanilla on high or until thickened.
Add the gelatin to the whipped cream slowly and beat on high until the whipped cream forms stiff peaks.