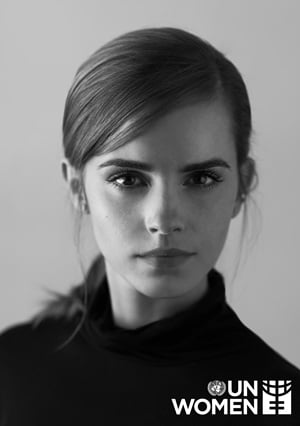 By MATILDA RUDD
Could we love Emma Watson more? It's unlikely.
Because as well as being a witch (yes, really), a great actress and a rare Hollywood role model for how decent human beings conduct themselves, she has now launched the "HeForShe" program alongside the United Nations in a bid to end gender inequality.
It's a program that aims to enlist men and boys in a campaign for gender equality.
On Saturday, the 24-year-old British actress took a seat at one of the world's most powerful tables in New York City, addressed confusion about her appearance like this:
"You might be thinking who is this Harry Potter girl? And what is she doing up on stage at the UN. It's a good question and trust me I have been asking myself the same thing. I don't know if I am qualified to be here. All I know is that I care about this problem. And I want to make it better."
And then proceeded to Nail It.
Read more:

–How Emma Watson escaped the child-star curse.
"I started questioning gender-based assumptions when at eight I was confused at being called "bossy," because I wanted to direct the plays we would put on for our parents—but the boys were not.
When at 14 I started being sexualised by certain elements of the press.
When at 15 my girlfriends started dropping out of their sports teams because they didn't want to appear "muscly."
When at 18 my male friends were unable to express their feelings.
I decided I was a feminist and this seemed uncomplicated to me. But my recent research has shown me that feminism has become an unpopular word."
Swoon. 
Here's her speech, in full: