I was 10 and reading about a smart, young, adventurous girl who was brave enough to show her brains and her guts. For once, beauty had nothing to do with it.
Soon I was 13 and even more poignantly for a girl entering high school with peers who were worried about boys and bras and body weight, I saw this same character come alive on screen.
Watch the video playing above to see the best of Emma Watson. 
Emma Watson brought Hermione Granger in the Harry Potter series to life and in doing so, made herself an icon to young women and girls worldwide.
Today the actress' personality—intelligent, brave, passionate, fair—seems so intertwined with that of her characters' that it's difficult to see where the one stops and the other begins.
J.K. Rowling, author of the Harry Potter series agrees: "I spoke to Emma on the phone when she auditioned for the role of Hermione," she recalled. "She was very young, I think she was 10, and I thought: 'You are going to be able to play a very bright articulate girl with conviction because that's who you are.'"
Mia Freedman sits down with Prime Minister Malcolm Turnbull. Post continues below.
Since then, Watson has gone from being one type of hero: A wand-wielding schoolgirl who punches Draco Malfoy in the face while standing up to the Dark Lord and keeping two best friends in check.
To another: A young woman who believes in and fights for equality and fairness for all women and girls around the world.
At age 17, after being critically acclaimed for her role in Harry Potter, Watson acknowledged that she would never have to work for money again.
She instead graduated in 2014 from Brown University in Providence, RI, with a bachelor's degree in English literature and that same year was appointed as a U.N. Women Goodwill Ambassador, launching the campaign HeForShe, which calls for men to push for gender equality.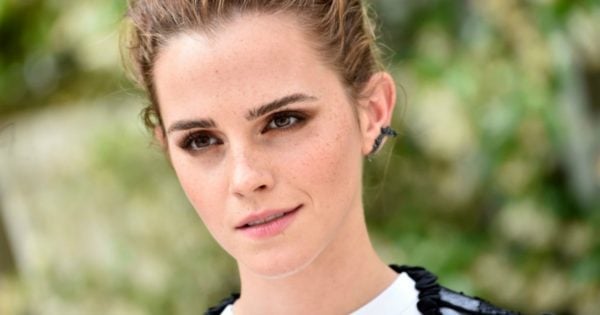 Watson has traveled around the world campaigning for the rights of women to have access to education and political equality.
She has spoken out about the assumptions and expectations—to be sexy and not bossy—placed upon women purely because of their gender.
She's founded a feminist book club, called Our Shared Shelf.
And still, just like the Hogwarts first-year who corrected Ron Weasley on his pronunciation of the levitation charm ("It's LeviOsa, not LevioSA."), the now 27-year-old actress and activist is not afraid to call-out bad behaviour.
Indeed, when criticised for being "hypocritical" after appearing in a photoshoot that showed her breasts earlier this year, Watson fired back:
"Feminism is not a stick with which to beat other women but is instead about freedom, liberation and equality," she said. "I really don't see what my tits have to do with it."
Thank you - just by clicking on this and other content on Mamamia, you are helping to fund education for some of the world's most disadvantaged girls.
Together with our commercial clients and charity partner Room to Read, Mamamia's goal is to be funding 1,000 girls in school each and every day, by June 2020.
Learn more here about our ongoing mission to make the world a better place for women and girls.