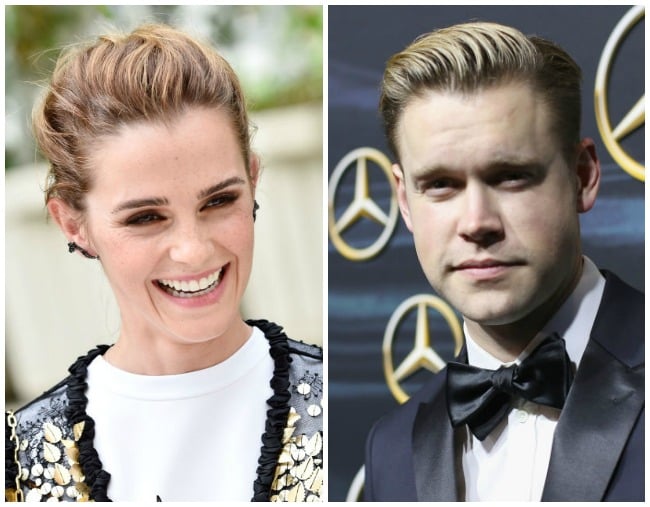 Well, it would appear the ever elusive Emma Watson is dating again, more than five months after it was reported she had split from tech entrepreneur William 'Mack' Knight.
Speculation about a new relationship began in February, when Watson and former Glee star Chord Overstreet were seen leaving a Nathaniel Rateliff & the Night Sweats concert in West Hollywood.
The actress, who will be 28 next month, was again spotted with Overstreet leaving the Vanity Fair Oscars party on Sunday night.
In the days after the Oscars, a source "close" to Watson denied the two were in a relationship at all, though the source's credibility was almost immediately brought into question when, errrr, photos emerged of the two holding hands in Los Angeles on Friday.
An anonymous source with little credibility. What a novelty.
So who is the mysterious (or perhaps not-so-mysterious, if you're so Glee-inclined) Chord Overstreet, with a name worthy of Windsor-family ties?
Chord Overstreet is best known for playing Sam Evans in the musical teen drama Glee from 2009 until 2015. After he left the show, he has spent most of his time dabbling in music. In 2016, he released his debut single, "Homeland".
His family, he has said in many interviews, are a huge source of inspiration for him musically. For one, he grew up in Nashville, meaning he was overwhelmed with and by music from a young age. His father, Paul Overstreet, is also a renowned country singer/songwriter and his older brother, Nash Overstreet, plays guitar in the band Hot Chelle Rae.
In a 2016 interview with The Huffington Post, Overstreet said Glee was an incredible training ground to launch off as a career musician.