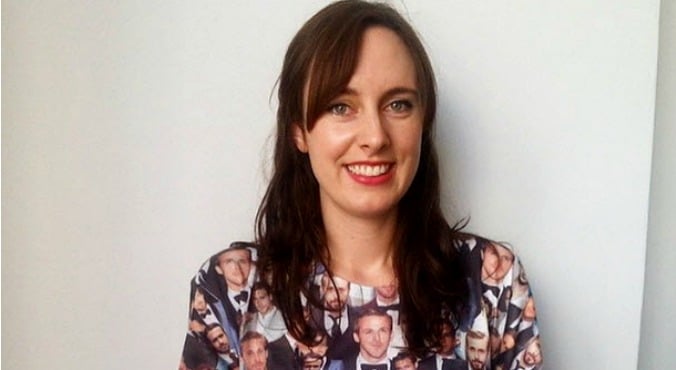 Image: Me pre-chop. And yes, that is a Ryan Gosling T-shirt.
When it comes to hair, I'm Derek Zoolander.
If the reference is lost on you (meaning you were born in the 2000s, which alarms me), allow me to explain: my hair has been the same length for about 7 years now, and aside from my occasional flirtations with blunt fringes the style hasn't changed. At all.
The Chop: "I suddenly decided to cut my hair. I blame Taylor Swift."
My hair has been so consistent that if you were to create a flip-book of photos of me from 2007-now, it would look a lot like the calendar in Zoolander. I'm completely guilty of having One Look. ("One Look!")
I finally broke my run this weekend, all because of Emma Stone. More on that in a moment.
As you may already know, if someone relatively famous does anything to their hair, we usually cover it here on The Glow (incidentally, you can find our A-list hair coverage here). This is how a haircut called the long bob, or 'lob', came to my attention.
Everything you need to know about getting the haircut of the moment.
Although I was seeing this ridiculously-named cut on everyone from Taylor Swift to Rose Byrne, I quickly talked myself out of it (something I'm very good at doing). "It wouldn't suit wavy hair, anyhow/It took me so long to grow it to this length!/I couldn't be bothered styling it every day," I told myself. But every time I saw how great the lob looked on celebrities and readers featured in The Chop, I came around a little more.
Then, finally, Emma Stone walked down the Golden Globes red carpet and I was sold.
I'm completely obsessed with E-Stone as it is, but it was her relaxed, unfiddly, wavy lob that did it (well, in Hairdresser Speak, it's actually a "wob"). I happen to be hilariously inept at styling my own hair, so I live and die by the "wash and wear" philosophy. For someone with natural waves, Emma's hair actually looked achievable - although, yes, it was undoubtedly created by a team of stylists.