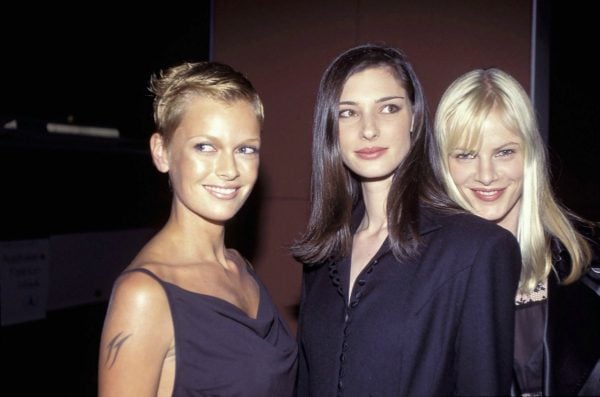 Emma Balfour is likely the most down-to-earth supermodel you will ever meet.
Making a name for herself in the '90s during the original era of the supermodel, Balfour was arguably one of Australia's biggest fashion exports.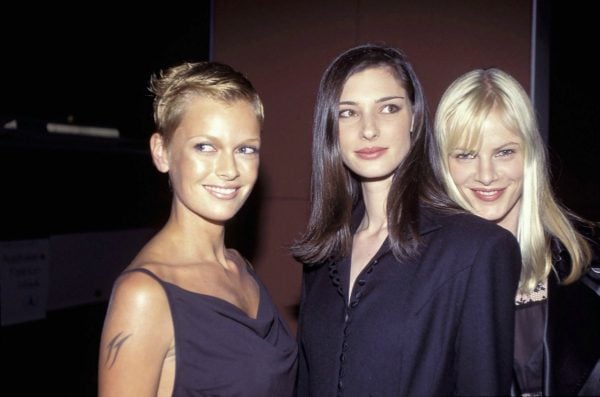 Emma Balfour (far right) at Australian Fashion Week. And yes, that's Sarah Murdoch. Image: Getty
Oh, and she hung out with Kate Moss who apparently sometimes called her "Mother" due to Balfour's preference to knit rather than engage in the drug-taking that was prominent in the industry at the time.
Life for the 45 year old has taken a much slower pace. Ms Moss has been swapped for chickens (in the city, no less!) and spending time with her husband and children, Bruno and Elliot. After a significant break from the industry, Balfour has been dipping her toe back in, most recently as one of the faces of Westfield's The Front Line campaign.
We spoke to her about the return of '90s trends, living sustainably and what she really thinks of labelling Kendall Jenner a 'supermodel'.
We're seeing a lot of big '90s trends returning. Are you a fan?
"It's just that weird thing where it feels like it's way too soon to be coming back. I think it's kinda cute, it's quite charming, I like seeing my kids look at stuff that I used to be wearing a lot of and thinking it's not as daggy as my parent's flares were, you know stuff like that. Actually, it's still a little bit cool. I like it."