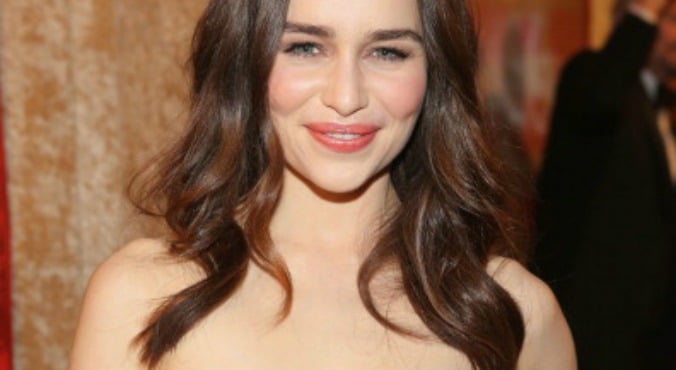 Image via HBO.
Although we usually see her sporting platinum blonde hair while she mothers dragons, it may come as a surprise that Khaleesi is actually a brunette in the real world.
This week, 28-year-old Emilia Clarke, who plays Daenerys Targaryen in Game of Thrones, has given us yet another reason to place her at the top of our hair-envy list.
She's recently had a killer new haircut, showing the world that not only can she pull off the blonde bombshell look, but she can rock a shoulder-length bob, too.
RELATED: Meet "lived-in hair": the hair colour trend that lasts six months.
Emilia's new 'do has been cropped several inches.
Emilia's new chop is more proof that the "lob" trend is not yet dead. And there's another celebrity who's followed her lead. (Post continues after gallery.)
Emilia Clarke on Instagram
Alanis Morissette decided to ditch her longer hair in favour of a choppy, messy bob.
RELATED: 9 ways to style a Lob.
The 41-year-old singer posted a snap of her brand new haircut on Instagram last week, telling her followers "long live the adrogyne!", listing Kristen Stewart as her hair muse.
Mixing things up, Aussie model Abbey Lee Kershaw decided to dye her hair pink and green, probably causing Pinterest boards across the globe to explode.
While we probably won't be trialling this one ourselves, there's no denying Abbey Lee's colourful new style looks spectacular on her.
Curious about which other celebrities have had a hair change recently? Take a look at our favourite celebrity hair transformations...
The best celebrity hair transformations