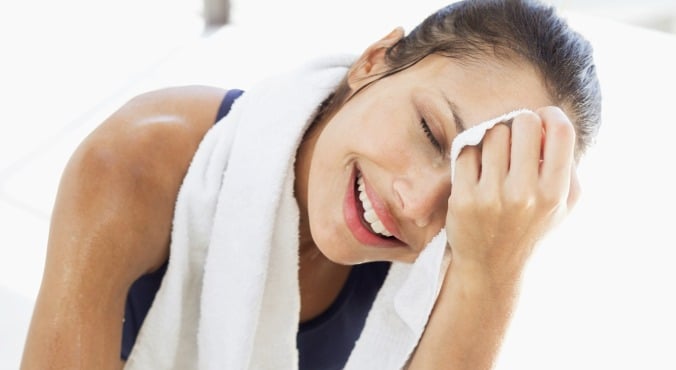 Image: We've all had those *facepalm* moments at the gym. Right? (Thinkstock)
I avoided the gym for years when my kids were young. I just couldn't face it.
To me, the gym isn't something to be done half-heartedly. When I become a member at a gym I like to dress the part, act the part and throw myself in. This sort of over-enthusiasm is always going to lead to an incident or two, which I am happy to share with you now for two reasons:
a. You might learn how to avoid making the same mistakes I did;
b. It might give you a bit of belly-laugh, which, let's face it, most of us can use.
Okay, here goes (breathing deeply):
1. I got motion sickness on a treadmill
Upon my return to the gym, decked out in my new gym gear and feeling pretty fabulous, I decided it was a good idea to run on the treadmill as a way to gently reintroduce myself to the vigours of cardio.
I walked for ten minutes, slowly increasing my pace. And heck, I even added on a 1% incline because what the hell? I began a light jog and felt okay. My new sports undies were staying in place, my headphones hadn't fallen out, and watching Ellen while running kept my mind off my lack of fitness.
The 7 kinds of people you see at the gym
But I knew I was a bit out of shape and didn't want to risk taking a sip of water while jogging – something I used to do with ease. I hopped off the moving part of the treadmill onto the side section so I could have a quick sip. A wave of dizziness, then violent nausea, hit me and as I staggered to the bin to vomit, I wondered if I'd gone a little too hard; a little too fast.
I never vomited. But I did sit on the floor for a while. It was explained to me by a super-fit trainer, who trotted over to gallantly hold my hair back if needed, that I had suffered from motion sickness, which can occur whenever the body has trouble adjusting to motion. By going from running to being stationary I had given myself motion sickness.
It could have been worse. I could have fallen on my face.
Embarrassing gym moments happen - but when your workout gear is as cute as this, it helps to heal the shame. Promise!:
Country Road Active look book
2. I fell off a step at step aerobics
Step aerobics got me through my HSC. I attended three classes a week during Years 11 and 12 and credit it with stopping me from having the same nervous breakdown all my friends seemed to be having as we faced our final years of high school.
I was happy to see that step aerobics was still around and turned up for a class, knowing I could rock it. I used to be one of the best in the class, setting up my step in the front row with two levels instead of one, watching the newbies with sympathy and shaking my head (then there were the poor guys who just couldn't nail the routines).
The class started off well enough. I was keeping up and catching onto most of the routines. It was during a single leg jump onto one side of the step that my then 37-year-old ankle simply gave way, causing me to topple to the floor.
Yep, too hard too fast once again. And if you think I learned from these incidents, you might want to keep reading...