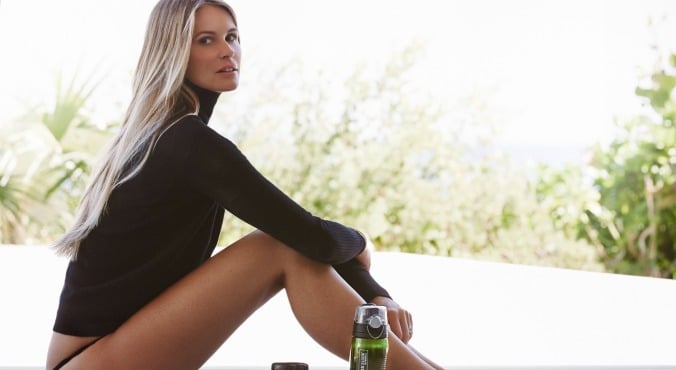 Image: Elle Macpherson with her Super Elixir (supplied)
These days, 'It' models seem to have a very speedy turnaround. A model will appear everywhere for a couple of years, until suddenly there's a new cool girl on the block, and the cycle starts over.
Elle Macpherson, however, has maintained her 'iconic model' status for more than three decades now. The Aussie many know as 'The Body' first rose to prominence in the '80s, and she remains as busy and as visible as ever. Judging roles on Next Top Model and Fashion Star, and a string of successful business pursuits have certainly helped.
The mum of two's newest venture is a dietary supplement range called Super Elixir, sold through her website Welleco.
"I want to build a wellness brand that is like Net-a-Porter Wellness, where you can go on the site and find products that are good for you, good for the environment and cut out the noise of this very busy space," the 51-year-old says.
During her recent visit to Sydney, Macpherson met exclusively with The Glow. Naturally, we had many, many questions...
If you were 17 years old right now, would you still choose to be a model?
"I think the modelling industry's changed enormously, because the distance between the iconic models and the public was huge back in the '80s and '90s. The distance today between very successful models and the public is very small. Actually the measure of your success today is by how close you are to your consumer and the measure of your success before was how far away you were from your consumer. So I think it's just different times. Nothing concerns me. "
You're a big sun safety advocate now - but were you always careful with your skin?
"No I wasn't, I wish I was. I loved baking in the sun and now I've got sunspots all over my body. Actually, I wish someone had said to me, 'It's really bad for you' — but I think I probably wouldn't have listened. Today I'm really careful with my skin. I use Invisible Zinc in SPF 50 and you can see a huge difference when I have sun damage and when I don't. Some of it I can't reverse but I certainly don't need to exacerbate it."
What's one thing you've done consistently for your health throughout your career?
"Doing some kind of physical movement every day or every other day. I used to do Jane Fonda videos, then I was in the gym doing pushups and situps like a guy; then I was doing lunges on the beach and that morphed into playing tennis and then paddleboarding and then it was like, 'I think I'll learn kite surfing'. It's a joy to dedicate 45 minutes a day to something for my body, preferably in nature — I think it's the combination of movement and nature that's really satisfying." (Post continues after gallery.)
RELATED: Jennifer Aniston's eating and fitness secrets are surprisingly doable.
Elle Macpherson on Instagram
What advice would you give a woman hoping to enter the business world?
"Give it a go. That's easy for Autralians — if you said that to an American they'd say, 'Ooh no, I might fail', whereas Australians say, 'Oh yeah, okay, I'll give it a go'. I think it's really important to have the courage to try. The most successful businesses come from passion, not thinking, 'Oh god, how am I going to make the most money?' It's more like, 'What do I really love? I really believe in this.' Then there's authenticity and integrity behind it. Choose with the heart."
You used to sleep for just four hours a night, until your nutritionist told you to aim for more. How did you retrain yourself?
"I just put myself to bed. It's hard because it takes some discipline, but now it's just so easy. I work backwards — 'What time do I need to get up? Five o'clock. So what time do I need to go to bed in order to get seven hours sleep? 10pm'. So if I have to be asleep at 10 o'clock, really that means putting myself to bed at 9.30 if I can — I read, sometimes I scroll through my Instagram or I watch CNN. Obviously if I've got a party that's a different story, but on a week night when I'm getting up at five to do the school run and other things, I try to eat dinner no later than 7, and put myself to bed."