"Adult fingers are allowed to touch it!" I'm yelling into my phone. On a crowded bus. At 7.30am. "In a crisis, that's allowed!"
Fellow commuters are turning their heads towards me. The tortured wails of a distraught child are audible to the guy listening to Pod Save America on the back row.
"Grown-ups know rules that you don't know," I screech. "Daddy's hands are magic, too!"
This is the second meltdown in as many days brought on by a tiny felt doll that has only been (visible) in my house for five days. The little guy with the red felt hat and the permanent eye-roll: The Elf On The Shelf.
There are, as it has been wildly claimed, two types of people in the world. The ones who already know what I'm talking about, and the sane.
For the former, a quaint Christmas tradition that seemed like a good idea at the time has now swallowed their lives. It's an added complication at exactly the same time the ever-spooling to-do list has expanded to include the school carol concert, dance show and swimming carnival. The time when they're busy with the purchasing of thoughtful but inexpensive gifts for everyone in their family, suburb and F45 class with looming pressure of a deadline: December 25.
The arbitrary date (sorry, Jesus) by which time we must have had a "catch-up" with everyone we've ever worked with, decorated our house in a tasteful yet fun festive theme, and remembered to lose 5kg to look okay in that dress at the Christmas party.
In short, we were already in hell, and then the Elves came.
In my house, we have two, one for each child. One we bought, and one was a gift. Such a thoughtful gift. They arrived with a helpful Elf On The Shelf book, which spells out their timeless creation story (in a toy factory) and sets out some rules:
Rule 1. The Elves come on December 1, and they disappear on Christmas Eve.
Rule 2. The Elves are there to keep an eye on the children and dob on them to Santa if they're bad (TBH, I don't remember if that rule is in the book, but that's my elves' sole reason for being).
Rule 3. Very important. YOU MUST NOT TOUCH THE ELVES. At least not in front of the children, because the point of the elves is that they do move, which brings us to…
LISTEN: I rant about aforementioned elves on Mamamia Out Loud. Post continues after audio. 
Rule 4. Every night, the elves must change position. The 'fun' comes when the kids wake up in the morning, and have to find the elf/ves in ever more hilarious and elaborate positions around the house.
Last year, in the flush of Christmassy innocence, I decided that it would be tremendously festive if my elves left the kids thoughtful notes every night, reflecting on their days:
Dear Matilda and Billy… Well, while you've been out today we had the best time scuba-diving with the goldfish, but I'm afraid I'll have to report you to Santa for that shoe your mother tripped over this morning… 
In teeny-tiny handwriting that didn't look like my own.
As I said, it seemed like a good idea at the time. Not so much by Dec 17, when you're a bit pissy after the Christmas Party and you wake up in a cold sweat at 2am, bolt upright: "I didn't move the elf!!!" And after shoving them on top of the toilet cistern, you have to recall your elvish font through a blear of stale bubbles-breath. (Post continues after gallery…)
Celebrity Elf on the Shelf inspiration.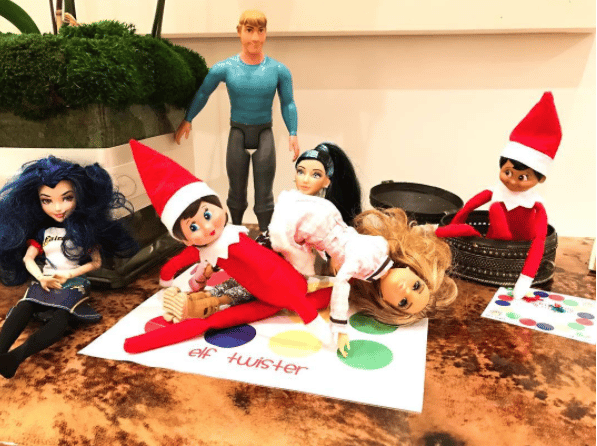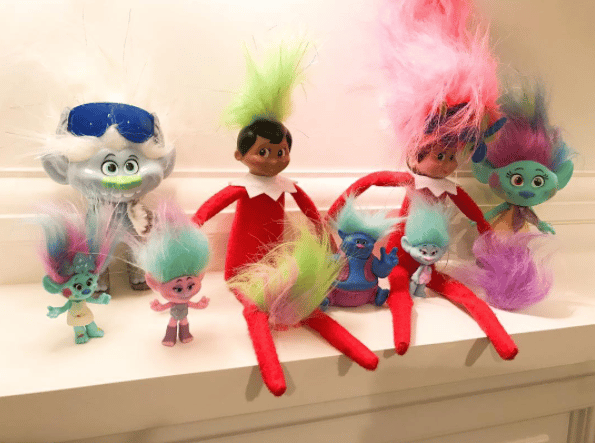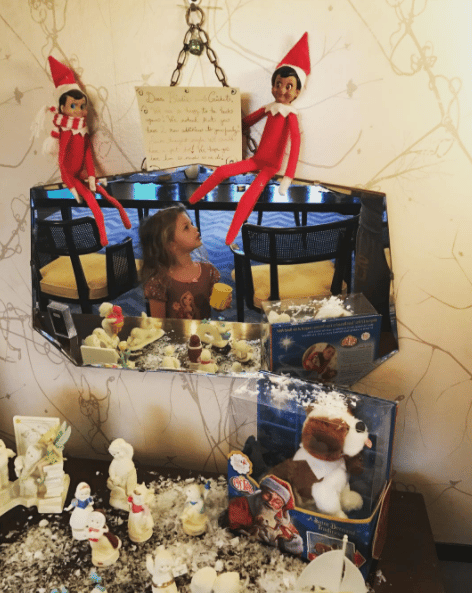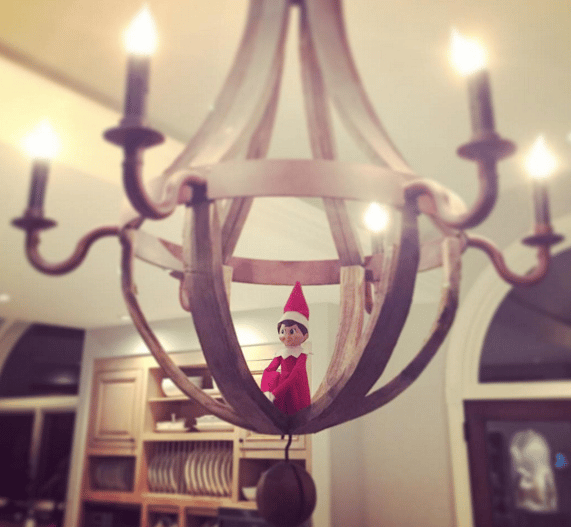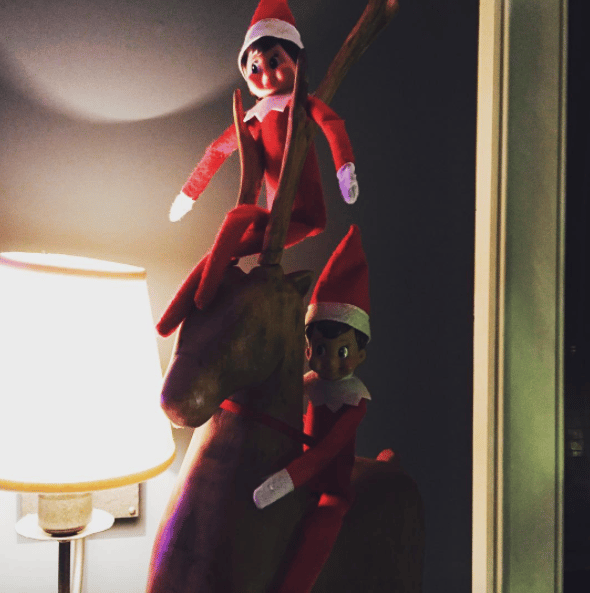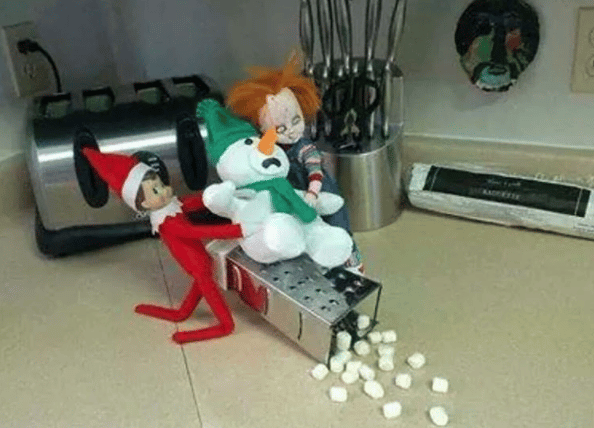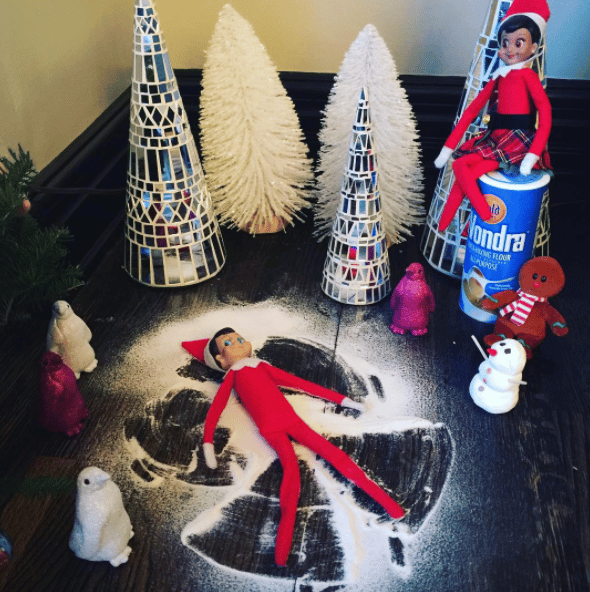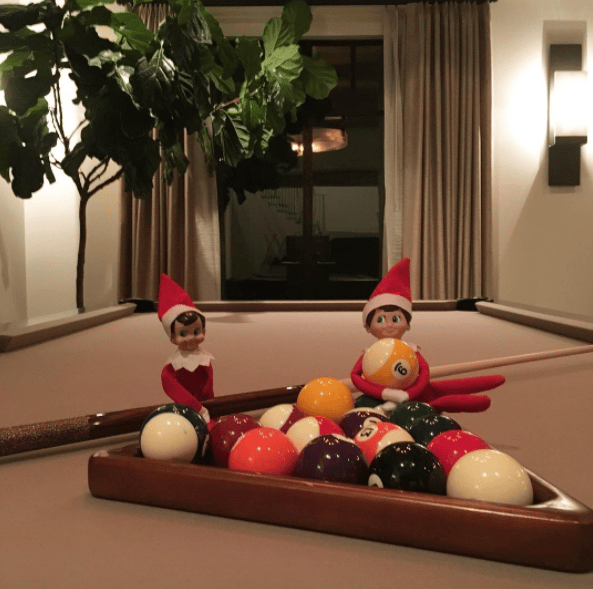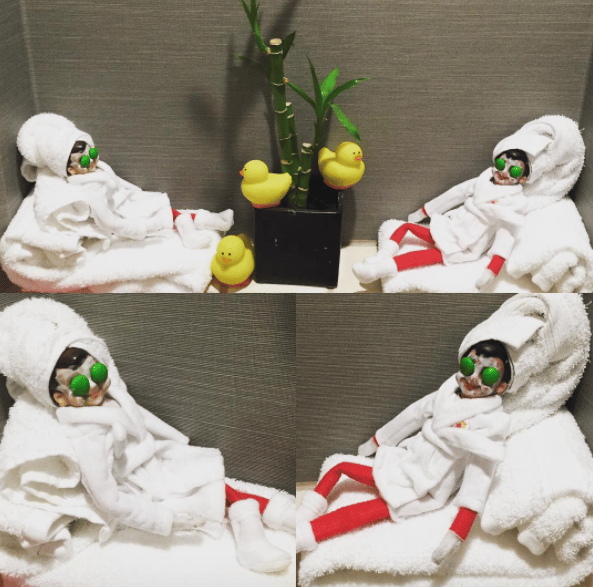 But the meltdown that has led me to promise the Elves a visit to the skip on Christmas Day was on Tuesday morning when they fell off their precarious perch on top of the TV and lay sprawling on the ground, limbs twisted, smirks still in place.
I was on the bus. My partner Brent was at home. The double-headed tantrum led him to call me. "They won't let me pick them up, but they don't want me to leave them there," he hissed, a man defeated by two tiny rag-dolls.
"There's a code," I insisted. "Adult fingers can pick them up."
It turns out, when I did what I should have done in the first place and turned to social media, that there is a code. It's a secret one, among parents. And it includes such genius ideas as this:
USE TONGS.
PICK THEM UP WITH A TEA TOWEL.
PICK THEM UP BUT THEN PUT THEM IN THE FREEZER – IT FREEZES THEIR MAGIC BACK INTO THEM.
USE ANOTHER TOY – BUZZ LIGHTYEAR! – TO SAVE THE DAY.
And if all else fails, make like this genius mum and do this. It would give me a week off: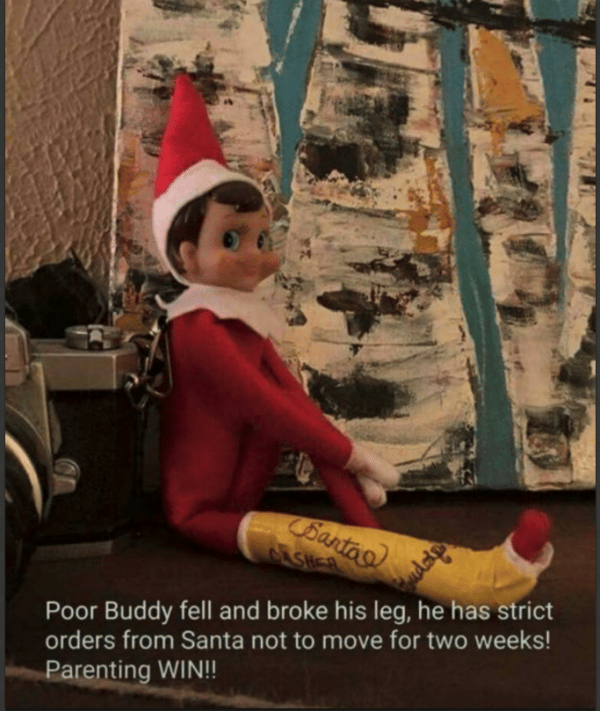 And that's the only Christmas present I really want right now.
Do you Elf On The Shelf? 
You can follow Holly on Facebook and mock her attempts at being festive, here. 
Listen to the latest episode of This Glorious Mess, the podcast for imperfect parents Holly co-hosts, below.