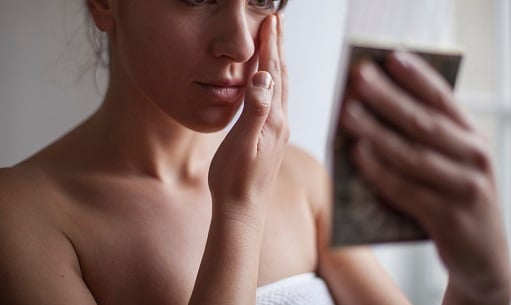 Image: iStock.
When it comes to advice on keeping your skin looking youthful, there's one nugget of gold that's been tattooed onto every Aussie woman's mind: wear sunscreen to protect from the sun's damaging rays.
While nothing's changed here, there's a growing body of research that's proving air pollution should be just as high on our radar in terms of the damage it can reap on both our health and appearance.
Yes, if you work in a bustling city, all of that dust, soot, smoke, exhaust and debris doesn't just sit on the surface of your skin — it can penetrate much deeper in the epidermis. 
"The scary thing about pollution is most particles are 20 to 40 times smaller than our pores, so it is very easy for them to settle deep into the skin," explains Dr Dendy Engelman, Elizabeth Arden Consulting Dermatologist and Professional Skincare Expert.
"From there, pollution can create free radical formation, wreaking havoc on skin health and accelerating aging."
Watch: Learn how to make a moisturising face mask with ingredients you can find in your fridge. (Post continues after video.)
The World Health Organisation released information in 2014 estimating that air pollution was responsible for the deaths of around 3.7 million people under 60 in 2012.
Not only that, but a study conducted by the University of Washington discovered that phthalates, a type of airborne pollutant, can be absorbed just as easily by our skin as by breathing them in.
Phthalates are classified as endocrine disruptors because they have the ability to mess with our hormones and can find their way into our urine, breast milk and bloodstream. Ugh.
We all know sunscreen is kryptonite to UV rays, so are there any products formulated to combat and prevent the skin damage done by pollution? Thanks to growing awareness and innovation in countries like China, where air pollution has reached dangerous levels, yes. (Post continues after gallery.)