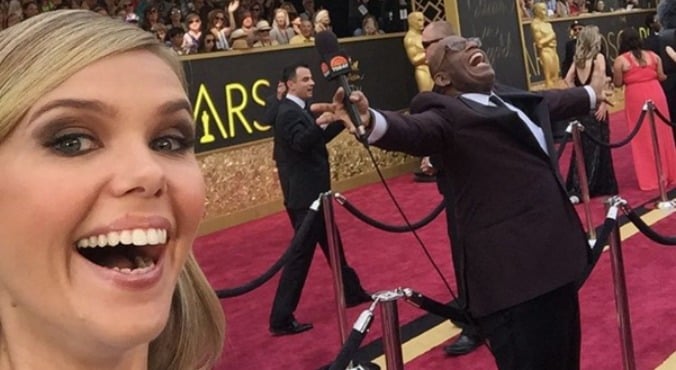 Image: Instagram (@edwina_b).
It's always hard to know where to look when the Academy Awards red carpet progression begins.
There are designer gowns to be admired (and debated), celebrity interactions to observe with curiosity, and one must always be on the lookout for a Jennifer Lawrence stumble.
With all that going on, anyone would be forgiven for missing some of the finer details — like Edwina Bartholomew's hilarious red carpet reportage.
Dressed in an ice blue Rachel Gilbert dress she described as "channelling Elsa from Frozen", the Sunrise co-host was clearly loving every minute of her Oscars gig.
To our great enjoyment, the 32-year-old's Instagram quickly became a live feed of everything you don't see during the ceremony's standard TV coverage. Like the fact there's someone employed to polish the rope poles. Who knew?
Ever the diligent journalist, Bartholomew also packed her own snacks — because we all know there's no food offered on the red carpet.