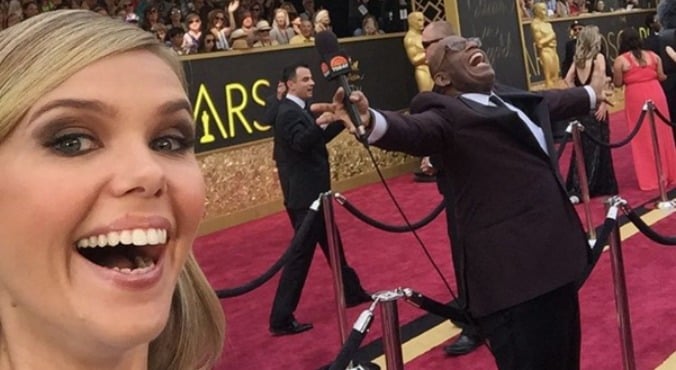 Image: Instagram (@edwina_b).
It's always hard to know where to look when the Academy Awards red carpet progression begins.
There are designer gowns to be admired (and debated), celebrity interactions to observe with curiosity, and one must always be on the lookout for a Jennifer Lawrence stumble.
With all that going on, anyone would be forgiven for missing some of the finer details — like Edwina Bartholomew's hilarious red carpet reportage.
Dressed in an ice blue Rachel Gilbert dress she described as "channelling Elsa from Frozen", the Sunrise co-host was clearly loving every minute of her Oscars gig.
To our great enjoyment, the 32-year-old's Instagram quickly became a live feed of everything you don't see during the ceremony's standard TV coverage. Like the fact there's someone employed to polish the rope poles. Who knew?
Ever the diligent journalist, Bartholomew also packed her own snacks — because we all know there's no food offered on the red carpet.  
Being in the company of Hollywood's elite would be enough to get anyone excited, but Bartholomew seemed equally chuffed to be standing mere metres away from a fellow morning TV reporter — Al Roker from the US Today show.
It goes without saying that Edwina Bartolomew is the consummate professional in her on-air duties — she's polished, she's articulate, and she does her job well. That said, we're happy to see that when it comes to the biggest names in Celebrity Land, she was just as big a fangirl as any of us would be. Watch: Our favourite Oscars red carpet looks over the years. (Post continues after video.)
Check out her creep shot of Cate Blanchett, for instance. As if any of us wouldn't have done the same.
She also snuck a shot of Charlize Theron fluttering by in her long red gown.
But the indisputable highlight of Bartholomew's reportage was her "brush" with the man of the night, Leonardo DiCaprio. Well… his tuxedo-clad back, anyway.
Wonderful. Just wonderful.
If there was such thing as an Academy Award for Best Academy Awards Red Carpet reporting, we'd be handing it over.
Did you watch the Oscars this year?