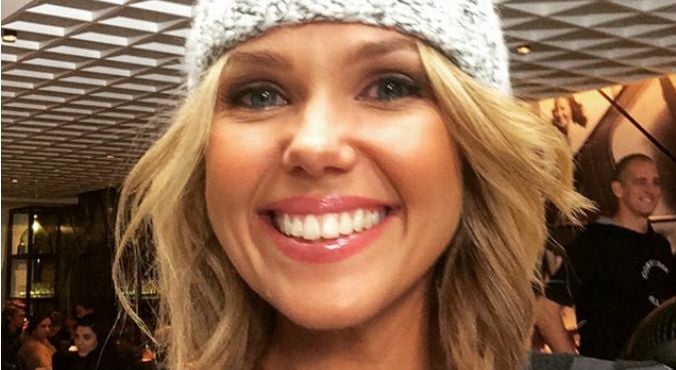 Image: Instagram/@edwina_b.
Thanks to her previous role as Sunrise weather presenter that took her to every farm, landmark and obscure event in Australia and the world, you'd be forgiven for thinking you'd seen it all from Edwina Bartholomew.
Not so.
To celebrate presenter Kochie's 60th birthday, the Channel Seven archives were raided to find highlights of his career. But memories of Kochie weren't the only thing uncovered, it was Bartholomew's early TV days that proved to be the real find.
Fortunately the 32 year old couldn't resist sharing the gem on Instagram. While her smile is still identical, the same cannot be said for her hair.
Showing the Dancing With The Stars host's first day on television, Bartholomew revealed that it wasn't actually her jacket she was wearing.
And no, that quintessential late '90s/early noughties hair was not a wig, but her own.
Many of her followers were quick to comment about how similar the presenter looked today.
"You're like Benjamin Button, getting younger as time goes on," wrote one commenter, to which Bartholomew replied: "I do hope I end up looking like Brad Pitt!" (Watch: The 2016 Sunrise set is revealed. Post continues after video.)
The picture was uncovered by Sunrise Supervising Producer Stefan Peter Mitchell. He not only shared the shot, but explained it was the moment Bartholomew was interviewed by then host Melissa Doyle in a competition to win a job on the program.
"This is how the exchange unfolded… MEL: 'Edwina, what do you think your biggest advantage will be?' EDDY: 'Ohhh, I 'spose a bit of practical experience from Bathurst…and umm, hopefully gonna have a bit of fun. And then… just get along with everyone'," he commented on the picture.