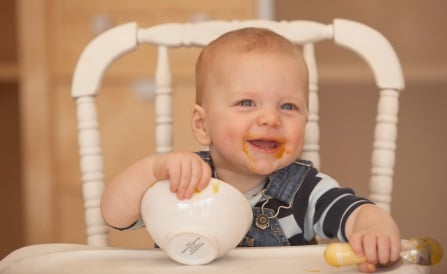 You'll be as horrified as we were.
The world's gone crackers.
Thrown common sense out the window in anticipation of the holiday season.
Crackers in readiness for the crackers.
That's the only explanation I can find for a headline like this.
"Want to lose weight? Eat like a baby! Nutritionist insists a toddler's mealtime behaviour is the most effective way to diet."
Your mind immediately creates a picture of grown women flinging spaghetti at the wall, slobbering over gummed up bits of cruskits. Guzzling litres of milk at a time and then demanding MORE BOT BOT NOW.
The demand for baby chinos would go through the roof as we all swapped our daily caffeine fix for a $1.50 pot of froth and a marshmallow.
Mashed banana with a side serving of an Arnott's arrowroot?
And just think about how handy those Thermomixes would be? All that pureeing, the carrot, the sweet potato.
The problem is that this is a genuine recommendation from a nutritionist on a reputable US news program.
New York-based nutritionist Nicolette Pace told Good Morning America that babies have a natural rhythm when it comes to eating and that we, as adults, lose this at some point as we grow.