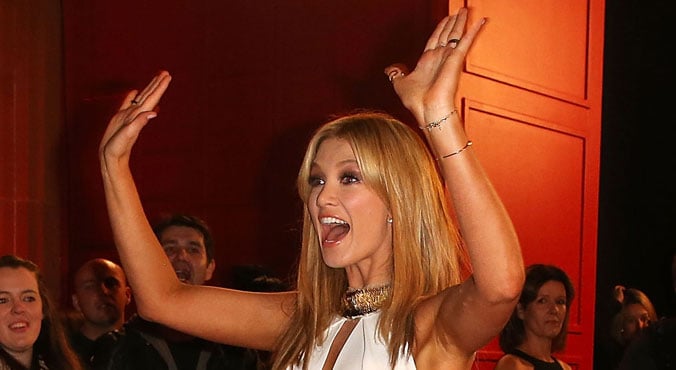 Image: Getty
"Man I got the most UNRHYTHMIC WHITE WOMAN dancing next to me at the jay and bay concert… This (b****) dancing to AC/DC."
That's what White Chicks actor Marlon Wayans wrote next to this photograph on Instagram last night:
Yes - that awkward white girl is Delta Goodrem.
The shot rapidly went viral, prompting Delta - bless her heart - to Tweet the following video:
Had a blast last night. D x
--
We feel you Delta. Oh my god do we feel you. But from one awkward white girl to another, here are some videos you can dance to in the safety of your own home. Even if you remain 'unrhythmic', at least you'll get a workout while you try them.
1.
Tiffany Rothe is the undisputed queen of the super fun dance cardio workout vid. The reason we love this one so much is that she has a Delta-level awkward white friend in the background to make you feel better about your own lack of skill.
2.
This video is a little bit line dancing, a little bit Latin, a little bit 90s pop clip and 100% impossible to follow on the first go. But that's what makes it so good. If you can get yourself to the point where you can slide-together in time with the incredible appropriately named Denise Austin - you're ready for the D-floor. Just maybe not using the same routine.
3.
Oh Barre, the workout where you get all the cute clothes of a ballet or dance class, with none of the need for co-ordination. Bobbing into pliés will help give you dancer thighs, without the need to you know… dance. Bonus points for replacing your bar with a chair.
4.
We know Beyonce was Delta's downfall. So perhaps the best way for her to learn to Run The World through movement is by learning at the feet of Queen Bey herself - or at least Benjamin Allen dancing to Beyonce.
Do you have any dance videos you'd love to share? Show us!