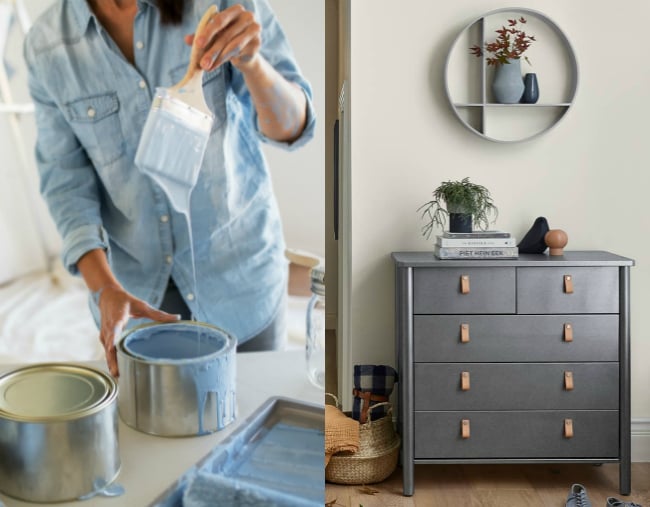 Whether you're moving into a new home or you just want to give a bit of love to your current one, the best way to refresh a living space is with paint. And I'm not just talking about splashing some colour onto a wall.
I'm talking about upcycling items around the house to create truly unique pieces – pieces that will have visitors asking, "Where did you get that?"
I love tackling a weekend paint project and am always looking for new sources of inspiration, and practical tips that will guide me in the right direction.
Deciding which room or item to transform first? That's where I need a little help. In an effort to stop procrasti-painting, I had a chat with Dulux painting guru Bonnie Jenkinson about the best home decor items to upcycle and the smartest ways to do them.
It's not just about walls.
With more and more people getting savvy about sustainability, paint is the perfect way to breathe new life into an old piece of furniture. Upcycling can create a unique item out of an unused or out-of-date object while reducing waste. It could be repainting a vase, a toy box or giving your bedhead a spruce up.
Bonnie also says it can help build your DIY confidence, telling Mamamia: "If you love what you create with a smaller project, you'll feel more ready to take on a larger project."
It also helps to have an inspiration guide that pushes you out of your DIY comfort box.  Dulux's Winter Project Guides contains heaps of practical advice and awesome ideas for weekend projects. From creating an interactive mountain in your child's playroom and a shiny gold toy box, (see picture below) to transforming your hallway with an upcycled chest of drawers, this guide goes well beyond the wall.
It is all about colour.
Once you've decided which wall or object to paint, decide on a colour scheme.
"Colour is extremely powerful – it can transform a room, create a mood and make a space truly personalised to you, so be adventurous," Bonnie tells Mamamia.
If you're struggling to pick a colour, grab some colour charts in-store, order swatches online or book a colour consultation with a Colour Designer.
Bonnie's hot tip for 2019 colour trends? "We're going to see a lot of mauves, lilacs and purples often used tonally and with great accents. Yellow is also set to make a comeback with shades ranging from egg yolk to citrus green yellow."
Fancy having a play with colour? Find more inspiration in Dulux's Winter Project Guides, which includes this hallway makeover below, featuring a glossy repainted shelf and metallic-hued drawers.