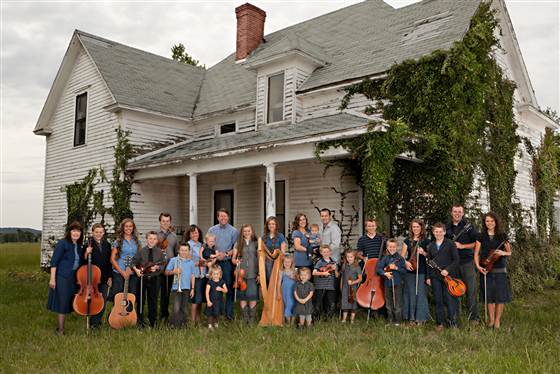 This is a mystery that needs solving. Once you've already got, like, 10 kids, how do you find the energy and time to make the next nine? The Duggars know the answer
First comes love, then comes marriage… then
lots and lots of babies
, if you're the Duggars. Michelle and Jim Bob have 19 children, each of whom plays an instrument.
Whatever you think of their large family and reality TV show 19 and Counting, let's give credit where it's due: They honestly seem to be quite in love with each other, and they know a thing or two about keeping the sexual sparks alive. Just because, the Duggars offer couples the following advice for romance after (lots of) kids:
1. Say yes to sex, even when you're tired. Michelle says a friend gave her advice to live by before she and Jim Bob married in 1984: "She said, 'In your marriage there will be times you're going to be very exhausted. Your hubby comes home after a hard day's work, you get the baby to bed, and he is going to be looking forward to that time with you.'" — she's talking about sex, just so everyone's clear — "'Be available. Anyone can fix him lunch, but only one person can meet that physical need of love that he has, and you always need to be available when he calls.'"
At the time, as a young bride-to-be, Michelle says, she couldn't imagine ever not wanting to "be available" for some quality married nookie. But with kids, she soon realised, exhaustion can easily extinguish romance. So she's made an effort to follow her friend's advice — and with no birth control and 19 kids, it would seem she's succeeded. "That has been such a lifesaver for our marriage," she tells TODAY Moms.
Seems to be working for Jim Bob, too: "We're like a newlywed couple every day!" he enthuses.
2. But give it a rest sometimes. It's not all sexytime at the Duggars. They abstain when Michelle has her period, and also after childbirth: 80 days before sex if it's a girl, 40 days after a boy. (The timeline for abstinence after childbirth is loosely based on Old Testament traditions, but is more about what works for their marriage than about observing religious law, the Duggars say.) A bit of abstinence, they've found, does make the heart grow fonder.