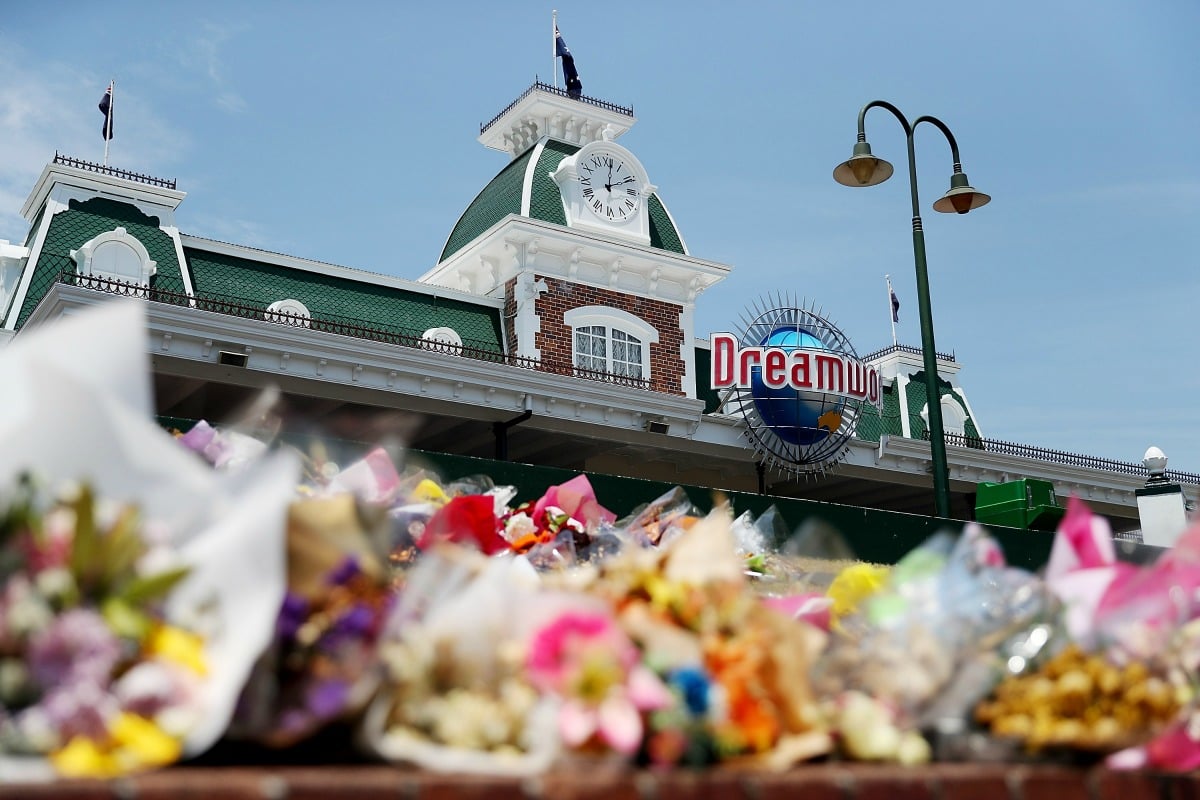 — With AAP.
Coroner James McDougall has delivered his long-awaited findings from the inquest into the Dreamworld Thunder River Rapids tragedy.
In Brisbane's Magistrates Court, McDougall delivered an assessment of the theme park, determining that the theme park's approach to safety was a "systematic failure".
"Dreamworld placed significant reliance on ride operators to identify risks of issues," he said, according to the ABC.
"It is unfathomable that this serious and important task fell to staff… who didn't have the requisite qualifications or skill sets to identify such risks."
Listen to the latest episode of Mamamia's daily news podcast, The Quicky, below. Post continues after podcast.
Cindy Low, Kate Goodchild, her brother Luke Dorsett and his partner Roozi Araghi died in October 2016 when a water pump on the Thunder River Rapids ride malfunctioned.
Three of the four holidaymakers were flung into a mechanised conveyor when the raft they were riding collided with another and partially flipped on October 25, 2016.
Here's an outline of the coroner's findings:
What did the coroner say?
The ride was "completely unsafe" at the time.
The tragedy was a "unique and catastrophic incident".
"Shoddy record-keeping was a significant contributor".
Safety procedures were "rudimentary" and "unsophisticated".
That nobody else had died was "more good luck than good management".
What did the coroner recommend?
Dreamworld owner Ardent Leisure should be referred to the Office of Industrial Relations (OIR) for possible prosecution.
Tom Polley has been referred to the Board of Professional Engineers for failing to properly inspect the ride.
Amusement park rides inspection and licensing regulations be improved.
A Code of Practice be developed for the amusement ride industry in Queensland.
Australia adopt best practice safety requirements from Europe and America.
More engineers be properly trained to inspect amusement rides.
Australian safety standards for water rides be improved in line with rollercoasters.
What did the families say?
"The easier part was burying them, the harrowing part is living without them" – Ms Goodchild's and Mr Dorsett's mother, Kim Dorsett.
"Words alone cannot express the extent of our grief. Not a day goes by where she is not spoken about" – father, Shane Goodchild.
"Dreamworld cares about saving face and the bottom dollar" – Ms Low's brother, Michael Cooke.
"She had the heart of a tiger, soft and nurturing, stubborn and dogmatic… all of the best character traits rolled into a tiny five-foot package. Our heart aches daily as we try to be grateful for the decades we had. There just weren't enough" – Cindy Low's husband, Matthew Low.
"I could write you a thousand impact statements but I still could not relate the grief and loss" – Ms Low's mother, Donna Cooke.
What's next for Dreamworld?
The OIR will decide whether to prosecute Ardent Leisure.
Ardent Leisure will address the media on Monday afternoon.
Feature Image: Getty.
---
Sign up for the "Mamamia Daily" newsletter. Get across the stories women are talking about today.
---