When online tradie company Hipages ran a competition in December, 2016 inviting kids all over Australia to submit a drawing of their dream cubby house, seven-year-old Tayla answered their call.
With it's grand love heart-shaped stoops and air of mystery, her 'Royal Palace of Mischief and Magic' was the perfect design to bring to life for the children with hearing loss and their families who rely on The Shepherd Centre in Newtown, NSW for help.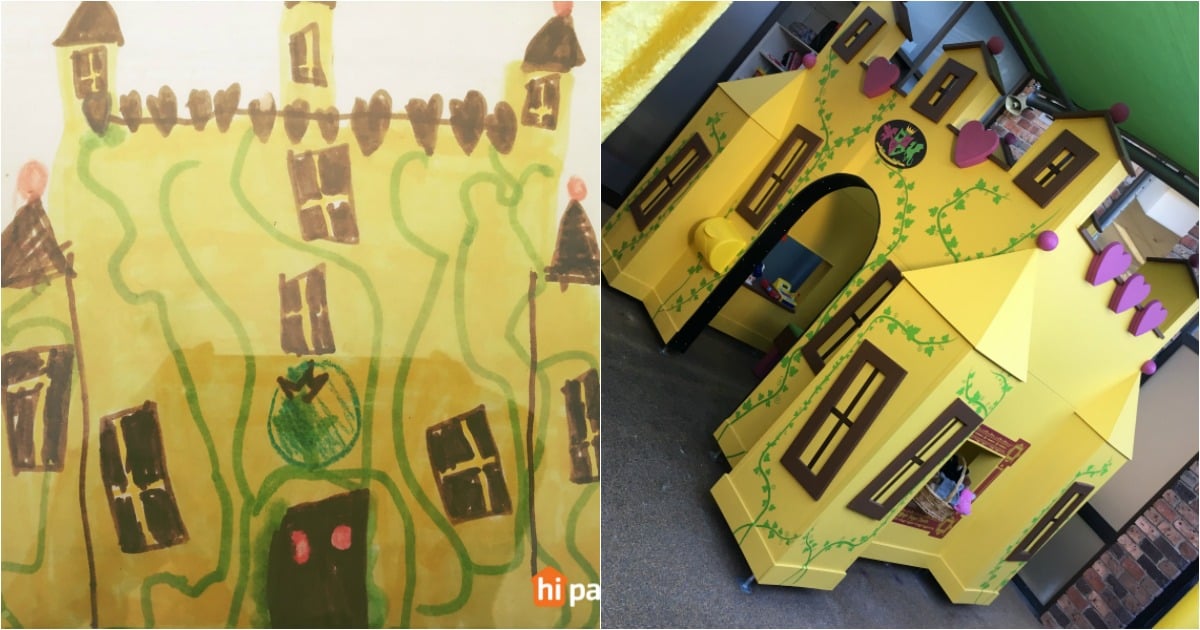 Transforming Tayla's vision from a child's colourful drawing into a real blueprint, local tradies volunteered their time and skills to turn Tayla's vision into a reality, working closely with The Shepherd Centre's therapists to ensure the cubby can be enjoyed safely by the children the early intervention centre helps everyday.
A not-for-profit specialising in early intervention to help children with hearing loss learn to communicate, the impact The Shepherd Centre's new cubby will have on the children is "nothing short of amazing".
"Having a cubby like this in the centre helps to make this a fun and enjoyable place for the kids to come to," Aleisha Davis, General Manager of Clinical Programs at The Shepherd Centre told Mamamia.
"When they're little, often they come weekly and to see them run in and have such excitement and fun with other little ones and their siblings, it creates such an enjoyable place for them and their parents.
"Having something where children are naturally playing with each other, hiding around corners and finding eachother, all of that plays into natural communication. It's incredible."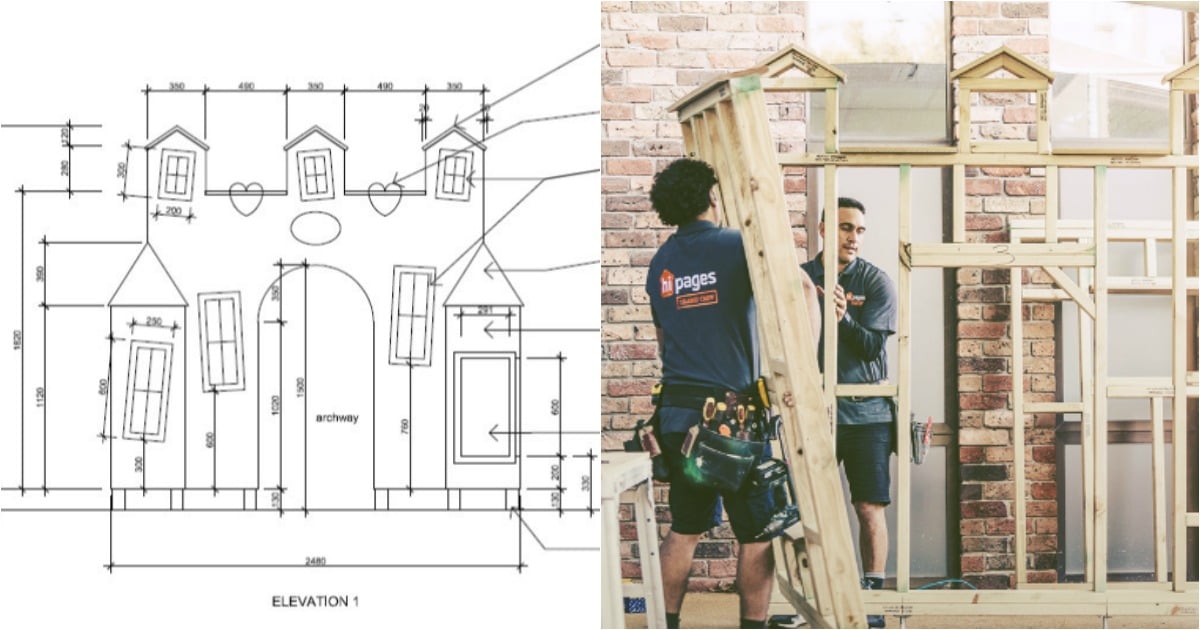 The effects The Shepherd Centre's new cubby is having on the community is especially felt by the parents of the children helped by the centre, many of whom find it tough navigating what life looks like with a hearing impaired child.
"In that situation, it can feel very dark and tough, so to come and have a positive space helps to alleviate," Aleisha said.
"For parents who know they have to come to this 'special' place because their child has a disability, it's big to take on and to feel OK and comfortable with it. It's different to how they might have imaged life with a newborn, so making [The Shepherd Centre] an enjoyable place for them where they connect with others is important."
LISTEN: For your fix of parenting advice and non-advice, check out the latest episode of This Glorious Mess (post continues after audio...)
From the time a newborn has been diagnosed with hearing loss within the first few weeks of their life, The Shepherd Centre steps in to ensure children can communicate using hearing aids or cochlear implants in the world just like everyone else.
"People think [hearing aids] are just like putting glasses on, but it's not. Children have to learn how to listen with them, that's where we come in," Aleisha explains.
"Without hearing, we would miss out on so much. That's why we work with little people so they can grow up listening and speaking just like any other child, which is just the most amazing thing."
Aside from teaching hearing impaired children to communicate, The Shepherd Centre does important work educating parents about hearing loss and what it means for their child's future, something which for many can be tough to grasp.
"The majority of children with hearing loss are born to hearing parents, so it's not something parents are familiar with," Aleisha said.
"It can come as such a shock, and parents wonder, 'what does that mean, will they never speak, will they have any friends, will they get to go to sleepovers?'.
"It's not until we show parents that they start to realise their child is capable of doing whatever they want in life."
Involving the child's parents in their treatment is essential in ensuring continued development and learning. Beyond The Shepherd Centre and other early intervention centres across the country, Aleisha explained it's the everyday learning that goes on to make a huge impact in a child's quality of life.
"Our job really is to teach the parents, as they're the ones that are with the children all day every day," she said.
"It's not in half an hour a week that we're going to make a change, it's in their everyday environments, in play, in folding the socks and putting the milk bottle in the microwave, it's teaching the parents to incorporate those teaching stages into everything they're doing."
And thanks to the Hipages tradies and a seven-year-old's imagination, the children and families of The Shepherd Centre will continue to thrive in a creative, controlled and supported environment for years to come.
"Many parents say that a cup of tea with other parents while their children are having fun with other kids where people understand them and their experiences is priceless."
***
The Shepherd Centre is a NSW-based not-for-profit organisation specialising in early intervention to help children with hearing loss develop spoken language skills.  Since its foundation, The Shepherd Centre has opened up a world of sound for more than 2,000 deaf children. The organisation is recognised as a world leader in the field of early intervention Auditory-Verbal Therapy, providing families with assistance to develop their child's spoken language, so they can reach their full potential.
The Shepherd Centre relies heavily upon fundraising and donations from organisations like Hipages to support close to 450 Australian families who turn to them for help each year. Funds raised by The Shepherd Centre help give deaf and hearing impaired children access to critical therapy support to help them learn to listen and speak, and to reach their full potential in the classroom – and in life. Click here to show your support.