Warning: If you're currently eating, you may want to put your food aside and mentally prepare yourself for what you're about to witness.
You'd have to have lived under a rock (or maybe a giant cyst?) not to know about Dr Sandra Lee, AKA Dr Pimple Popper.
The US-based dermatologist shares videos of her pimple popping, cyst extracting and blackhead digging on YouTube and has built a cult following, with almost two million subscribers and hundreds of millions of views.
We've screamed and squealed our way through many of her clips, but this resurfaced blackhead removal video is surely one of the best (read: worst) one yet.
An 85 year old woman visits Dr Lee with her daughter to have what looks like a big blackhead removed from the top of her back.
The technical term is actually a "dilated pore of a winer" (or just a giant blackhead to you or I). It's benign and usually occurs when a hair follicle gets clogged with dirt or gunk and the pore becomes enlarged.
This one is so big Dr Lee has to numb the outside of the pore so it can be removed without causing too much pain. (Post continues after gallery.)
Once that's done, it's just a case of getting in with the tweezers and tugging it out.
The moment that it pops out like a plug? You deserve a medal if you don't physically gag.
It leaves a gaping hole, which although will hopefully shrink a little, Dr Lee warns may get filled again.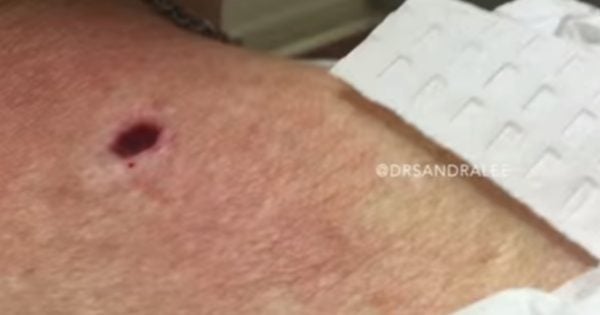 Image: YouTube/Dr Pimple Popper.
If that's the case, the patient will have to have it unblocked again and receive a couple of stitches to replace the hole with a little scar.
We're not sure our stomachs can take it.
Image: YouTube/Dr Pimple Popper