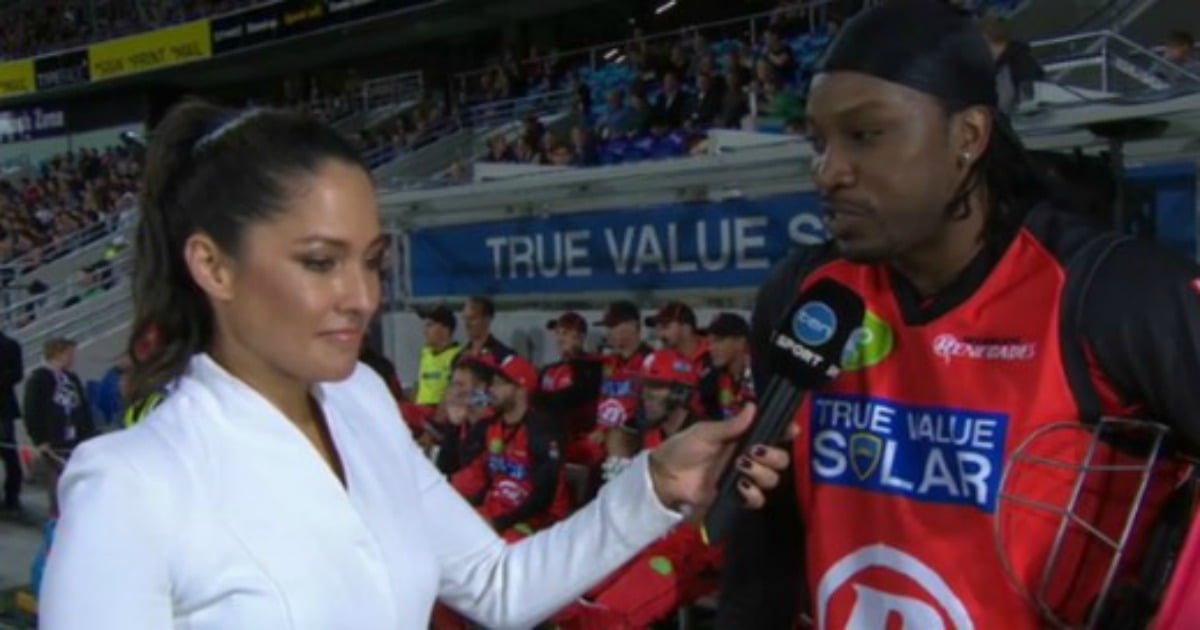 Update:
Chris Gayle has been fined $10,000 for his comments towards Ten Sports journalist Mel McLaughlin.
Gayle's team, the Melbourne Renegades have announced the fine will be donated to the McGrath Foundation.
On the question on whether the player should be banned, the CEO said the player would not be excluded from the next Big Bash match:
"We didn't think the situation would require a ban," Renegades chief executive Stuart Coventry told a media gathering.
"We looked at the circumstances and we saw it as a one-off scenario.
"We looked at Chris's attitude in previous Big Bash games and it was brilliant."
Renegades CEO Stuart Coventry issued a statement:
"Chris's comments were completely inappropriate and disrespectful. There is simply no place for these type of comments at the Melbourne Renegades.
"The club would like to extend a formal apology to Mel McLaughlin. Mel is an outstanding sports presenter. We think of her very highly and the club and players will ensure we work with her in a professional and respectful manner in future."
Mamamia previously wrote…
Chris Gayle, a West Indian cricketer famous for building a "strip club" in his own home (and showing it off, along with the mirror above his bed on Instagram) was on fire last night playing for the Melbourne Renegades in the T20 competition.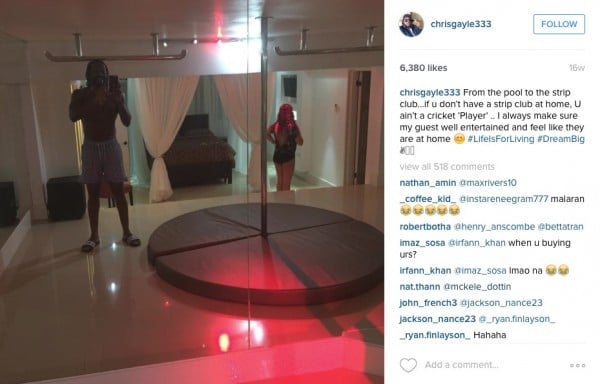 After a whirlwind 41 from 15 balls and his team winning over the Hobart Hurricanes Gayle was in the sights of Network Ten sports journalist Mel McLaughlin to talk about the game.
The game of cricket that it.
But Gayle had a different game on his mind.
"I wanted to come and have an interview with you as well,' Gayle said on live television to McLaughlin.
"That's the reason why I'm here, just to see your eyes for the first time. It's nice so …
"Hopefully we can win this game and have a drink after. Don't blush baby."
McLaughlin who swiftly moved the interview back to professional territory looked uncomfortable. She replied: "I'm not blushing" and then asked him about his injuries.
The short interview was immediately condemned by professionals within the game and viewers as inappropriate.
Gayle has now made a brief statement about the incident.
"It seemed to be blown out of proportion. There wasn't anything at all meant to be disrespectful to Mel," Gayle said after landing at Melbourne Airport Tuesday morning.
"There wasn't anything meant to be disrespectful or offensive to Mel. If she felt that way, I'm really sorry for that."
"There wasn't any harm meant in that particular way, to harm any particular person in any particular way like that. It was a simple joke."
It's not exactly an apology, and it raises the question: Will it be good enough to stem the criticism?
Anthony Everard, head of the BBL, took to Twitter after seeing the exchange:
"I heard Chris' comments and they're disrespectful and simply inappropriate," Everard wrote. "We'll certainly be talking to him and the Renegades about it. This league is all about its appeal to kids, families and females.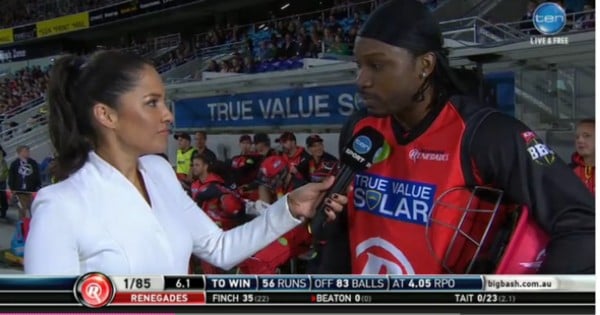 "There's just no place in the BBL – or for that matter, cricket anywhere – for that sort of behaviour."
Former England all-rounder and Channel Ten commentator also gave Gayle a slap across the wrist.
Channel 10 head of sport David Barham told the media the network had already had several conversations with Cricket Australia and was "deeply offended" by Gayle's comments.
"We will be seeking an apology," he told The Herald Sun.
"It was totally inappropriate behaviour. Mel's a working journalist doing a job."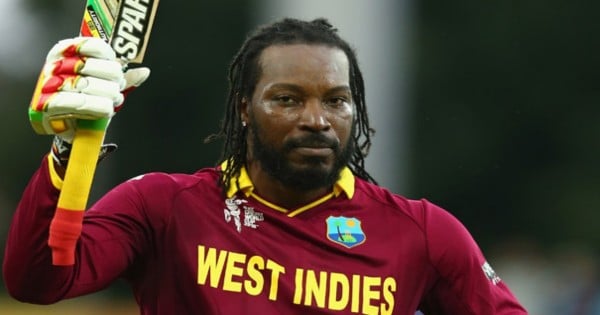 While Mel McLaughlin has not taken to social media to discuss the comments many have.
Former ABC Sports presenter Angela Pippos tweeted:
Others leapt to his defence claiming it was all in good fun, and innocent.
Hockeyroo Georgie Parker tweeted:
"Let's all just take it as it was, a bit of a laugh from a known joker."
Then following it up with:
Columnist Piers Morgan echoed many others who mentioned a similar type of "flirting" by tennis player Maris Sharapova.
Tim Cahill simply questioned his timing:
While others attempted to quell the flare of controversy with some perspective.
The upside of Gayle's comments are however, discipline, with Channel 10 head of sport David Barham saying that Gayle would no longer be fitted with a microphone to capture his on field comments.
"We won't be using him in the game anymore. Unless things change in the next few days, it's not happening," he said.
This isn't the first time that Gayle has pulled something like this. In 2014 he responded to a question from a female journalist about the feel of the pitch with "I haven't touched yours yet".
Charming.