At this point, we thought nothing else Donald Trump said could surprise us.
He has made it very clear that his respect for women and their autonomy is negligible, and the sheer volume of offensive comments he's made in the past is simply staggering.
He called a Miss Universe contestant "Miss Piggy". He referred to his own wife, Melania, as "a young and beautiful piece of ass". He said breastfeeding was "disgusting". He wrote that a female journalist had "the face of a dog". He criticised fellow Presidential candidate Hillary Clinton for being "unable to satisfy" her husband Bill, and went on to question her ability to "satisfy" the American public (because what else is a female President good for other than eye candy?).
And yet, when leaked footage of a 2005 conversation with Access Hollywood host Billy Bush revealed still more instances of rampant sexist garbage spewing forth from Trump's laughing mouth, we were still taken aback.
Watch the leaked footage here.
In the clip obtained by The Washington Post, which was shot during an Access Hollywood episode on the Days of Our Lives set, Trump discusses his attempts to seduce a married woman. (It's worth noting, too, that he was in the early months of his marriage to Melania at the time).
"I moved on her like a bitch, but I couldn't get there. And she was married," he told Bush.
Distracted by the figure of actress Arianne Zucker, Trump pauses to eat some TicTacs, because:
"You know I'm automatically attracted to beautiful – I just start kissing them. It's like a magnet. Just kiss. I don't even wait.
"And when you're a star they let you do it," he continued. "You can do anything. Grab 'em by the pussy. You can do anything."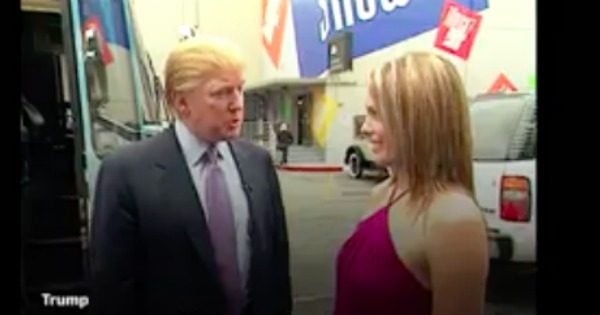 Bush has since apologised, saying he felt "embarrassed and ashamed" by the footage.