Look out, pregnant women of America. Hillary Clinton will allow doctors "rip the baby" right out of you, according to Donald Trump. Right there from your uterus, within weeks of your due date.
Because apparently that's how late-term abortions work.
The Republican nominee made the [insert outraged adjective of your choice] comment during today's US presidential debate, as part of a discussion on US abortion law.
Just to demonstrate that we're not exaggerating, this is exactly what he said:
"I think it's terrible. If you go with what Hillary is saying, in the ninth month you can take the baby and rip the baby out of the womb of the mother just prior to the birth of the baby. Now you can say that's okay, and Hillary can say that's okay, but it's not okay with me. Because based on what she's saying … you can take the baby and rip the baby out of the womb in the ninth month, in the final day, and that's not acceptable."
Yep.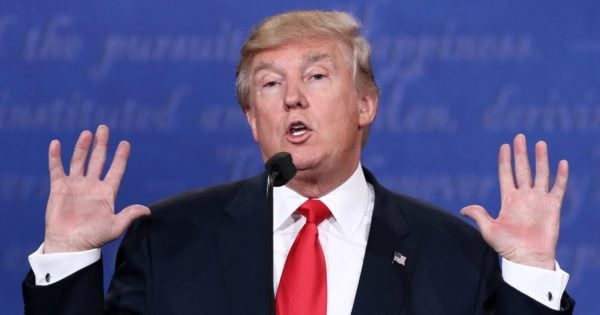 I'm just sayin... Image: Getty.
Before we even get started on how factually inaccurate and ignorant that is, let's take a moment on Secretary Clinton's response:
"That's not what happens in these kinds of cases. And to use that kind of scare rhetoric is just terribly unfortunate," she said.
"This is one of worst possible choices that any woman and her family has to make. And I do not believe the government should be making it. You know, I've had the great honour of travelling across the world on behalf of our country. I've been to countries where governments either forced women to have abortions, like they used to do in China, or forced women to bear children, like they used to do in Romania. And I can tell you the government has no business in the decisions that women make, with their families, in accordance with their faith, with medical advice. And I will stand up for that right."