President Donald Trump's son has released emails which show him eager to get dirt on Hillary Clinton during the presidential election which was seemingly an act of support by the Kremlin for his father.
The emails, tweeted on Tuesday, are between Donald Trump Jr and Rob Goldstone, a publicist who helped to arrange the June 2016, meeting with Natalia Veselnitskaya, who says she is a private lawyer and denies Kremlin ties.
The email chain's disclosures could provide ammunition for US investigators probing collusion between the Kremlin and Trump's Republican presidential campaign.
"The Crown prosecutor of Russia … offered to provide the Trump campaign with some official documents and information that would incriminate Hillary and her dealings with Russia and would be very useful to your father," said the June email to Trump Jr from Goldstone.
"This is obviously very high level and sensitive information but is part of Russia and its government's support for Mr. Trump," Goldstone writes.
"If it's what you say I love it especially later in the summer," Trump Jr partly replies.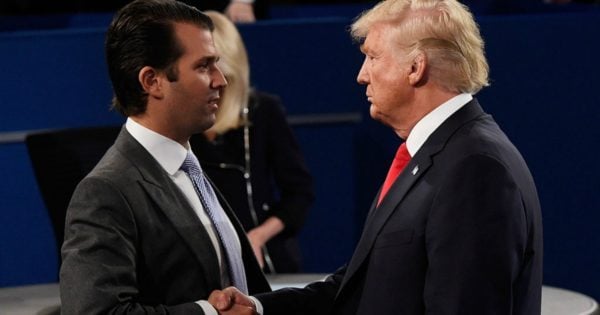 He tweeted they represent the entire chain of his emails about the meeting.
The exchange includes at least one error. Russia has a prosecutor general rather than a "crown prosecutor". A spokesman for the prosecutor general declined to comment immediately.
White House spokeswoman Sarah Sanders told reporters that the president applauded his son's transparency in releasing the emails and viewed him as a "high-quality person" referring all other questions to lawyers.
The New York Times, which broke news of the meeting with the lawyer, said Trump Jr tweeted out the emails after being told the newspaper was about to publish them.