Trump's bulletproof Cadillac limousine might do the trick in Washington D.C., but the President reportedly has a more regal alternative in mind for his upcoming visit to Buckingham Palace.
A gold-plated carriage. The Queen's gold-plated carriage.
According to The Times, President Trump is eager to undertake a carriage procession down the Mall from Horse Guards Parade to Buckingham Palace during his UK state visit in October.
The request is reportedly causing a major security headache for local authorities; a headache that previous Commander in Chief Barack Obama chose to avoid on his 2011 visit by sticking with an armoured motorcade.
But it seems the pomp, ceremony and Cinderalla-like charm is just too romantic to resist for the humble New York billionaire.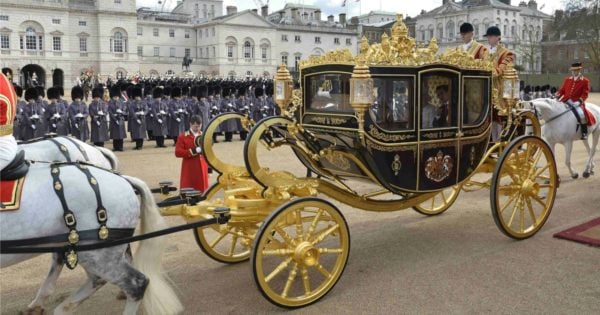 While other heads of state have hitched a ride in carriage previously - among them Mexico's Enrique Peña Nieto and China's Xi Jinping - none have required anything close to the security measures necessary to protect the controversial US President.