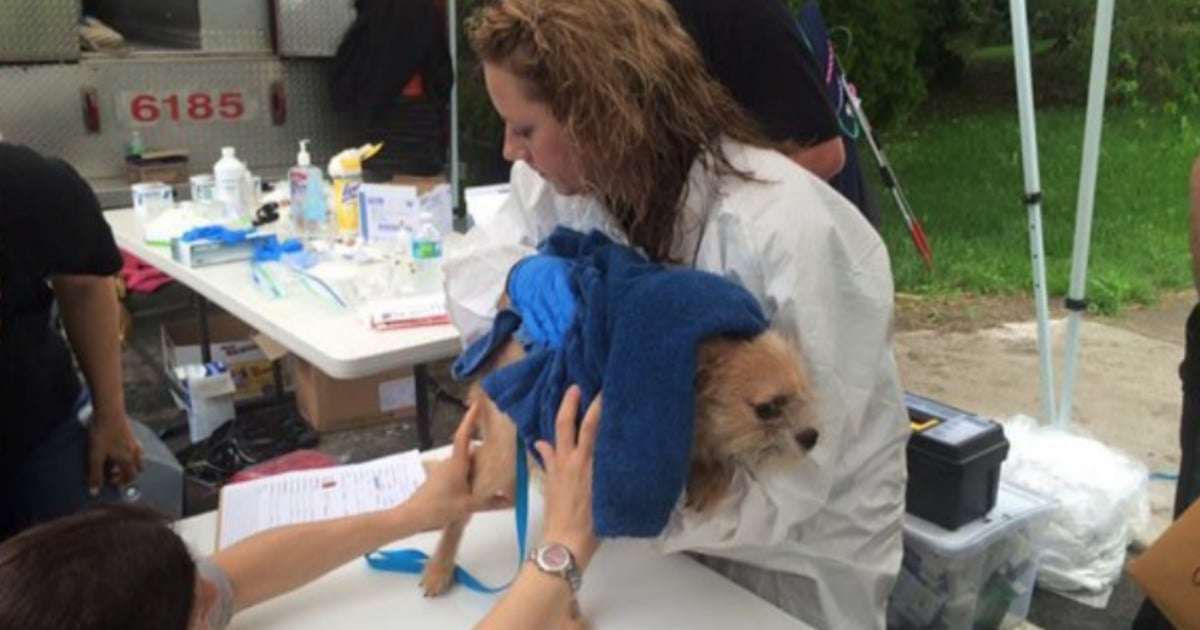 276 dogs have been rescued from a home in Howell, New Jersey. Authorities are referring to the scene as "an extreme hoarding situation."
The dogs were subjected to terrible living conditions. Many of them were living on bookshelves and platforms throughout the home. Some dogs were even found inside the walls.
One dog was found giving birth.
The floor inside the home was covered in dog feces and urine. Rescuers report that the home smelt "foul."
More than 270 dogs rescued from Howell hoarding house. https://t.co/JPwmzQlI3I

— Eyewitness News (@ABC7NY) June 4, 2016
Officials from the SPCA, Associated Humane Society of Tinton Falls, St. Hubert's Animal Welfare Center, local police, and the county sheriff's office, health department and hazmat team united at the scene to rescue and treat the animals.
An emergency care area was set up outside the home to treat the dogs before they were transported to shelters. About 80 dogs were vaccinated before they ran out of supplies.
"Most of these dogs have never seen the outside of their house before," said chief law enforcement officer for the Monmouth County Society for the Prevention of Cruelty to Animals Ross Licitra. "This is actually the worst hoarding case that we've ever experienced ever here in the history of Monmouth County."
272 dogs rescued from Howell await new homeshttps://t.co/leBVC82e9C — News12NJ (@News12NJ) June 4, 2016
Licitra said that most of the dogs were in a "fair" condition, but some of them needed immediate veterinary attention. Some dogs were given oxygen.
The couple who live at the home Joseph and Charlene Hendricks told Licitra that they started with eight dogs and allowed them to reproduce.
The couple were reportedly "weary-looking" as they walked out of their home.
"Could you trim it down and not give us so much attention?" Joseph Hendricks asked an Asbury Park Press reporter. "We're not bad people."
The couple were asked if they wanted to tell their story.
Get an #INSIDELOOK at the 276 dogs pulled from the #Howell home today in @News12NJ photo gallery. https://t.co/xTFrjs8lEX

— Alex Lombardo (@AlexPLombardo) June 4, 2016
"Not much to tell at this point in time," Joseph Hendricks said. "I'm exhausted, I can't even think."
The couple were also asked how this happened.
"It's more than you think," Joseph Hendricks said.
Acting Monmouth County Prosecutor Chris Gramiccioni said that the condition of the dogs would decide whether or not charges were laid against Joseph and Charlene Hendricks.
"It really depends on the facts and circumstances," he said.
Mamamia co-founder Mia Freedman supports rescuing dogs from unsafe living conditions. Watch her adopt a puppy from the Sydney Dogs and Cats home.
Image via WLNY TV.