Life with a newborn baby is a bloody hard adjustment as it is, let alone throwing in the guilt that you just don't have as much time for your precious fur-baby anymore! I know for me, this has been one of the hardest things to deal with as a new mum.
It's now been just over three years since I had Harper and 19 months since I had Paxton and I think I am managing it all pretty well now. So today, I am going to share with you some of my little secrets for dealing with the guilt plus the juggle of baby/kids and a dog.
1. Be prepared.
If you love your dog the way I love mine, be prepared that you will suffer from guilt after you bring your baby home. It's just physically and mentally impossible to give as much time to your dog as you used to. First tip is to not be too hard on yourself…
2. Don't be afraid to ask for help!
First off, as I think I forgot to mention this in previous posts, please make sure you have a plan for your dog when you go into labour/hospital. We decided that Jase would not stay in the hospital with me overnight; he would go home each night and be with Cooper. Feed him and walk him. He did this for both kids, and to be honest, we both loved it! Jase loved the last of his uninterrupted night sleeps, which meant he could really help me during the day and I loved that time in hospital overnight to bond with my babies.
Now I know this might not work for everyone, but it definitely worked for us. Plus, I felt much better knowing that Jase was home with Cooper and then second time round, that he was home with Harper and Cooper. As a bonus I had organised to have my brother on call both times, just in case we needed someone to come and feed or walk Cooper over those few days and especially to help whilst I was in labour. Clearly from the pic below, Cooper loved having Matt come visit and play with him while we were in hospital.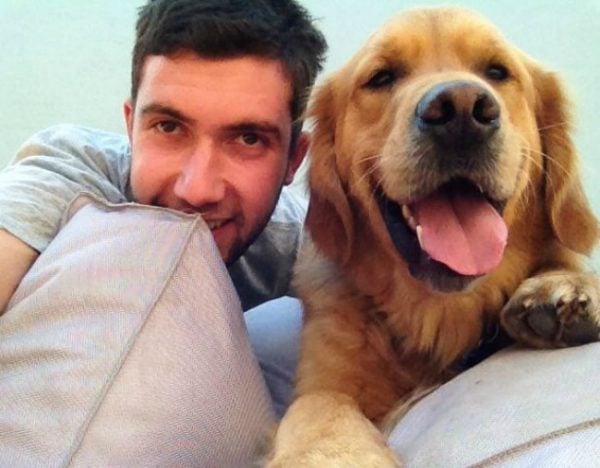 Once we were home from hospital, that's when the guilt started; it literally set in instantly. For the first three weeks I was very sore, so while my body was healing, we paid for a dog walker to come three times a week just to take a little bit of pressure off Jase and I. Plus, Cooper LOVED it! If you don't want to pay for that extra help, try asking your neighbour, a friend, a family member. I'm sure someone who knows and loves you will be more than happy to help with a dog walk here or there.
3. The Walk – make it daily exercise for you and your dog.
This is a big one for me. I started this from about the time Harper was three weeks old. Once my body recovered from labour, I made a daily walk or two a part of our everyday lives. Even now that the kids are a bit older, I still stick them in the pram every morning for a walk. Yes, I couldn't do it without a little bribery every now and again in the form of a snack, but now they are used to it and we love it. There is endless chitter chatter, book reading, singing and of course sibling bickering that goes on in the pram, but I wouldn't have it any other way!