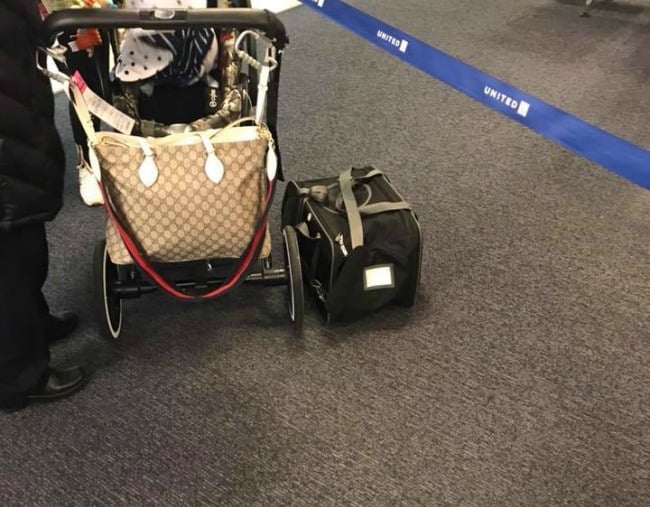 Warning: Distressing content.
Passengers on board a United Airlines flight have described their horror after a dog died onboard after being forced into an overhead compartment by a flight attendant.
Writing on Facebook, passenger Maggie Gremminger described how the dog was carried in a TSA-approved dog carrier with a woman and her two children.
"Tonight I was on a plane where I witnessed a @united flight attendant instruct a passenger to place her dog carrier (with dog) in the overhead compartment. The passenger adamantly refused but the flight attendant went on with instruction," she wrote.
"At the end of the flight — the dog was found dead in the carrier. I am heartbroken right now. I didn't question the flight attendant, but I could have.
"I assumed there must be ventilation as surely the flight attendant wouldn't have instructed this otherwise. I heard the dog barking a little and we didn't realise it was barking a cry for help.
"My heart is broken. I am in shock and don't know how I'll sleep."
Posting separately on Twitter, Gremminger said the dog was believed to be about 10 months old.
Another passenger, June Lara, wrote on Facebook the flight attendant assured the family of their dog's safety when put in the overhead compartment.
"They INSISTED that the puppy be locked up for three hours without any kind of airflow. They assured the safety of the family's pet so wearily, the mother agreed.
"There was no sound as we landed and opened his kennel. There was no movement as his family called his name. I held her baby as the mother attempted to resuscitate their 10 month old puppy. I cried with them three minutes later as she sobbed over his lifeless body. My heart broke with theirs as I realised he was gone."
In a statement to TIME, United Airlines confirmed the death and said it would be opening an investigation.
"This was a tragic accident that should never have occurred, as pets should never be placed in the overhead bin," United Airlines said in their statement. "We assume full responsibility for this tragedy and express our deepest condolences to the family and are committed to supporting them."