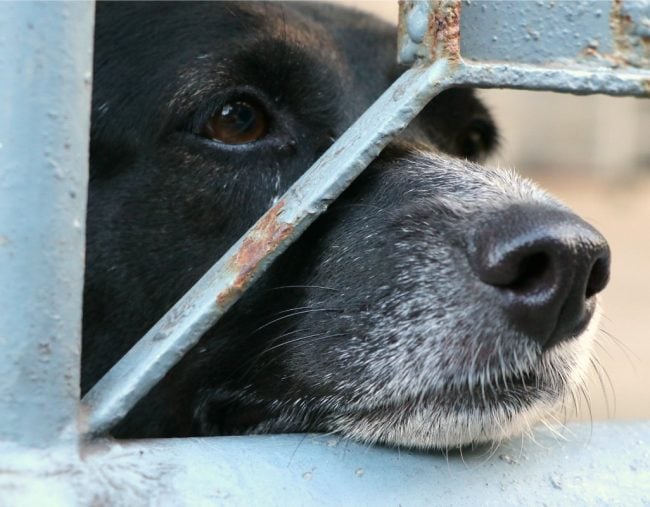 A photo of an unknown dog shared by the Facebook page Puppy Mill Awareness shows the devastating and heartbreaking reality of backyard breeding and puppy mills.
The term refers to intensive dog breeding facilities that are generally not maintained to ensure the physical and psychological well-being of the pets they look after. Although all breeds – both purebred or mixed-breed dogs – are targeted for puppy mills, trendy or popular breeds like French bulldogs, pugs, Cavoodles and Siberian huskies can be particularly at risk, according to Animals Australia.
Sharing the post and photo of what appears to be a bulldog, Puppy Mill Awareness asked potential owners to avoid purchasing from backyard breeders.
"I want a purebred. I hear it all the time. Well, this is your puppies [sic] mother. Over bred and then dumped at a high kill shelter when she's no longer useful," read the original post.
"Your new puppy is worth $1000 and yet no one will adopt her mum for $5.
"This is why backyard breeding should be banned. This gorgeous face with those soulful eyes….. that nobody loved. But she gave her life and her babies for them.
"The ultimate sacrifice to end up alone like this."
The harrowing photo has been shared nearly 14 thousand times with many in the comments section condemning puppy mills.
"It's not the breeders, it's the desired characteristics of certain breeds. It's CRUEL to develop a breed for traits that make an animal uncomfortable in its own body! Bulldogs are the worst off," read one comment.
"Horrible I would take her in!! I will never own a purebred only rescues!!" read another.
"10 years ago I rescued a momma from a puppy mill situation. She looked so sick and so sad when we first got her. Now she is so full of life and never leaves my side. She's an amazing dog," said another Facebook user.
Thankfully, according to one commenter, the dog in the photo has since been adopted.
"Just FYI I read that she has a good home now. If you need to put your mind to rest like this one," they wrote.
Have you ever thought about adopting a pet? Mia takes us through the process as she adopts a puppy from Sydney Dogs and Cats Home.
Although adoption will always be the most humane option, the RSPCA also states there are precautions prospective pet owners can take to avoid unethical breeders.
According to their Smart Puppy and Dog Buyer's Guide, if you are purchasing from a breeder it's imperative you visit the breeder and chosen puppy at their place of birth, meet the dog's mother and father and ensure all the dogs on the property have a high-quality standard of care and living conditions.
Have you had any experience with adopting pets? Tell us in the comments below.