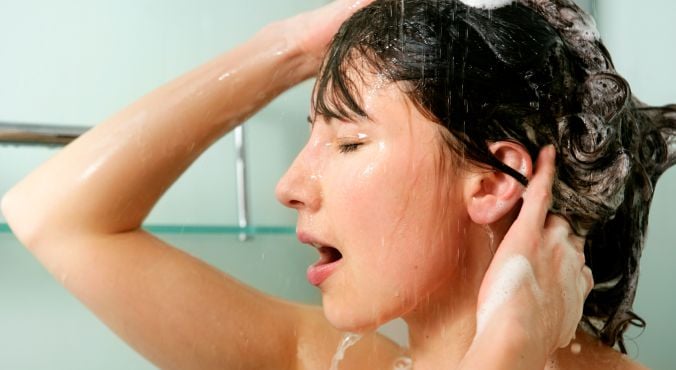 Image: iStock.
Blasting your head with freezing water at the end of a warm shower is about the last thing any sane person feels like doing in winter. Yet there are many of us who willingly undergo this water torture because we've been told it will bestow Kate Middleton-esque gloss upon our hair.
Whether you heard it from a magazine, your big sister, hairdresser, or Miranda Kerr (who says it makes her hair "really shiny", the 'cold rinse = glossy hair' belief has been around for a long, long time.
The theory goes something like this: warm water opens the hair cuticle — the outermost layer of each strand — making it appear more dull. Blasting it with cold water supposedly 'seals' the cuticle, making your strands appear smoother and shinier.
RELATED: 3 reasons why cleansing your face in the shower isn't the best idea.
On paper it sounds kind of legit… but does that make it true? Well, not necessarily.
Dr Tim Moore, Chief Technical Officer at ghd's Research and Development Facility, told The Glow his team has explored this popular myth, but to date they haven't found any solid, scientific proof it works. (Post continues after gallery.)
"People say a lot of things in the hair styling and beauty industries and some of it is spot on… so we looked at it and said, 'Does this have any real scientific benefit behind it?'" Dr Moore said.
"But we haven't found it. We can't see any changes in tensile strength, we can't see any changes in shine or anything like that, so we haven't been able to prove anything."
RELATED: How often do you really need to get your hair cut?
He's not the only skeptic. According to Dr. Eric Pressly, one of the inventors of Olaplex, water does have the ability to open or close the hair follicle through absorption and swelling processes — however, he adds this has little to do with temperature.
"This is a very fast process, and the difference between hot and cold water is negligible," Pressly told Into the Gloss.