A cosmetic surgeon has backed a private Sydney hospital's decision to ban doctors from an alleged widespread practice of using social media to document surgery.
Dr Laith Barnouti is a cosmetic plastic surgeon who works with Westmead Private Hospital and has voiced his support for their move to stop the "unhygienic", "unethical" and "unnecessarily risky" practice in its operating theatres.
He told Mamamia the growing trend, which sees "many surgeons" share videos and photos live from the operating table for promotional purposes, was concerning for several reasons.
"If a surgeon is using Snapchat during surgery, it means they are downing tools, halting their work to pick up a phone and take images in the operating theatre, while a patient is lying on the table. This is not only unethical but interfering with the progress of the surgery."
Dr Barnouti said the practice could seriously compromise the outcome of the surgery.
"It is a distraction for the surgeon. Surgeons should be focusing on the health and welfare of their patient, not thinking about sending Snapchat messages in the middle of a complex operation."
Dr Barnouti said he was also concerned that phones were not being sterilised like everything else is in theatre, and that phones were often contaminated with "all sorts of germs and bacteria".
The doctor called for health authorities to introduce a nation-wide ban, but believes that if enough hospitals introduced their own bans, it would effectively halt the practice in Australia.
"The two or three major private companies ban it, it will be banned… it's not if, it is when."
The Australian Medical Association's New South Wales branch has voiced its support for Westmead Private's ban, saying the use of Snapchat in surgery "skates too close to concerns about ethics, doctor-patient confidentiality, and restrictions on doctors marketing their services."
"Generally speaking, using social media to broadcast or record medical procedures is not something that should be encouraged," AMA-NSW president Brad Frankum told Mamamia, adding that capturing footage to be shared with other doctors for educational purposes was another story.
Listen: The Young Mummy Snapchat her labour. Too much information or important documentation?

"While there are legitimate reasons for surgical procedures to be recorded and even broadcast, especially with regards to medical education, banning Snapchat should not interfere with this."
Addressing Dr Barnouti's concerns about the potential risks to patients as phones are not sterilised, Professor Frankum said all equipment, "including phones", needed to be sterile when near patients in an operating theatre.
Westmead Private Hospital confirmed there is policy in place to ban surgeons' use of Snapchat while performing operations, but declined to comment further.
However, it's not the only hospital who has been recently forced tackled the issue.
Healthscope chief medical officer Dr Michael Coglin said he was "disappointed" to learn one doctor at one of the company's 46 hospitals Australia-wide was using Snapchat during surgery to promote their work.
Dr Coglin said after learning about the issue in a news report earlier this year, he checked Healthscope's hospitals. He discovered one doctor's use of Snapchat breached their policy and immediately "put a stop to it".
He said he was confident the policy Healthscope had in place – which requires doctors to seek permission to film procedures under "very limited circumstances", including training purposes – prohibited the use of social media marketing in this way. It's a practice he's "totally opposed to", adding that he understood most other hospitals' management teams would feel the same way.
Which surgeons are Snapchatting?
Mamamia understands that cosmetic plastic surgeons share videos and photos of their patients during surgery for promotional purposes.
Sydney plastic surgeon Dr Kourosh Tavakoli has gained thousands of followers on Snapchat and Instagram (where he posts edited versions of his Snapchat stories) for his behind-the-scenes look at breast lifts and nose jobs.
Tagging his images #DrTavs and #Kingofboobs, Dr Tavakoli uses videos of patients during surgery – being careful to show no identifying features and carefully covering nipples  – interspersed with before and after photos to promote his practice.
Similarly, Bella Vista plastic surgeon Dr Eddy Dona is among those Australian surgeons on board the growing trend, which is also big in the US.
While Eddy is promoting his results, his videos also tend to include an explanation of what he's doing, designed to give followers an idea of what they could expect if they wanted to undergo the same procedure.
So who is saying yes to being in all these videos?
In October last year Dr Tavakoli told Pedestrian about half of all his patients say yes to appearing on his Snapchat or other social media feeds.
"They might not consent to surgical video, but a lot do consent to being filmed post-operation in consults and things. I guess because they're awake and they're more in control," he told the website.
Dr Tavakoli and Dr Dona were both unavailable for comment when approached by Mamamia.
That's the sticking point for Dr Barnouti – how can patients consent to footage being taken while they're unconscious? He argued that even if a patient consented to surgery before taking part, if they cannot see each image before it's shared, then they cannot truly be consenting.
"The patient is not awake and they are not in control of what's being published. They will not have the opportunity to view it first and consent to it's (distribution)."
He said this differed to posting on other forms of social media, which were not usually live, where patients could review each image before it's posted.
A spokesperson for NSW Health, who was not aware of any surgeons in NSW public hospitals using Snapchat as a widespread issue, said part of a doctor's existing code of conduct was to ensure patients couldn't be identified and protected their privacy.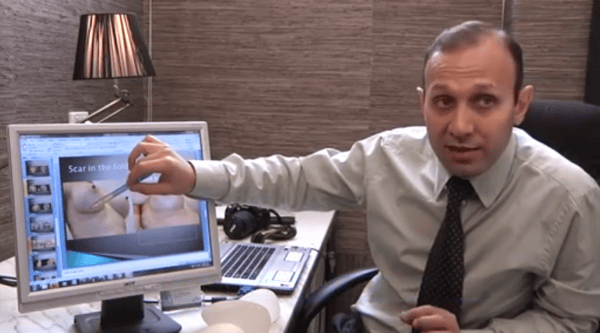 They warned that any image taken or shared in a way that might breach the code may lead to disciplinary action.
Australian Health Practitioner Regulation Agency, which handles and directs complaints made against medical professionals, urged anyone with any concerns about a registered medical practitioner to bring them to AHPRA's attention.
And while surgeons like Dr Dona and Dr Tavakoli are confident their active social media use isn't breaking any rules -  Dr Barnouti remains concerned.
"I feel it compromises the patient's care," he told Mamamia.
"We don't want surgeons to be distracted by live-marketing."
Do you think doctors should be using social media during surgery?