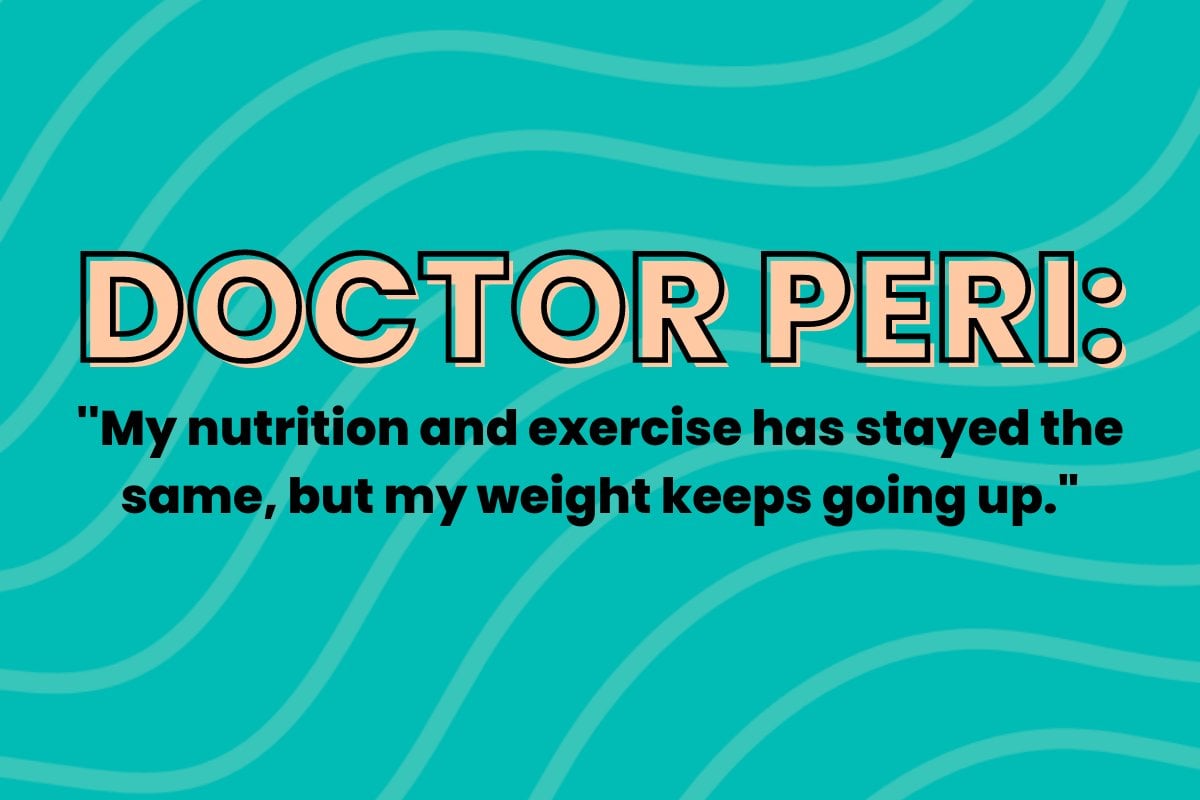 Should nutritional needs change as you work your way towards the big M? I've noticed that my body weight and composition has changed so much since going into perimenopause, despite my nutrition and exercise routines remaining the same. Is the 'more exercise and less calories' really the only way to fight peri weight gain? I'm already quite careful, but feel like I'm fighting a losing battle as the scale just keeps going up and up. Help!
Dr Peri says:
One of the greatest challenges for women to understand as they move from peri-menopause (when periods start to become a bit erratic), to menopause (when periods end), is that there is a shift in the characteristics of our fat cells. 
For women putting on belly-fat easily, the fat tends to initially accumulate just under the skin (called subcutaneous fat), but over time, researchers have begun to understand that higher levels of subcutaneous fat, may lead to a change in storage of fat deep in the tissues.
This deep-tissue fat is known as visceral fat and is the harmful fat that, over time, may lead to metabolic changes, including heart disease and Type 2 diabetes. 
Many of you may have seen your mother's or grandmother's experience these changes in body composition and health. 
This also differs between body-types – i.e. women with a higher body mass index who are overweight or obese going into peri-menopause and menopause, may have a higher risk of metabolic changes, compared to thinner, leaner women. A distinction I make in my 12 week My Menopause Transformation programmes. 
Because menopause is the biological gateway to our ageing, my focus is always on the Mediterranean Dietary approach for nutrition. 
This approach has been well-evidenced in women's healthy ageing studies. 
The Melbourne Collaborative study, characterised the Mediterranean diet as frequent intake of items such as, garlic, cucumber, olive oil, salad greens, capsicum, cooked dried legumes, legume soups, feta and ricotta cheeses, olives, steamed fish, and boiled chicken.
When it comes to exercise, 'more' is not always better. 
There is a tendency for women to turn to the gym or more vigorous workouts, to lose weight. 
This notion has been ingrained into us since the 1990s when the physical landscape changed for women and gyms arrived in our local communities with an emphasis on body-image ideals. 
However, it is well known in sport and exercise science, that women can very easily tip over into over-training syndrome when they aren't sleeping and then they participate in too much high-intensity exercise.