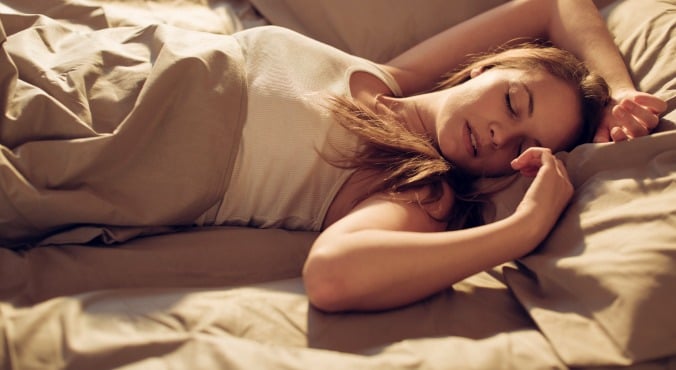 Image: iStock.
Maggie Hardy, The University of Queensland; Michael Tam, UNSW Australia, and Vincent Ho, Western Sydney University.
As children, we believed our friends and parents when they told us disturbing tales of watermelon seeds growing in our stomachs and changes in the wind freezing our pulled funny faces permanently.
But which of these childhood tales is true and what is a myth? We asked three experts whether there's any truth (or lesson to be learned) to the tales that kept us up at night.
Do we really swallow spiders in our sleep?
Maggie Hardy, Postdoctoral Research Fellow at The University of Queensland
I work with spiders for a living and, aside from what I'm sure would be the very rarest of occurrences, the idea that we eat them while we sleep is a myth.
Some spider species are known to "balloon" – a process where they release a thread of silk and float on the wind, ending up wherever it takes them. I suppose you could have one of these accidentally drift into your mouth while you're asleep. But you'd have to be unlucky for that to happen.
But, generally, researchers think that while it's possible we could swallow a spider while we sleep, it's unlikely and would be a random event.
One American spider specialist, for instance, has outlined that five circumstances must collide for this unlikely event to happen:
1) You need to be asleep with your mouth open (not everyone sleeps like that)
2) A spider must be on your bed (spiders tend to stay away from humans)
3) It has to crawl across your body
4) It has to actually want to go into your mouth, and
5) You have to actually swallow it (we don't automatically swallow everything that goes in our mouth).
Watch: Meteorologist Magdalena Roze busts some popular weather myths. (Post continues after video.)
So why is this myth so popular? A group of scientists found high levels of people's disgust of spiders together with their phobia of coming into contact with them has led to our unrealistic expectation that we eat them unconsciously.
However, entomophagy (the human practice of eating insects as food) is becoming popular. Recently, the United Nations recommended eating insects as a sustainable food source, as they contain up to 65% protein with only a fraction of the calories of beef.
So I wouldn't worry too much about eating spiders while you sleep. In the future, you may be eating insects and spiders on purpose anyway.
Does sitting on cold concrete give you piles?
Michael Tam, General Practitioner and Conjoint Senior Lecturer at UNSW Australia
Bright red blood on toilet paper, anal pain and itching: these are symptoms of piles, or haemorrhoids, that commonly occur in adults. The lifetime likelihood of having a haemorrhoid at some point may be as high as 50%, though many people may not have any significant symptoms.