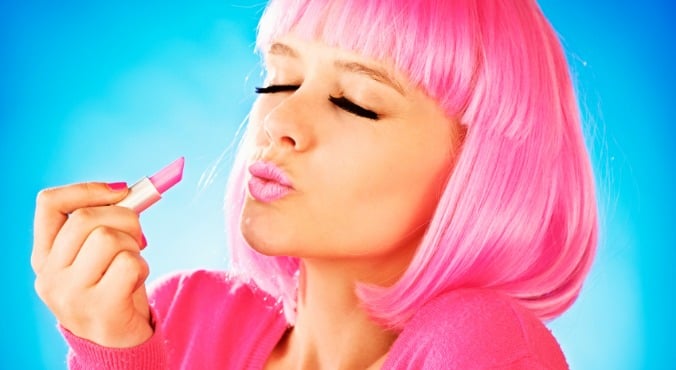 Image: iStock
I love wearing makeup, so it is difficult for me to tell if I'm wearing too much.
"Normal" for me is wearing an almost-black, smoky eye at 9am in the morning, or multiple shades of coloured eyeshadow when I'm home alone on a Sunday night.
If I stand in front of the mirror and ask myself, "Am I wearing too much makeup?", the answer is always, "No, definitely not! Look, there's an eyebrow pencil – why don't you shade your brows a tiny bit more?"
The only 4 makeup products you need to wear to work.
Thus, I am forced to read other people's facial expressions, body language and diaries to help me figure out if I am wearing too much makeup.
5 tell tale signs:
1. People won't kiss you on the cheek at social occasions.
Over the holiday period, I noticed that people were hesitating and assessing my makeup, before attempting the social air kiss. On the one hand, I could totally understand, because there was a lot going on with my face – the famously gold and glittery NARS Orgasm blush, NARS Audacious lipstick in the gorgeous, hibiscus-red Grace shade, plus concealer and mascara.
There was a high risk that I would smear makeup on anyone who air-kissed me. On the other hand, I buy my NARS products in Australia, so any smudge left behind is costing me approximately $1.57 per air kiss. You should thank me for practically INVESTING in you.
2. You don't recognise yourself in the mirror.
The other day, I was shopping in Myer, and I saw this woman who was standing right in my personal space. I thought, "Who is THAT?! Ugh, get away from me!" I worked up the guts to look her in the eye, and then realised that it was actually ME! I was standing in front of a mirror, and wearing so much makeup that I didn't even recognise myself.
As Delta Goodrem says, it was a terrible case of mistaken identity.