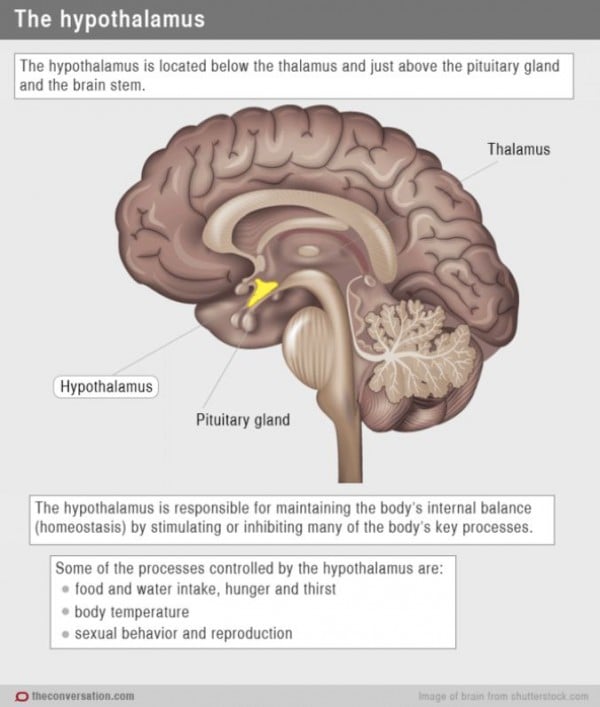 Image via iStock.
The need to find fuel to generate energy is a profound drive within the biology of all living organisms: we all need food to survive. So it's not surprising that our bodies have such a complex system to control food intake, driven by hormones.
Hormone levels also change when we lose weight. As much as we battle to trim down via diets and eating patterns, they're also the reason most of us will regain the weight we lose – or more.
The body's system for regulating food intake is coordinated by the hypothalamus, which is located under the midline of the brain, behind the eyes: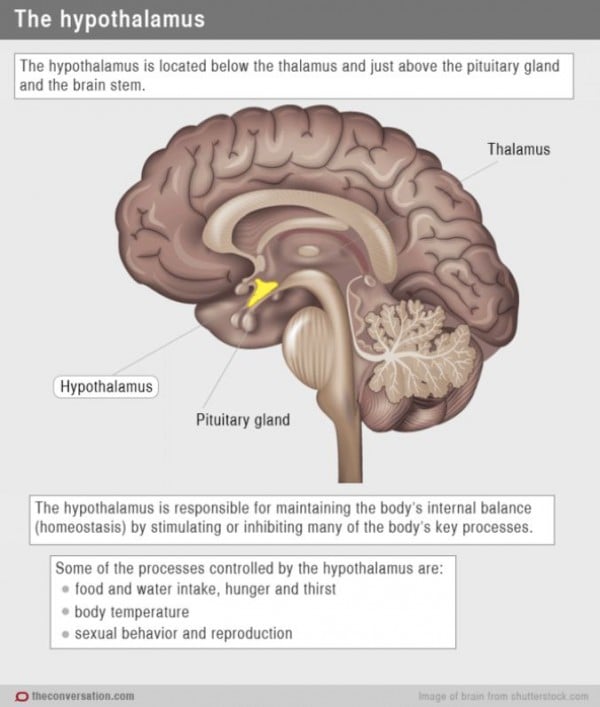 Within the hypothalamus are nerve cells that, when activated, produce the sensation of hunger. They do so by producing two proteins that cause hunger: neuropeptide Y (NPY) and agouti-related peptide (AGRP).
Quite close to these nerve cells is another set of nerves that powerfully inhibit hunger. They produce two different proteins that inhibit hunger: cocaine and amphetamine-regulated transcript (CART) and melanocyte-stimulating hormone (?MSH).
These two sets of nerve cells initiate and send hunger signals to other areas of the hypothalamus. So, whether you feel inclined to eat or not depends on the balance of the activity between these two sets of neurons.
But what determines which set of neurons dominates at any given time?
The activity is mainly controlled by hormones that circulate in the blood. These come from tissues in various parts of the body that deal with energy intake and storage, including the gut (which receives and digests the food), the fat (which stores the energy) and the pancreas (which makes hormones that are involved in energy storage, such as insulin).
Hormones in the blood
Let's take a closer look at how each of these blood-circulating hormones work.
Ghrelin is made in the stomach. It stimulates hunger by entering the brain and acting on the neurons in the hypothalamus to increase the activity of the hunger-causing nerve cells and reducing the activity of hunger-inhibiting cells. As the stomach empties, the release of ghrelin increases. As soon as the stomach is filled, it decreases.