I don't know about you, but when Spring rolls around I'm all about heading off to the glorious aisles of Bunnings on the weekend and dabbling in a bit of DIY decorating.
What can I say, I'm not the type to pass up a sausage sizzle…
But I am the type who spent an obscene amount of money in their more innocent years on home interiors that, realistically, could've been done much more cheaply. (It was a dark time, let us never speak of it again). Which is why I'm now such a fan of getting right in there and doing it myself.
There's also nothing more impressive than telling your mates that you MADE that Rope Ottoman that they're currently sitting on.
By yourself.
With your own two hands.
Adult status? Totally achieved.
Now, this isn't your regular DIY job – we're talking about DIY decorating. Yes, we may be on a whole new level of beautifying, but don't worry – you've probably already got most of the bits and pieces you need lying around at home, saving you even more moolah.
You're not going to argue with that now, are you? I didn't think so…
1. Decorative Ladder.
Hands up if you do a big Spring clean every year? Okay. Now keep your hands up if within approximately 20 minutes all of your worldly possessions have miraculously managed to sprawl themselves throughout your house again? I thought so.
Introducing the Decorative Ladder, the perfect storage solution. It makes all of your little odds and ends look super stylish. Bunnings even offer a service where you can have the timber pre-cut to size. All you have to do is cut the bottom of the two main pieces on an angle so that the ladder leans against the wall correctly. Life saved.
Check out this video (don't fear, instructions continue after the video) and you can pick up all the materials here:

Step 1: Grab your timber from Bunnings and have it cut to desired lengths using Bunnings pre-cut service, of course. We went with 1m for the height of the two side rails and 50cm for the length of the three shelves. But you can go with any you like, really.
Step 2: Using the two longest pieces of timber, leave 10cm at one end (which will be the top shelf of the completed ladder) and space your remaining two shelf markings 30cm apart.
Step 3: Using a square ruler, extend these markings across the pine on an angle of 20 degrees to guide where the shelves will sit. To avoid a rookie error, mark these on the angle (this will ensure the shelves sit level when the completed ladder is leant against the wall). Within the markings, note two dots evenly spaced apart for pre drilling your screw holes.
Step 4: Mark the same 20 degree angle at the bottom of the two timber side panels and cut with a jigsaw. This will ensure the shelf will sit neatly against the wall. Then grab your drill and pre-drill the screw holes as already marked. Told you it was easier than you thought.
Step 5: Pick up the sanding block or paper and give all timber pieces a once over to remove any rough edges. No one likes rough edges.
Step 6: Layout both side panels on their edge and line up the shelves against the markings. Glue and screw one side in place. Then repeat for second side – glue and screw. Remove any excess glue with a damp cloth.
Step 7: Finally, remove any visible pencil marks with an eraser and apply the lacquer. Let it dry and put into position. Now you're ready for my favourite part – the styling.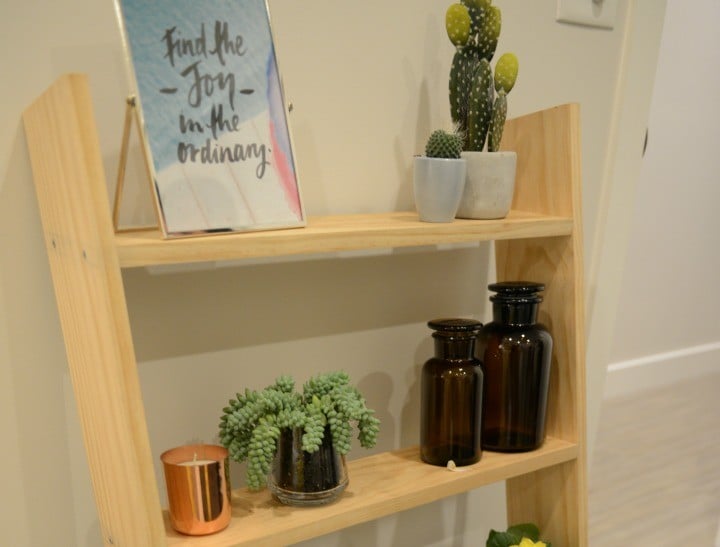 2. Rope Ottoman.
Rope Ottomans are currently all the rage. I may have (definitely did) get suckered into buying one of these babies for $300. Ridiculous… I know. But you're going to be much smarter than me and make sure that you don't do the same, by making it yourself.
Besides looking super trendy, if you lack space like me, they're a great investment as they can double as a foot rest or provide extra seating when you have friends over. Need I say more?
Check out this video (don't fear, instructions continue after the video) and you can pick up all the materials here:

Step 1: Find the centre of your MDF panel by drawing a cross. Using this cross point, draw a circle using a piece of string and a nail (kind of like a compass in your high school Wood Work days). Make sure the MDF circle is large enough to cover the hole in the tyre. Now that you're a pro, repeat on a second piece of MDF.
Step 2: Secure your MDF to a saw horse with clamps. And because we're all about safety, put on your safety mask and safety glasses. Next, pick up your jigsaw and cut out the two circles. Give both of them a light sand to remove any jagged edges.
Step 3: Ensure your MDF is secured to stop any slips. Pre-drill a hole on each of the four lines about 2cm in from the edge. Attach your round MDF panel base to both sides of the tyre using a drill to make sure the screws have secured the bases.
Step 4: Take your rope and secure the end to the centre of one MDF panel with a screw. Make a round swirl and secure with a hot glue gun as you go until you exceed the perimeter of the MDF base and reach the halfway point down the tyre. Flip the tyre and repeat the process until the tyre can no longer be seen.
Step 5: Once all of the rope has been securely attached to the tyre and timber base with a hot glue gun, coat the ottoman in sealant and let it dry.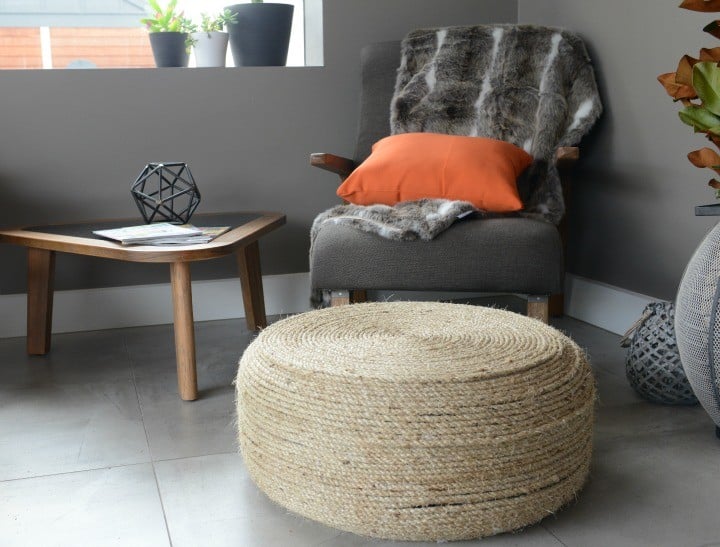 Now go and style like a pro, my friends. You never know, I might even see you in the pages of Vogue Living next season.
What's your best DIY tip?

Your local Bunnings Warehouse has the lowest prices on everything you need for D.I.Y. and home improvement projects. You can also find all the D.I.Y. advice you need, with a wide range of D.I.Y. videos online and free D.I.Y. workshops every weekend. Find out more at bunnings.com.au