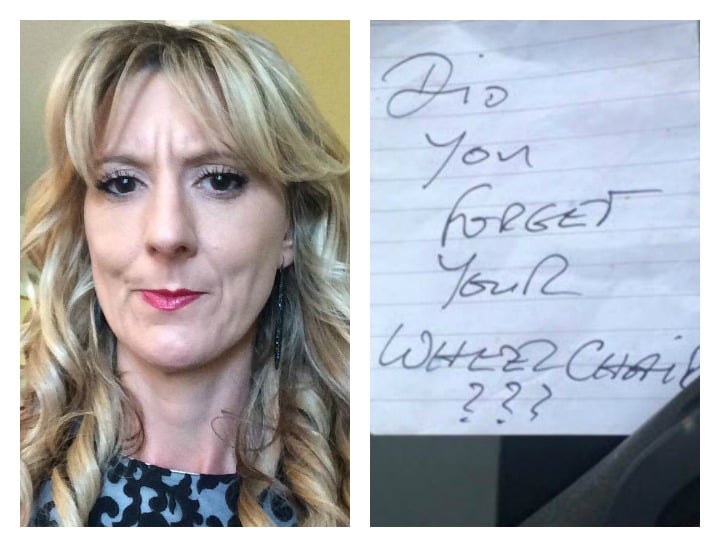 The vigilante parking police are at it again.
A Melbourne woman with multiple sclerosis has hit back at an anonymous vigilante shopper who left a rude note above the disabled parking permit on her car, which was rightly parked in a disabled parking spot.
The note read: "Did you forget your wheelchair???"
Justine Van Den said she was shocked and upset to find the letter upon returning to her car with her teenage daughter at Mitcham Shopping Centre in Victoria.
She vented her outrage in a Facebook post, which has received more than 114,000 likes and 20,000 shares.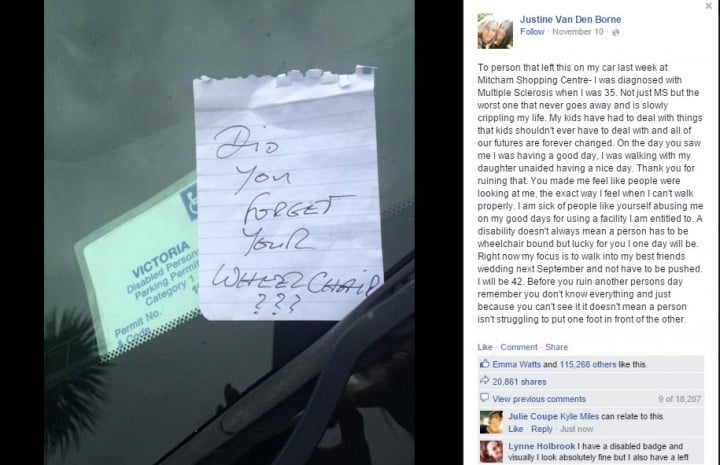 "On the day you saw me I was having a good day, I was walking with my daughter unaided having a nice day," Ms Van Den Borne wrote.
"Thank you for ruining that. You made me feel like people were looking at me, the exact way I feel when I can't walk properly."
"I am sick of people like yourself abusing me on my good days for using a facility I am entitled to. A disability doesn't always mean a person has to be wheelchair bound but lucky for you I one day will be."
The 41-year-old was diagnosed with the debilitating disease when she was just 35 years old. She sometimes uses a stick as a walking aid and will likely require a wheelchair within years.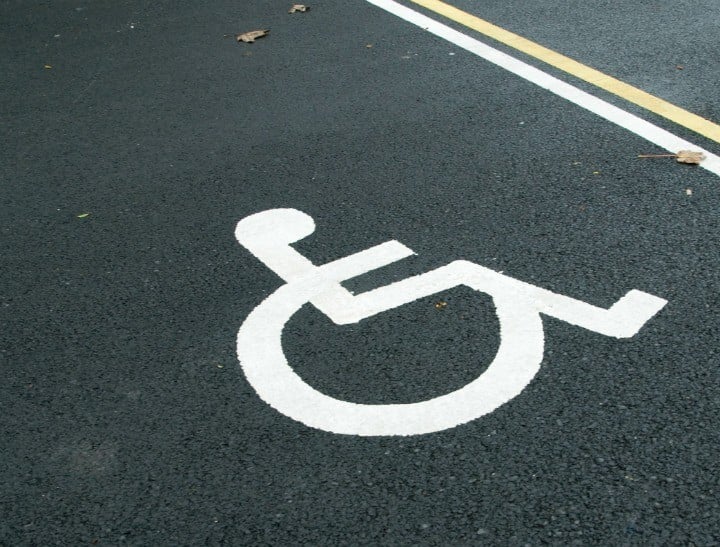 She told Fairfax Media she is questioned by strangers about her disabled parking "all the time" (including three times last week), with some waiting by her car for her to return to tell her off.
"Because of my age, they look at me, and automatically presume I'm doing the wrong thing," she said.
"But actually I can't carry my own shopping, can't walk long distance, I have the bladder of an 80-year-old."
It's a stark reminder that just because a disability can't be seen doesn't mean it doesn't exist.