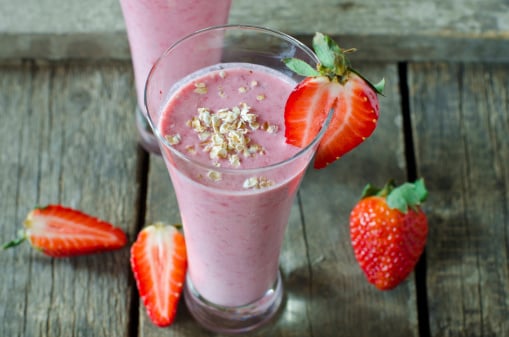 Image via Thinkstock. 
Walk into any health food store, and you'll see them lining the walls.
They promise that you'll lose weight. A lot of weight, in a short period of time. They promise that you'll never feel hungry. That you'll become revitalised, energised. That you'll sleep better at night.
The only catch? You'll be drinking two-thirds of your meals out of a straw.
That's right. I'm talking about diet shakes – the umbrella term for every kind of 'healthy' drink that's designed to replace a meal so that you don't have to eat breakfast/lunch/dinner. You just empty a sachet into a shaker cup, fill with water and enjoy that instead.
These kinds of diet shakes have been around for ages, but more and more brands are jumping on the diet shake bandwagon – including Isagenix, the latest cult-health trend to hit the mainstream.
At face value, they tend to sound great – especially when they're being sold on weightloss benefits. But as time goes on, more information is starting to come out about these so-called diet shakes – including the fact that they may not be so good for you after all.
---
Liked this post? You might enjoy…
The ultimate cleanse for people who hate cleanses (but still want to do one)
10 foods you never knew were healthy
Why your leftover pasta can help you lose weight
---
A new study from research company Canstar Blue found that one in five customers who bought weight-loss shakes actually PUT ON weight after using them.
58% of people did lose weight while using the shakes – but half of them put the weight straight back on after coming off the shakes.
That's pretty concerning – so we went to Accredited Practicing Dietitian Lauren to find out exactly why this might be happening.
"When you're using the shakes, you're on a low-energy diet," Lauren explains. "People then don't know how to transfer that back into food. So when they do go back to eating food, they go right back to eating what they would normally eat, if not more, because they've had that restriction. They end up consuming more energy and they put on weight again."
So really, these diet shakes are doing nothing to educate you about the amount of energy you're getting from food – they're just a short-term fix which, Lauren says, is completely useless for the general population.