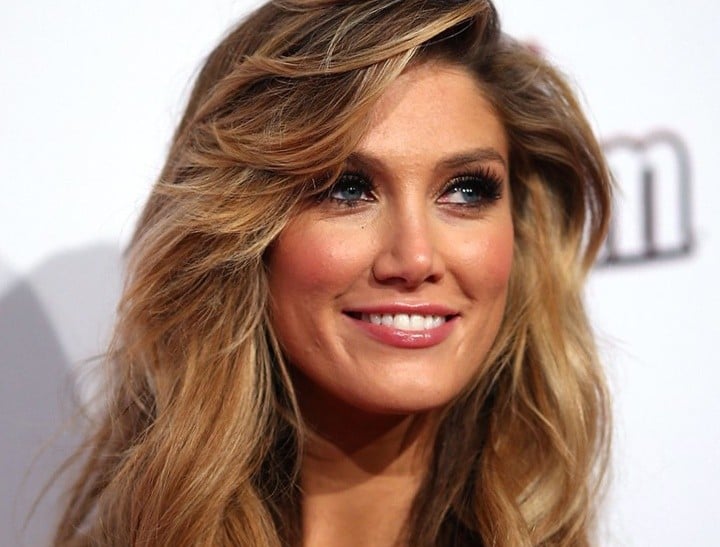 Delta Goodrem has a long list of achievements to her name. Her topless photo shoot is not her most inspiring.
Singer-songwriter Delta Goodrem has a long list of remarkable achievements to her name.
She was signed to Sony Music at just 15. She earned a Silver Logie for her breakthrough role on Neighbours. She released a series of chart-topping albums, then won 14 ARIA Awards for her popular singles. She fought and beat cancer.
Then, at age 30, she posed topless for a men's magazine.
The Voice Australia coach wrote online yesterday that she feels "honoured" to be featured on the "prestigious" list — even adding the hashtag #GirlPower to her excited tweet.
Now, if Goodrem feels comfortable enough in her skin and in her sexuality to pose topless, good for her. It's her body. It's her call. There's no doubt she is a powerful woman, and her hard work and business sense make her a poster girl for ambitious young women across Australia.
But does that mean her personal choice to pose for Maxim is a win for #GirlPower?
And should we be concerned that of all the impressive, challenging boxes she's ticked, appearing on a men's magazine is what makes her feel powerful?
To me, that's a little jarring. And even though I like and respect Delta, I couldn't help dwelling on what her #GirlPower tweet means for women, famous and non-famous alike.
Delta, a judge on The Voice Australia, was pleased to top Maxim's Hot 100 list. (Photo: Getty)
Let's start with what Maxim stands for. We're talking about a magazine that's been previously criticised for its "jokes" about domestic violence.
In the US, it once ran a Girls Search during which women were graded on their ability to gyrate while scantily clothed. It also published a campaign called Cure a Feminist" that called on men to convert "unshaven, militant" feminists into "actual girls".
The 2012 Maxim US "cure a feminist" campaign.
While its Hot 100 List is less overtly cringey than the Cure a Feminist series, there's no escaping that the list suggests women should be ranked and compared based on their attractiveness to men. That a woman's worth, in other words, is about how great her chest looks naked.
The list also reflects a sad reality about fame in the 21st century: The fact that to reach a certain level of celebrity, a woman is expected to get her top off.
Why else are so many talented, clever women featured on Maxim's list, when there no comparable ranking featuring a naked, wet Guy Sebastian gazing down the barrel of a camera; a shirtless, pouty Karl Stefanovic; or a spread-eagled, airbrushed Waleed Aly?
The enviable truth is that unless you count the lower-profile and less revealing Cleo Bachelor contest, male celebrities are largely left to do their thing. "Their thing" being succeeding on the basis of their brains, talent and ambition rather than their waist measurements.
"While Delta Goodrem is free to do what she likes with her body, we cannot pretend her choice to pose for Maxim was made in a vacuum."
So while Delta Goodrem is free to do what she likes with her body, let's not pretend choice to pose for Maxim was made in a vacuum, and let's not kid ourselves that its Hot 100 List is a beacon of female empowerment.
Deltra Goodrem, you're the epitome of #GirlPower in so many ways. But your Maxim shoot doesn't begin to compare to your countless other — truly powerful — achievements.