When Missouri woman Dee Dee Blancharde was stabbed to death in her own home in June 2015, no one suspected her sickly, wheelchair-bound daughter.
But as the local sheriff told the media at the time, "Things are not always as they appear."
The investigation quickly unravelled into one of the most bizarre and infamous homicide cases in US history, one that is the subject of a highly anticipated, soon-to-be-released documentary by US television network HBO.
Mommy Dead and Dearest delves into the story of the Blancharde murder. A crime committed at the behest of her only daughter, Gypsy Rose, by the hands of the young woman's online boyfriend, Nicholas Godejohn.
The then 24-year-old had engaged her partner, who she had met on a Catholic dating website two years earlier, to kill her mother and free her from the prison created in the walls of their Springfield home.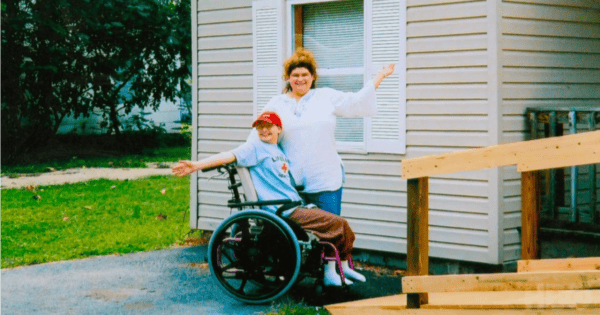 To the outside world, Gypsy Rose was sick - confined to a wheelchair by paraplegia and muscular dystrophy, unable to attend school due to developmental delays, bald due to treatment for leukaemia.
But it was all fiction. The medication was unnecessary and rotted her teeth, the operations pointless. Gypsy Rose was not sick and never had been; her condition was an elaborate fraud swallowed by friends, family, doctors and even the young woman herself.
Go beyond the headlines with Mamamia's Australian True Crime podcast. Post continues...

Today Dee Dee's sociopathic stranglehold on her daughter is considered to be one of the most severe cases of Munchhausen by Proxy Syndrome ever documented, and part of the reason she avoided a life sentence, or potentially even death.
The HBO documentary, which will go to air in the US in May, presents an compelling catalogue of police interrogation footage, home movies and first-hand interviews with those connected to the case, including Gypsy Rose herself, who appears in a striped prison uniform and handcuffs.
The now 24-year-old is currently serving the minimum 10 years behind bars for second-degree murder, a charge to which she plead guilty in July 2016.
Details for Australian broadcast are yet to be confirmed.