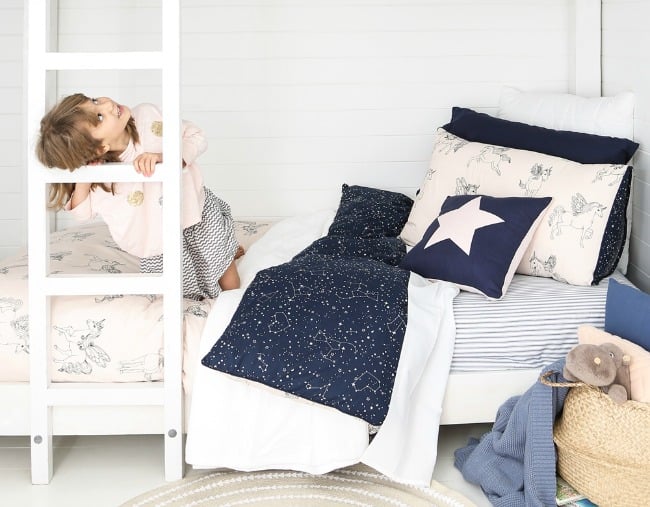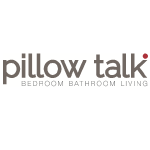 A lick of pink or blue paint for an update to your child's room just doesn't cut it anymore (we blame Pinterest!). However, creating an Instagram-worthy bedroom that's also functional isn't impossible, nor does it have to cost a fortune.
Right now, it's all about simple and sophisticated, but still fun. Think less bright primary colours and more subtle colour palettes that provide a feeling of calm and fit in with the rest of the house.
"It is a balance of playfulness, practicality and style that suits both children and parents," says Pillow Talk children's designer and buyer Kylie O'Loughlin (who is also a mother-of-three – she's a pro at kids' bedrooms).
So how do you put that into practice? We've got Kylie's top four tips on how to get the most out of your child's room, whether you're doing it up for the first time or have caught the redecorating bug.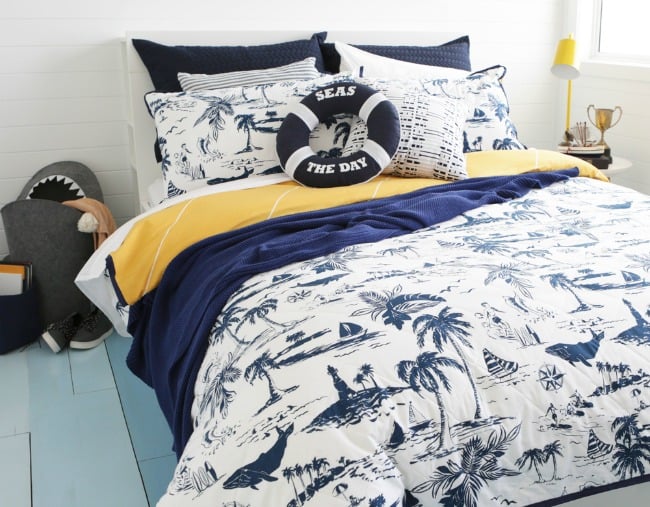 1. Follow the big to small motto.
Children's interests change more often than the weather but that doesn't mean you have to be redecorating fortnightly to keep them happy when they ditch the cars for unicorns.
"Decorating their bedrooms so they don't date and can grow and change with them saves a lot of money and effort in the long run. When it comes to colour, themes and pattern, the bigger and more permanent it is the more neutral it should be, and the smaller and more changeable it is, the bolder and brighter it can be," Kylie tells Mamamia.
"For example; keep walls and floors that are timely and costly to change nice and neutral. Add subtle pattern and texture in things like curtains and soft furnishings. You cannot go past classic stripes, dots and checks in soft greys or pastels for a timeless look."
2. Think like a child.
"No, you don't have to start screaming Muuuuuummmmm at the top of your lungs or have a tantrum because you got Vegemite toast when you REALLY wanted marmite, but you do need to look at their bedroom from their height," jokes Kylie.
She has a point. Basically just keep this in mind: Little people. Little things.
"Keep high shelves and out-of-reach spaces for those precious keepsakes and display items - or for hiding those things you really want them to forget about. And keep the toys, books and everyday items down low," she adds.
"Likewise, use practical easy storage. A hamper like our super-cute Shark hamper not only adds fun to the room but is easy for kids to throw their toys in at the end of the day."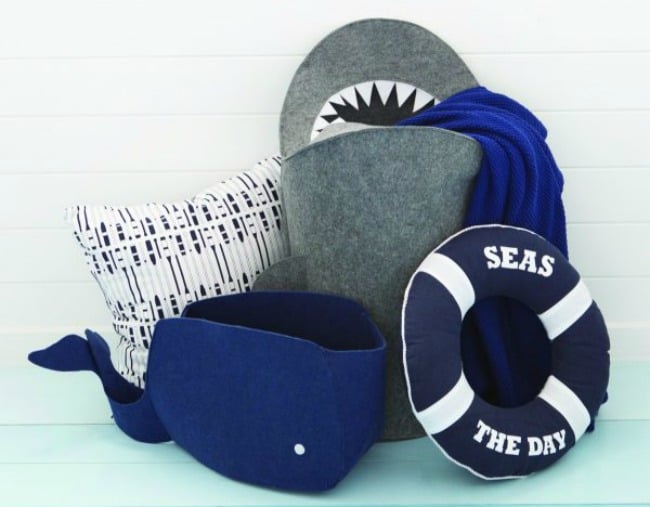 3. Make the room multifunctional.
Your child's bedroom isn't just their bedroom. It's their play room, their work space, their escape. This becomes even more challenging when you have a smaller room to work with.
If you're short on space, you've got to make what you have work hard.
"Add storage in wherever you can and select bigger items to serve multiple purposes. For example, choose a bed with built in drawers or enough space underneath to fit some extra storage containers," she says.
"Choose a pouf instead of a chair so it can be used as a seat or side table. Adding cushions make a bed look great but can also be used as extra seating when friends come over."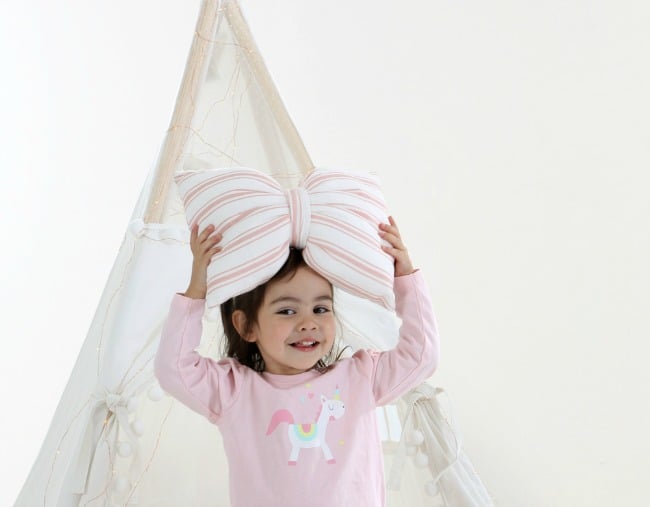 4. Choose style AND practicality.
No, it doesn't have to be either or.
"Just because something is practical does not mean it cannot be stylish. Choose the best quality you can within your budget, choose simple pieces that are easy for children to use and choose subtle colours and patterns," Kylie says.
"Our Toot Toot coverlet is a great example of this. It is a fun transport theme in a simple design and subtle grey to cover off stylish, but is made with good quality cotton for comfort and longevity and is designed so that the reverse is a road map playmat so it is also multifunctional and practical."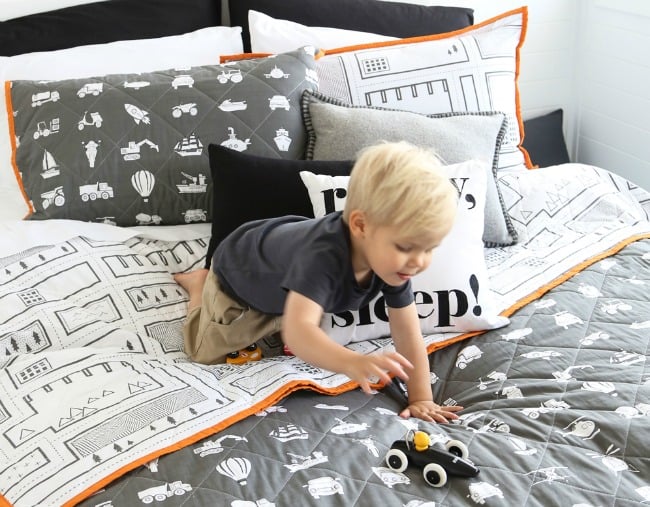 The Fairy Tale quilt cover is also a piece that's designed to be part of the bedtime ritual.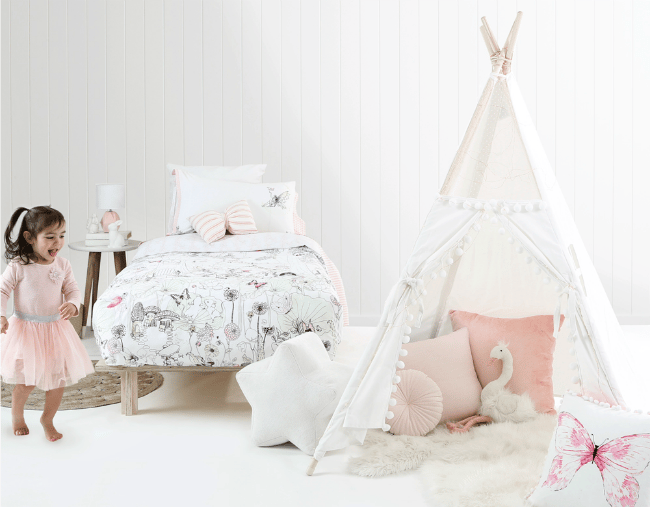 "I just love this as bedtime stories are such an integral part of childhood," says Kylie. "The artwork is gorgeous and the accompanying storybook about Mr Finkel the Fox and his friends was actually written by our company director [Heath Goddard] and is so sweet.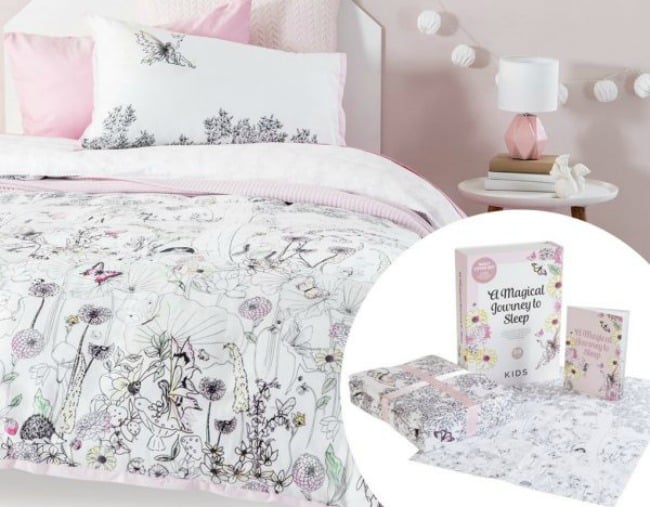 "When it comes to linen, choose good quality cotton like we have used in the new Pillow Talk Kids range, that way it will not only last the test of time but provide comfort too, keeping them cool in summer and warm on those colder nights."
Follow these four tips, and you'll create a bedroom your child will love. For more, check out the brand-new KIDS by Pillow Talk collection, featuring quilt cover sets, cushions, rugs, lamps and more.
What's your hot tip for a great kids' bedroom? Share your thoughts with us below.
This content was created with thanks to our brand partner Pillow Talk.
Designed for kids, by mums, Pillow Talk's new collection of kids quilt cover sets, cushions, rugs, lamps and more has been designed and curated by a team of in-house artists and is intended to grow with children from their first bed until they hit double digits.
A key focus of the collection has been on ensuring it can seamlessly fit into the décor of the entire home. With soft colour palettes and sophisticated (yet fun!) hand-drawn prints, the collection appeals to parents as much as their children.
As Australia's favourite bed linen specialists for 40 years, Pillow Talk is proud to introduce this stunning new collection!
Click here to view the entire KIDS by Pillow Talk collection.