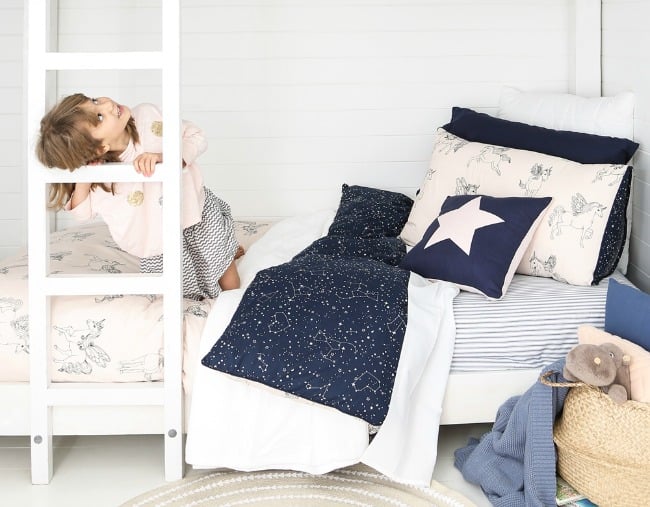 A lick of pink or blue paint for an update to your child's room just doesn't cut it anymore (we blame Pinterest!). However, creating an Instagram-worthy bedroom that's also functional isn't impossible, nor does it have to cost a fortune.
Right now, it's all about simple and sophisticated, but still fun. Think less bright primary colours and more subtle colour palettes that provide a feeling of calm and fit in with the rest of the house.
"It is a balance of playfulness, practicality and style that suits both children and parents," says Pillow Talk children's designer and buyer Kylie O'Loughlin (who is also a mother-of-three – she's a pro at kids' bedrooms).
So how do you put that into practice? We've got Kylie's top four tips on how to get the most out of your child's room, whether you're doing it up for the first time or have caught the redecorating bug.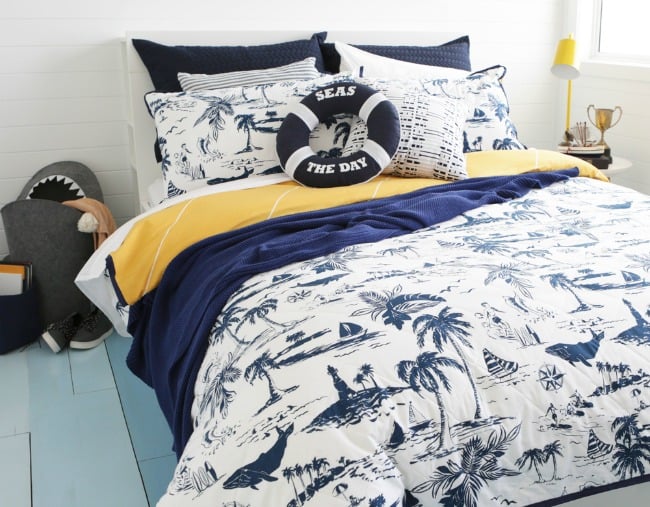 1. Follow the big to small motto.
Children's interests change more often than the weather but that doesn't mean you have to be redecorating fortnightly to keep them happy when they ditch the cars for unicorns.
"Decorating their bedrooms so they don't date and can grow and change with them saves a lot of money and effort in the long run. When it comes to colour, themes and pattern, the bigger and more permanent it is the more neutral it should be, and the smaller and more changeable it is, the bolder and brighter it can be," Kylie tells Mamamia.
"For example; keep walls and floors that are timely and costly to change nice and neutral. Add subtle pattern and texture in things like curtains and soft furnishings. You cannot go past classic stripes, dots and checks in soft greys or pastels for a timeless look."
2. Think like a child.
"No, you don't have to start screaming Muuuuuummmmm at the top of your lungs or have a tantrum because you got Vegemite toast when you REALLY wanted marmite, but you do need to look at their bedroom from their height," jokes Kylie.