If you're looking for advice about options surrounding fertility, pregnancy or counselling, always consult your doctor.
It's not often an actor is honoured by the United Nations.
Then again, it's not often an actor does what Deborra-lee Furness has to help change the future for vulnerable children.
Since adopting two children, now 11 and 16, with her husband Hugh Jackman, Furness was compelled by a desire to help other boys and girls have the chance to be raised by a loving, nurturing family.
Having founded local adoption advocacy group Adopt Change, the Australian actor and producer more recently launched Hopeland – a global organisation that endeavours to raise awareness and encourage solutions to improve the plight of abandoned children.
It is for this that the 61-year-old was on Saturday presented with the United Nations Women For Peace Association Award in New York.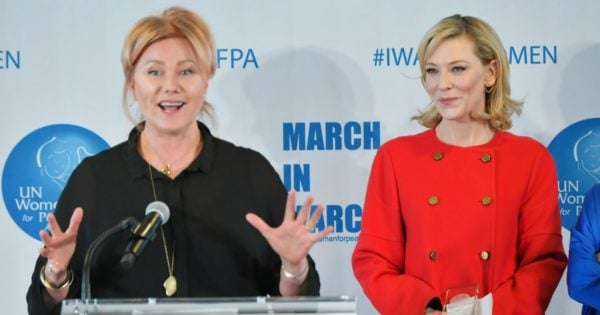 Furness spoke to Mamamia about the challenges facing Australian couples looking to adopt and the incredible work she's doing to help overcome them.
First of all, congratulations on winning the award. What does it signify to you about the success of your work in this field?
"Thanks for the congrats!
Through my education over the last 10 years and the complexities of adoption and realising why so many children end up in foster care or on the streets, I wanted to go downstream and support that community before the damage was done.