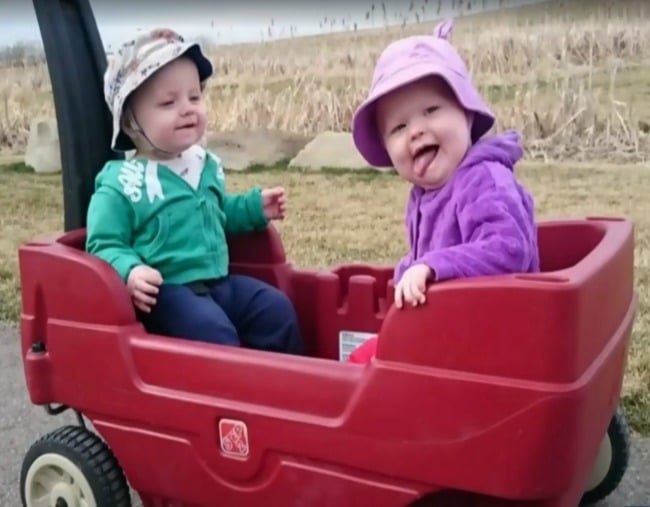 Twins Ceira and Colby McGrath were 18 months old. Their parents would drop them both at daycare. But one day in November 2015, only Colby came home. It's taken their parents until this month to find out the truth of what happened that day.
Ryan McGrath and Tanya Gladwell, from Calgary in Canada, had entrusted their twins to the care of Elmarie Simons. Simons was due to go on trial earlier this month for criminal negligence causing death, but at the last minute, decided to plead guilty.
Simons revealed that on the day Ceira died, she wanted to run errands. So she put Ceira in a car seat, but because the toddler was too big for the seat, and the straps between her legs wouldn't fasten, Simons left her with just a chest strap buckled around her. Simons then left Ceira in a walk-in closet, on her own, and went out. For five hours.
Simons went to Walmart, and to McDonalds. When she came home, she didn't check on Ceira. When she eventually went back into the walk-in closet, the toddler was unresponsive. Ceira had been strangled by the strap while trying to get out of the car seat.
Watch the Calgary Police Service's statement after charging Elmarie Simons with the death of a child in 2017. Post continues after video.
This week, Ceira's father read a victim impact statement to the court. He said that not long before his daughter's death, Simons had asked him why Ceira rarely giggled.
"The question struck me as strange instantly and I'll forever regret not removing her and Colby from you that very day," McGrath said.
"Because at home, Ceira was the happiest little girl. Her giggles made your heart melt and they were very frequent.
"I suppose it's hard to hear a young girl giggle when in fact she's screaming and fighting for her life in a dark closet and you're at Walmart. So there's your answer."
McGrath said he initially thought of making his victim impact statement five-and-a-half hours long so Simons could experience "how brutally and excruciatingly a long time that is".
"Especially for a frightened, alone, distressed and helpless little girl just wanting to be free and out of her imprisoned darkness; our poor, sweet Ceira having to fight for her very life."
McGrath says Colby is still struggling to understand where Ceira has gone. He told CTV News he was relieved to find out that his son didn't witness his sister struggling for life in the car seat.
"If there's any silver lining, it's that he wasn't also there."
Simons was unlicensed as a daycare operator. Ceira's parents had spent time on waiting lists for licensed daycare for their twins, but had gone with Simons after she was "highly recommended".
Simons apologised in court for what she had done.
"I am not the monster you think I am," she said.
She is yet to be sentenced.
Image credit: CTV News.