This weekend we could have been celebrating the birth of our first child.
But I suffered a miscarriage.
It's still much easier to write that down than it is to say out loud.
It's also much easier to pen how I birthed by dead baby, than it is to vocalise.
Besides losing our precious unborn, one the hardest things was witnessing my partner of 13 years completely break down.
He is my rock. My everything.
He'd been so brave during our trip to the hospital and emergency scan when we were told the devastating news.
But when I heard him break down as he told his mum over the phone, when he finally let his guard down — that was when I realised he was absolutely shattered.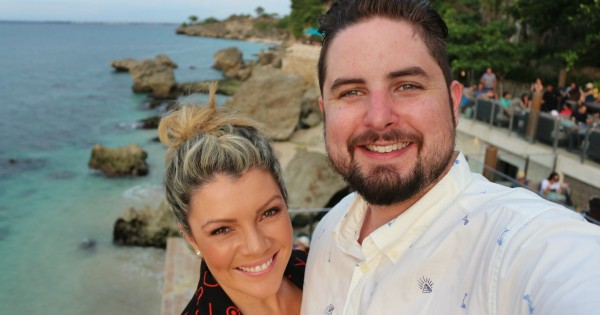 That was the exact moment I knew my heart was broken.
I was three days out from what would have been our first scan when I started spotting.
We currently call West London home, and my parents and youngest brother were visiting when we found out we were expecting.
We'd been planning to start a family for some months and were pleasantly shocked when we fell pregnant the first time we tried.
We'd also told our other immediate family back home in Australia and not long after the dating scan were going to share our happy news publicly.
We were going to be parents for the first time. We were deliriously happy.
On that day we lost it all, I remember everything that happened in incredibly vivid detail.
It was a Friday afternoon.
"I don't want you to panic, but I need you to come home. I'm bleeding".
When we arrived at the hospital, we took the lift from the car park with a woman who was arriving to give birth.
Her breathing was raspy and she doubled over on the hand rail during contractions.
I began panicking at the thought I would never make it to this stage.
In the emergency department I had all sorts of tests and the doctors tried to see if my cervix was open to indicate the start of a miscarriage.
But there was too much blood.
Because my blood pressure was normal they told us we could come back the next morning for a scan.
This, heartbreakingly, gave us a sliver of hope.
"It's not looking good I'm afraid", was all she said the next morning.
I couldn't breathe.
We'd lost our baby at ten weeks.
It had stopped growing at five.
Incredibly for five more weeks after our baby had died, my body had proceeded as if I was still pregnant. I'd had cravings, morning sickness and fatigue.
I simply couldn't comprehend our baby was gone.
We were offered some sympathetic words and a simple print-out of what to expect.
Then we were sent in our way.
Nothing though, could prepare us for what would actually happen.
I suffered five agonising hours of heavy bleeding and excruciating cramps; a basic labour, before everything was 'passed'.
We no longer had our baby. I was no longer a mother.
We wrapped the grey and pink wrinkled blob of the embryonic sac in a hand towel and grieved together with our baby on our bed. Already mourning a precious life that hadn't even begun when it was lost.
This was early Sunday morning and we had no other option by to put our baby in the freezer.
Our next hurdle was to decide what to do with the remains.
Because we lost our baby so early, it's not medically recognised as a foetus. There's nowhere special to take the remains.
So we bought a pot and a shrub and buried our baby in a newborn outfit.
The beautiful shrub sits just outside our back door so we can see our muffin every day.
One of the things we've grappled with is the fact that what happened to us is considered 'normal', 'common'.
Some research suggests up to half of all pregnancies end in miscarriage.
Many women though, won't even know they're pregnant, the miscarriage could come simply as a 'late period', bleeding just a few days after you though it was due.
Doctors say of all confirmed pregnancies, one in four women will lose their baby.
Most of those loses, as many as 80%, will be in the first 12 weeks.
A tribute to the babies we have lost. Post continues after video...
The most common reason is a chromosomal anomaly.
Basically the baby is not strong or healthy enough to continue developing as a viable pregnancy.
In a small number of women there are underlying medical conditions. Drug or alcohol abuse can also contribute.
The sad reality is the medical profession considers miscarriages up to 20 weeks so common they're deemed 'medical waste' by most hospitals.
Of course, none of this makes losing a tiny life you created with the person you love any easier.
The loss of my baby and the life we were already planning was not common.
It was the single most devastating event of my life.
What made things even more difficult; we were on the other side of the world with no immediate family, just each other.
That was an incredible struggle.
Our families were understandably devastated but both mums also found it difficult because neither, fortunately, had ever suffered a miscarriage (that they knew of). Surprisingly I found great comfort in this.
My biggest battle though, was accepting that I couldn't have done anything to avoid this heartbreaking situation.
I had given up alcohol completely.
Cut my caffeine intake to a single sachet of instant coffee.
Soft cheeses and processed meat were gone.
I was pedantic about the way my steak was cooked, and about taking my vitamins.
I was mindful of how warm my baths were.
But nothing I did could have changed the outcome.
I was still though struck with overwhelming guilt.
I was growing this tiny life inside of me. I was supposed to be looking after our baby.
What if something I'd done was the reason we lost it.
I envy the women who were comfortable enough not to give it all up and still go on to have perfectly healthy babies.
It wasn't fair.
One of my lowest points was when a girl I knew announced her pregnancy – around the same time we were planning to announce ours.
I wanted her to hurt like we did.
It took a long time to shake that feeling.
And when I did, I realised we'd actually been lucky.
We got pregnant straight away. The very first time we tried.
We hadn't had our first scan, so we never had the joy of physically seeing our baby taken away from us.
We lost our baby early.
Not when we'd told all our friends and extended family.
Not further along in the pregnancy.
Not during childbirth.
I was also lucky to have a natural miscarriage.
There were no complications and no infection.
Our nurse also said we could start trying again straight away.
And we did.
Six weeks later I fell pregnant with our rainbow baby.
I'm now 26 weeks pregnant with a little girl.
It still feels like we're I'm tempting fate by celebrating this milestone; but so far she's healthy and from all the kicks and wriggles she seems pretty happy!
Of course, getting to this stage has been an incredible test.
Our lost baby would have been due on April 17. It's been incredibly unsettling counting down to this morbid anniversary.
I still check for blood every time I go to the toilet. Every. Single. Time.
I had a scan at six weeks to confirm the pregnancy was progressing and private scans every week after – right up until our dating scan at 12 weeks.
We spent £825 (approx $1530) on those reassurance scans and it was worth every cent.
Every niggle, every cramp, every pain sends me into a mild panic.
But we've made it this far and are looking forward to the next three and half months preparing for, and finally meeting our special little girl.
Discussing miscarriage shouldn't be taboo.
It shouldn't be an awful secret we're not meant to talk about because it makes others uncomfortable.
This is a dark place no family should ever be drawn.
But if they are feel doctors, nurses, and gynecologists should remember, that no matter how common THEIR dealings with miscarriage are, every single woman (and partner) who suffers one needs to know their experience and grief is unique and their baby is special, not matter what stage of pregnancy it was lost.
It's taken me more than six months of grieving to finally say "I had a miscarriage and it wasn't my fault".
And although it's difficult to give yourself fully after loss, I know our struggle will make the reward at the end all the more magical.
Kyrrie Blenkinsop is a former Channel Nine reporter, producer and presenter. She currently works as a freelance journalist at Thomson Reuters, Sky and Al Jazeera in London. She calls Hammersmith home, with her partner & two cats. And can't wait to be a mum.