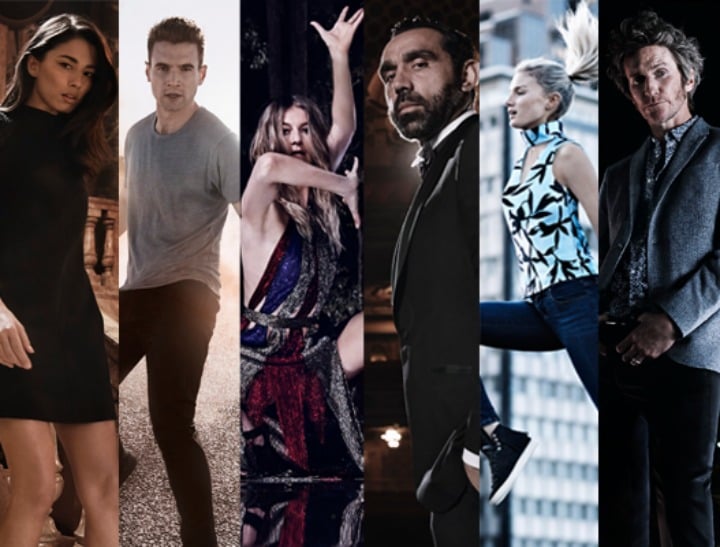 I never thought I'd say it.
An advert has taken me to a happy place.
A sublime place, where Adam Goodes is wearing a tux and Kanye is rapping and beautiful girls are flying through the air and rock god Tim Rogers looks like Everything in a sharp suit, and the whole clip is overspilling energy, attitude and complete and utter awesomeness.
Here it is:
It's for David Jones, and I am reaching for my wallet.
Sell me something, DJs, I am in. Towels? Knickers? Those $5 chocolate strawberries in the basement? Just sell me something. I AM SO IN.
Diversity is a word that's thrown about a great deal at the moment. Why isn't TV more diverse? Why aren't Grammy winners more diverse? Why isn't our media more diverse? Why aren't the bodies on the red carpet more diverse?
We're tired of everything looking the same. We want the people in the culture we consume to reflect our lives – multi-coloured, multi-aged, multi-sized.
Fashion is an industry that seems to struggle with this the most. For decades and decades, there has been one size, one shape, one way to be beautiful if you are on a catwalk, or indeed, in a department store campaign. Usually that involves being under 20 and difficult to spot in low-light.
Like the all-white beautiful young people of THIS David Jones ad, circa 2012.
But here's an ad, for FASHION, that deliberately, willfully, makes nods to diversity. That actually went out of its way to do so.
Adam Goodes is a national treasure – a proud indigenous man who has weathered abuse with unwaivering dignity. He agreed to be an ambassador for DJs because he will advise the store on reconciliation and social justice. He was the kind of bold choice that brands rarely make – a man who stands for something, but is not universally loved. He also looks excellent in a tux.